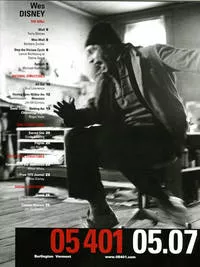 Burlington artist Wes Disney passed away in December 2000 at age 54. Seven years later, he's being commemorated in a retrospective exhibit and in an aptly artful magazine. The latter, 05401, has been irregularly published since 1995 by Burlington architect Mannie Lionni. It's usually devoted to heady prose and poetry about his primary interests: "architecture, planning, food and sex." The 05.07 issue, though, is all Disney. The black-and-white photograph on the cover is not exactly your formal "portrait of the artist." Rather, Disney appears to be gleefully sailing across a room — his studio? — on a four-wheeled office chair. Mouth wide open in a laugh, his form blurred by the action, he makes a delightful cover boy.
Disney's sense of humor, his artistic passions and large personality — warts and all — are remembered in 05401 in essays by those who knew and loved him. These include a piece by Charlotte stonewall builder Terry Dinnan about Disney's infamous faux wall in downtown Burlington. The 1981 photographic installation on the side of the former J.C. Penney building at Cherry and Church Streets required the labor of numerous friends, including Dinnan, for an entire year. Intended to resemble a cut rock face along I-89 near Montpelier, the massive piece — more than 143 feet long and 38 feet high — "was doomed to decay from the very start," adds Barbara Zucker, an artist and Lionni's wife. "It was made of the flimsiest of materials: standard photocopy paper," she notes in her own remembrance. "But it was so elegant and austere, so provocative, especially in relation to the other works that had been commissioned for the brand new Church Street Marketplace."
Lionni says "The Wall" had a big impact on him, and he's not the only fan: Ironically, Disney's most evanescent accomplishment seems to have lived longest in local memories. But those who never knew him or his work — which included drawings as well as photographs — will have an opportunity to catch up this July, when the Firehouse Gallery hosts a retrospective curated by Ruth Erickson.
Disney bequeathed his possessions to Fleming Museum Director Janie Cohen, who has assembled a small group that has in turn formed the W.E.D. Art Trust. "It will hold the artwork in order to care for it, but also to benefit the public," Cohen says. "It will enable us to do things like lend work to exhibitions, place work in collections and possibly sell work."
The trust's first project is to produce a small portfolio of two of Disney's "most important photographs," Cohen says — both appear in 05401. High-quality digital prints will be sold at the Firehouse this summer to help pay for the exhibit itself, and to care for the thousands of negatives and prints that comprise Disney's legacy.
As it happens, Lionni says he didn't know about the upcoming exhibit when he decided to devote an issue of 05401 to the artist, but he did ask Cohen to be one of two guest editors. The exhibit, too, will no doubt reflect what Lionni calls in his magazine the "compelling presence, the in-your-face-edness" of Disney's art and life.