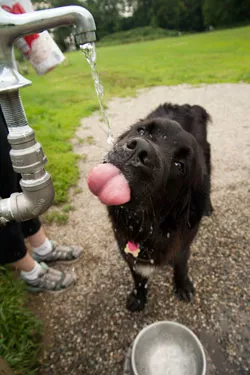 Matthew Thorsen
Bear quenches his thirst at Starr Farm Dog Park in Burlington
Burlington may soon be more Fido-friendly, thanks to dog owners who have long been lobbying the city and its neighborhood planning assemblies. An "off-leash work group" has been meeting for months to identify more spaces where dogs can run free.
To legally release their dogs, South End residents must travel to one of the two fenced-in dog runs the city established 15 years ago: Starr Farm in the New North End or a portion of the waterfront "urban reserve" north of the Moran Plant.
Letting your dog off leash anywhere else can result in hefty fines: up to $100 for the first offense and $500 for repeat violations. The Burlington Police Department has ticketed 30 dog owners — and impounded eight dogs — for lack of restraint in the past two years, says Chief Michael Schirling.
"If you don't give people options for doing what they want to do, they do it whether or not it's legal," observes Ed Pais, who is chairman of the off-leash work group. Most of the time, Pais exercises his 7-year-old Manchester terrier, Hailey, by tossing a ball to her in the backyard of his home in the southeast corner of the city. Only "very occasionally" does he take Hailey to the waterfront dog run, because it's not convenient to go there.
Parks and rec director Jesse Bridges recently told the city council that his department is "prepared to move forward immediately" in identifying "off-leash opportunities throughout the city." Parks and rec would establish specific hours at neighborhood parks, beaches and trails when canines could run untethered.
The city has no money to acquire land for off-leash activities, so any additional dog runs would have to use existing park space. Oakledge Park would be a logical place to develop a South End dog run, says Pais.
Before that can happen, though, the council's ordinance committee must formalize the status of the dog runs at Starr Farm and the urban reserve, which were initiated on a trial basis in 1998. Additionally, the work group is asking the committee to revise the ordinance so that parks and rec is given the power to designate additional off-leash areas. Councilor Chip Mason (D-Ward 5), who chairs the ordinance committee, says those items have not yet been placed on the agenda.
The work group also cites the need for improved compliance with dog-licensing requirements. Burlington's city clerk reports that 1255 dogs were licensed last year. But the Humane Society of Chittenden County estimates there are thousands of unlicensed dogs in Burlington. It bases that projection on a 2011-12 national pet owners survey that found a total of 78.2 million dogs in the United States, or roughly one for every four humans. Burlington's 42,000 residents may thus own more than 10,000 dogs.
The Queen City's canine population may actually be among the highest in the country on a per capita basis. Vermont is said to rank first among the 50 states in the proportion of households with at least one pet. About 70 percent of Vermont homes have an animal in residence, according to an American Veterinary Medical Association survey.
It costs $28 a year to license a spayed or neutered dog in Burlington; the fee is $48 for dogs who have not been fixed.
Regardless of their reproductive status, "It's very important that dogs have the opportunity to be off leash and with other dogs," says Jeanne Chenoweth, interim CEO at the Humane Society of Chittenden County. "It's a way of learning important socialization skills and a way of getting needed exercise."
City Councilor Tom Ayres (D-Ward 7), who preceded Chenoweth in the top job at the humane society, says he takes his two dogs — a mixed-breed and an Australian sheep dog — to the Starr Farm off-leash area at least twice a week. "It's a very popular place," notes Ayres, who lives about two miles from the dog park.