Courtesy Of Dov Stucker
Dissecting smelt at the University of Vermont
Two dozen people sat in neatly arranged folding chairs at Burlington's Old North End Community Center. One by one, they aired city-related grievances: Why are Burlington's public transit options so limited? Why is there so much traffic? Why are some sidewalks replaced before others? Why can't the city just fix the sewer system already?
The questions weren't coming from politically active adults at a municipal meeting. The scene last Friday was the first meeting of the Burlington City & Lake Semester, a program that uses hands-on learning to engage high school students.
Every semester, four teachers take a select group of teenagers out of the classroom, plop them in the middle of their city and ask them to be curious. Only two dozen juniors and seniors are enrolled at a time, but more than that apply. It's the only class of its kind at BHS.
"We know that one-size-fits-all doesn't work, and yet people are often wary to leave the confines of that model we've stuck with for so long," said Peter McConville, an English teacher who helps lead the City & Lake program. "The conformity we fall into in schooling is something that will hold folks back."
By turning the classroom model inside out, the program gives students a first-hand look at problems affecting their community — and a chance to help solve them.
"Instead of just reading about initiatives, we're working with the people who are behind those initiatives," said Dov Stucker, who doubles as a history and social studies teacher. The process opens doors to "the Burlington they've never seen," he said.
Students enrolled in the program essentially split their weekly class schedule between traditional courses and the City & Lake curriculum. On city days, they spend their entire day off campus, working alongside experts on transportation, energy, lake ecology, the arts and more. While their peers are poring over the periodic table, kids in the City & Lake program are dissecting smelt on a research vessel, collaborating on a community mural and consulting with city councilors. Studying practical applications of math, science and social studies, they're less likely to pose the perennial complaint: When will I ever use this in real life?
"Everything we're doing is drawn from the real world," project director Andy Barker said. "It's relevant to the way the world works."
That's exactly why Lucie Winrock, a BHS junior, signed up. She was tired of the same old lesson plans.
"School has never worked for me. I go in and sit at the same seat every day, and we learn the same thing, and it's just the teachers talking over and over again," Winrock said. "Hands-on is really what works for me."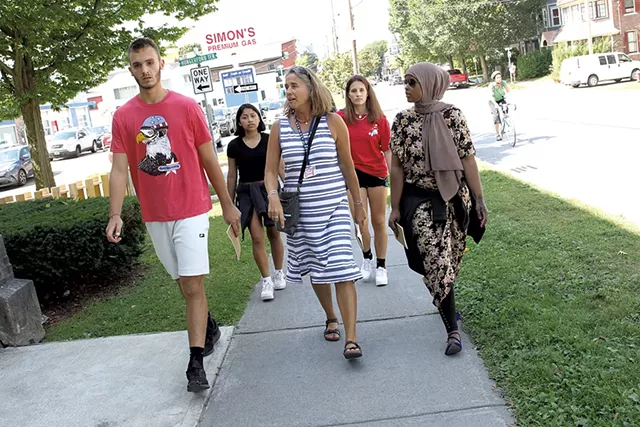 Courtney Lamdin
BCL students walk up Pearl Street with teacher Signe Daly
Burlington isn't the only district to incorporate experiential learning into a traditional curriculum. When the Vermont legislature passed Act 77 in 2013, it formed the Flexible Pathways Initiative, which encourages school districts to develop unique "educational experiences" for students. That broad umbrella can cover early college programs, technical education, and place-based learning like Burlington's City & Lake.
The school launched the program last fall as a partnership with Shelburne Farms, which has supported a hands-on curriculum at Burlington's K-5 magnet school, the Sustainability Academy at Lawrence Barnes, since 2004. Each entity lends two teachers to the program, but there's no cost to the school district. Grants and donations cover the program's $150,000 annual budget, according to Barker.
Research from Teton Science Schools, a Wyoming nonprofit that has emphasized place-based education for more than 50 years, found that such programs boost environmental stewardship, social-emotional learning and academic achievement in students.
"It's not that I didn't care about school or learning before," said Ruby Guth, a 17-year-old senior who enrolled in City & Lake last fall; she just didn't connect academics to "real issues — some that affect our lives so greatly."
For example, plastic pollution seemed far away until Guth saw it up close at Burlington's North Beach. On a rainy day last November, she and her classmates joined Ashley Sullivan, executive director of the conservation group the Rozalia Project, to collect and sort plastic litter there. In just 30 minutes, students found more than 1,200 pieces of debris.
After that class, Guth sought to curb her use of plastic drinking straws by buying a set of metal ones; she said she's used them ever since.
Guth's mom, Sarah, noticed other changes in her daughter's habits. For the first time, Ruby came home and talked about what she did in school that day. Her grades improved, and she became a straight-A student.
"As a parent of a teen, this is exactly what you want to see," said Sarah Guth, who is a child psychiatrist. "The interactive nature of it — I think they need that. I think sitting for hours on end and just being lectured at is something no brain is really good for."
As Famo Haji, Guth's classmate, noted: "It was more interesting to actually see and do than just hear."
Julius Dodson, another City & Lake alumnus, said he liked meeting with experts in their fields — literally, in one case. His class visited the Intervale Community Farm as part of a broader lesson about the local food economy. The farm manager told students that he'd like to pay his workers more, but that would increase the cost of his farm share, which would limit who can afford it. Dodson said themes of affordability and food equity were fitting segues into other presentations by Hunger Free Vermont and the Chittenden Emergency Food Shelf, which is now known as Feeding Chittenden.
"I never really thought about how they all affect each other," he said. "I definitely see the community differently."
Another twist: On occasion, the experts in the City & Lake program have turned to the students for help. Last fall, BTVStat, a division of the city's Department of Innovation and Technology, invited the group to consult on the city's first-ever Equity Report, which analyzed how officials can better serve Burlington's diverse population. Afterward, students reflected that they enjoyed learning about their local government — a subject not covered in traditional classes — and appreciated that the adults had sought their advice.
Courtesy Of Dov Stucker
Students tour the McNeil plant
"If we went to City Hall just to listen about the equity report, I wouldn't care as much," one student wrote in a journal that each student keeps throughout the semester. "But because they wanted feedback from me, it made me and my peers way more engaged."
Stucker said Burlington's size makes it well suited for such a class. It's small enough that officials are only a phone call away but large enough to have "city problems" such as homelessness, traffic congestion and opioid abuse. He likened the City & Lake semester to a study abroad program, one that shrinks the opportunity gap between students.
"Who gets to study abroad? Kids with means. What does it cost to do this? Nothing," Stucker said. He said BCL makes a point to enroll kids who "have incredible opportunities ... and those who have never left their neighborhood."
McConville, Stucker's co-teacher, said most students have latched onto the traditional formula for success: Take honors classes; get into a good college. But he'd argue the City & Lake program looks just as good on a college transcript as do Advanced Placement courses.
After last week's meeting at the Old North End Community Center, the students embarked on a 45-minute walking tour of their city classroom. They trekked down Pearl Street and paused at the intersection with North Winooski Avenue to jot down some observations in small, tan notebooks. Teacher Signe Daly, from Shelburne Farms, encouraged the city explorers to share their thoughts aloud, which prompted the students to ask more questions: Why is this intersection so dangerous? Why does that roof look so funny? Why are bike lanes painted green, anyway?
Who hasn't wondered such things? That, it turns out, is the whole point.
After being exposed to the complexities of these systems, Daly said, "They can bring these skills with them and this kind of curiosity and thinking no matter where they end up."

Updated, September 5, 2019: This story clarifies Sarah Guth's remarks.