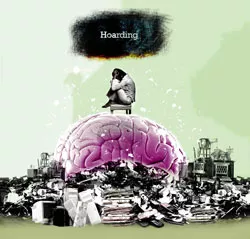 The woman with the master's degree and the fancy Burlington condo could no longer see her floor. Her mess got so bad that at night she had a hard time reaching the bathroom with all the stuff littering her path. Gradually, people stopped visiting her. Brenda (who asked that her last name not be used) eventually became a virtual shut-in, caged by her own possessions.
>This wasn't supposed to happen. In the life she envisioned, Brenda climbed the professional ladder and made a name for herself. But years of deepening depression and anxiety took their toll. In her fifties, Brenda fell behind on the rent and had trouble taking care of her living space. Her hoarding became uncontrollable. She risked ending up homeless.
Brenda is part of the estimated 5 percent of the nation's population who suffers from hoarding, a mental illness categorized in the Diagnostic and Statistical Manual under obsessive-compulsive disorders. Compulsive hoarding is defined as the acquisition of, and failure to discard, a large number of possessions that appear to be useless or of limited value. When the accumulation prevents a living space from being used as it was intended, the behavior is generally considered hoarding.
Hoarding can result from other problems, such as trauma, grief, brain injury, depression, post-traumatic stress disorder or attention deficit/hyperactivity disorder. It can even be an inherited or learned trait. Hoarding, which cuts across social class, is no new phenomenon, of course. But only recently have mental health and social service providers taken a clinical view of the issue.
In May, members of Burlington's social service community established the Hoarding Task Force to address the problems of people like Brenda. Recognizing that they needed a more holistic approach, they set about trading strategies for dealing with hoarders from mental health and public safety angles.
Hoarding often goes unnoticed, especially among those who are not low income. It comes to the attention of authorities during housing crises or because of health and safety concerns.
That's how Brenda's hoarding was discovered. Because she couldn't pay her rent, her landlord began the eviction process, and the Agency of Human Services and Burlington Housing Authority got involved. Throughout the mitigation process, BHA workers helped Brenda downsize and organize her life so she could move to subsidized housing and make a fresh start. They filled a few Dumpsters with trash from her condo. "I still miss it today," Brenda says. "But I had to get rid of it."
Plenty of us are "packrats" or messy. But saving school report cards or leaving underwear on the floor does not make one a hoarder. For whatever reason, experts say, hoarders feel they can't live without their stuff. Objects that most people would see as worthless can have infinite value to them. They can't bear to give away old clothes because they might wear them someday. They can't throw away old newspapers because they might want to read them.
For 59-year-old Brenda, organizing her possessions became overwhelming. Soon it was easier to just ignore the mess. But concerns about her stuff generated a paralyzing anxiety that kept her from making progress.
This is a common pattern for hoarders, says Mark Schroeter, a task force member from the Agency of Human Services/Burlington Housing Authority. "Hoarders have an inability to make decisions, to handle their environment," he says. "They can't control what stays and what goes."
Yet many hoarders don't acknowledge there's anything wrong with them. Because the issue is so complicated, the task force includes 30 representatives from agencies including Burlington's police, fire and code-enforcement departments, Champlain Housing Trust, HowardCenter and the Champlain Valley Agency on Aging. The group's ultimate goal is promoting housing retention and public safety.
But hoarding has no quick fix. Cases can take more than a year to work out, and even then hoarders aren't necessarily "cured." "You have to be in this for the long haul," Schroeter says.
Recently, he and BHA colleagues Nicole Grubman and Mike Ohler shared photos of hoarders' apartments. Toys, dishes and rotting food fill a sink. Cardboard boxes, newspapers and food wrappers cover a floor. In a child's bedroom, the changing table is barely visible under a mountain of empty plastic bottles and clothing.
Task force members have seen everything, from people who collect bodily fluids such as urine and bile because of severe mental illness or injury, to clients who hoard animals because they believe they're saving them from the shelter.
Some of these clients live in "domestic squalor" — defined by the task force as filthiness or degradation from neglect. Squalid domiciles may contain food, animal or human waste. But hoarding shouldn't be equated with squalor, says task force member Brooke Hadwen, director of community outreach programs for the BPD. "You can have a hoarder who is immaculate," she explains.
For Brenda, accumulating stuff was always an issue. "Shopping binges" made her happy, she recalls. When she returned to Vermont from North Carolina, the spoils of those binges came with her. Most of them never made it out of boxes, yet Brenda kept buying things. Her condo soon became "one big wreck," she says.
Brenda plunged into a depression that left her unable to work. She had to sell some of her possessions to pay the rent. During this time, a number of relatives died and the contents of their estates went to Brenda. Her condo filled up with furniture she didn't need. When her mother became ill with cancer, Brenda's stress increased.
In an effort to keep Brenda in her apartment, Grubman and Schroeter helped her figure out how to pare down her things. Now, when she feels overwhelmed by her stuff, she asks herself, "Do I really need this? Do I really want this?"
While those questions help Brenda give herself a reality check, not all hoarders know how to ask them. Task force members can't do the cleanup work for their clients, Grubman says. But they can give them strategies to help them pass inspection and keep their apartments safe. For instance, Grubman helped one client find a new couch at ReSource (formerly Recycle North) to replace one that was covered in cat urine.
Though still in its early stages, the task force already has raised awareness of hoarding in Chittenden County. A growing number of social service providers has been attending monthly meetings, and public safety agencies are being trained to deal with the issue. Unfortunately, there's little funding to help. The Burlington Housing Authority has an annual budget of just $25 to help hoarding clients. Large-scale hoarding remediation can cost thousands of dollars. Still, the task force has made progress in educating its members, and that translates to better care for clients.
For her part, Brenda has good days and bad days. She gets mad at herself when she lets the clutter pile up. That's a good sign, Schroeter says; acknowledging the problem is the first step in healing.
"I'm trying to learn," Brenda says. "I'm not saying I won't fall backwards. But I've improved greatly now."
For more info about the Hoarding Task Force, contact Mark Schroeter at 863-7403 or markd.schroeter@ahs.state.vt.us.