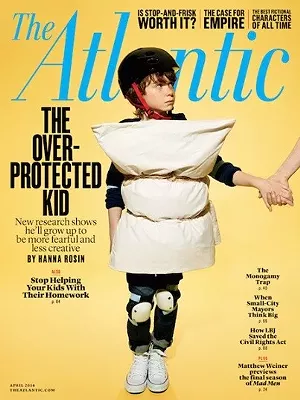 It's becoming increasingly apparent that I will soon have an actual human child as a result of this pregnancy. So, when I'm not thinking about my belly's new girth, or lamenting my still-growing to-do list, I'm beginning to think about how I might want to raise that child.
The
Atlantic
's latest cover story,
"The Overprotected Kid,"
by Hanna Rosin, fascinated me as a mom-to-be. The article begins in an "adventure playground" in North Wales called The Land. (Incidentally, Erin Davis, the filmmaker mentioned in the story who has made a
documentary about the place
, teaches at Middlebury College.)
The playground is basically a glorified junkyard. Instead of soft-edged plastic slides and foam ground coverings, the Land has piles of tires, old tools, wooden pallets, a fire pit and a frayed rope swing that deposits kids over (or into) a creek. Parents don't usually accompany their kids to this playground; the kids go alone.
It sounds awesome, if somewhat contrived. This isn't an unsupervised junkyard, after all; professionally trained "play workers" keep an eye on the kids at all times, though they try not to intervene.
[jump]
According to Rosin, the "adventure playground" concept has been around in Britain since the 1940s. "The idea was that kids should face what to them seem like 'really dangerous risks' and then conquer them alone. That is what builds self-confidence and courage."
The instinct to protect my baby kicked in almost immediately after I found out I was pregnant. But I'm not a parent yet. It's difficult for me to imagine the horror I will no doubt experience some day when I catch my daughter doing dangerous things. Reading about children in the Land lighting fires and rolling down hillsides in barrels, I thought,
I want my kid to be able to do that.
Growing up in the '80s and '90s, I had plenty of structure — and plastic playgrounds. I took piano and ballet lessons. I was a Girl Scout. I did a fair amount of fun stuff with my parents. But my most vivid and magical childhood memories are of things I did when adults weren't watching.
Before I turned 10, I lived with my family for three years in Germany. Our apartment in Bonn was just down a winding, wooded road from the Qatari embassy. My older brother, Alexander, and I got bows and arrows one year for Christmas — and decided to launch an attack on the embassy. I remember the thrill as we launched our arrows through the tall, iron gate. My heart leapt into my throat as we ran away, convinced we'd be pursued, captured and tortured before we reached home.
Our attack went unnoticed, but we never did get those arrows back.
Fear was a powerful motivator. I remember the anxiety, followed by a deep sense of accomplishment, I felt navigating the city buses alone — in German! — at age 8.
And I remember, several years later, after we moved back to the U.S., sneaking out of the house and into a cemetery after midnight with my girlfriends. We brought candles, matches and a Ouija board. I felt braver and more grown up that night than I'd ever felt.
I'm excited for all the fun stuff my husband and I will get to do with our daughter some day. I can't wait to bake cookies with her, to take her on hikes, to read with her. But right now I'm equally excited about the world she'll explore on her own — even if it will pain me to know she's out there exploring it, unprotected.
Ask me again in a few years.
Megan James is the managing editor of
Kids VT
. She'll be blogging about her pregnancy until the baby arrives — hopefully in early May.