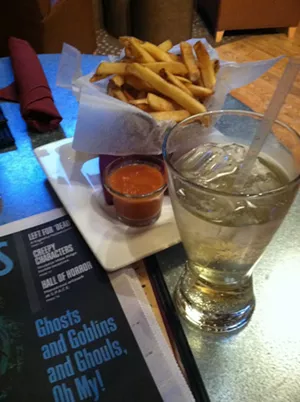 Megan James
Dinner on a good day: French fries and ginger ale.
A simple refrain ran through my mind during the first four months of pregnancy: WTF?!
Before I got knocked up this past summer, almost everything I knew about pregnancy came from movies and TV. You know the drill: The female protagonist pukes once, on the day she finds out she's pregnant. Then, in the very next shot, she's gorging on pizza and ice cream.
The rest of what I knew I learned from my mom, whose pregnancies were so blissful that she says she conceived me, her second kid, in part for the opportunity to feel great for another nine months.
It's no wonder I thought pregnancy would be glorious. I expected 40 weeks of indulging food cravings, running my fingers through my radiant hair and displaying a general joie de vivre.
How wrong I was.
So far, this pregnancy — my first — has been about one thing only: barf. For months, I've been deciding what to eat based on how it will taste, and feel, coming back up. I have ralphed it all: spaghetti, cereal, apples, saltines, rice cakes, strawberries, water, coffee. During the first trimester, I was blowing chunks multiple times a day, yet each puke was unique, like an upchuck snowflake.
There was the time I barfed under a small tree on the expansive green at Middlebury College while students streamed past me on their way to class. The time I squatted behind the door of my car in the parking lot of a Dunkin Donuts. The time my heartburn turned into a projectile acid volcano.
Sometimes, on days that started out well, I'd get cocky by dinnertime and attempt to eat something daring. This was
always
a terrible idea. Now, even the thought of these thwarted meals — massaman curry, vegetarian sushi, lemon risotto, chicken pho and the worst, late-night enchiladas — induces a kind of nauseous PTSD.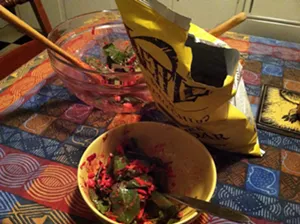 Megan James
Dinner on a great day: salad and chips!
As I slept, I dreamed of food: a mile-long buffet table laden with delicacies, mountains of chocolate-raspberry truffles, a bottomless pot of rich, velvety artichoke soup. I made a list of the foods I hoped to eat in the second trimester, stockpiling recipes I could barely read for fear they'd trigger a gag reflex.
Earlier this fall, as I lay on the bathroom floor for the second time in a day, my husband rubbed my shoulders and reassured me that my hair didn't smell like barf. Great!
Still, my throat burned. I'd burst the capillaries around my eyes and down the edges of my face. So much for the pregnancy "glow." I looked like I had contracted the plague.
But I didn't just feel terrible; I felt outraged. Why had no one warned me? How had the whole world neglected to mention the very real possibility that the first trimester — and part of the second — would so thoroughly suck? Instead I was left wondering,
Am I doing something wrong? Am I just not cut out to be a mother?

I'll stop short of trying to find the silver lining in the toilet bowl. Still, there were moments of zen on the bathroom floor. Occasionally I stopped fighting my body and just let it do what it had to do. And when everyday stresses reared up, I tuned them out. My attention belonged to just two things: my body and the little person growing inside it.
I'm thrilled to be expecting that little person. And now that I'm feeling its kicks and jabs, I'm beginning to fall in love with it. I just wish I could have mentally prepared myself for the unbelievable challenge of creating human life. Here's hoping those mythic cravings kick in soon!
Megan James is the managing editor of
Kids VT
. She'll be blogging about her pregnancy until the baby arrives — hopefully in early May.