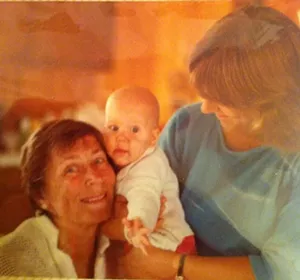 Not sure how to illustrate this story. So here's a gratuitous baby photo of me, with my grandmother and mum.
I'd never heard a scream like that.
I was standing in the hallway of the Fletcher Allen labor-and-delivery floor with nurse manager Mary Clairmont, who was giving me a tour of the facilities. We had just poked our heads into the kitchenette — which, I was delighted to learn, includes a freezer stocked with popsicles — when we heard the scream peal out from the room next door. I froze.
Over the last two weeks, I've visited six hospital birth centers — in Middlebury, Burlington, St. Albans, Randolph, Berlin and Morrisville. I'm working on a survey of hospitals in the
Kids VT
circulation area for our May maternity issue. I wanted to see what makes each place unique.
But the Fletcher Allen tour was more personal. I plan to give birth there, and this was the first I'd seen of the place. I tried to imagine myself waddling in next month, checking into the storied Room 4 and climbing into the big birthing tub. I imagined my husband walking the hallways with me (18 times around makes a mile) and stopping to slow dance (just like our doulas taught us) in the labor lounge, which has some of the best views of Lake Champlain in Burlington.
[jump]
It was all very pleasant — and surprisingly quiet for a hospital that delivers about 50 babies a week.
And then we got to the kitchenette. The door to the adjacent room was cracked open. But we would have heard this screaming regardless. It was blood-curdling, finger-curling, hair-raising. Here was a woman in total agony. She screamed again.
I was surprised how much it upset me. I'm under no illusions that childbirth will be easy. I intend to try for an unmedicated birth. I want to feel everything, no matter how painful. But it's one thing to imagine physical pain; it's quite another to listen to a woman working through it.
Clairmont, who has worked on the hospital's labor-and-delivery floor for more than 20 years, must have noticed my body tense. She asked if I was OK, and when I assured her I'd be fine, she nodded knowingly toward the screams. "Someone's about to have a baby," she whispered.
We stood there in the hall for about five more minutes. Clairmont tried to distract me, pointing out perks of the kitchenette. And then we heard something new, a baby crying.
There's just no other way to say this: It sounded like a miracle.
Megan James is the managing editor of
Kids VT.
She'll be blogging about her pregnancy until the baby arrives — hopefully in early May.