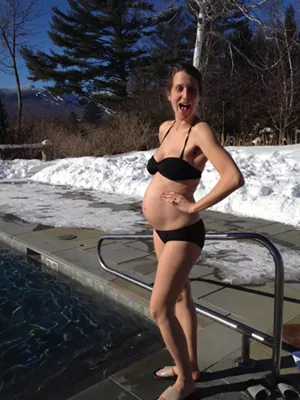 Chillin' with my 29-week bump on an 18-degree day at Top Notch Spa last week.
When I first got pregnant, people warned me that once my belly was big, I'd start getting unwanted looks, touches and comments from strangers.
Now that I am sporting what is obviously a pregnant belly — not just a lumpy midriff leftover from lunch — I'm starting to understand what they meant. When you're creating another human life, everyone around you becomes interested.
People give you conspiratorial looks every time they catch you with food in your hands. They offer daily updates on the growth of your midsection. They ask you how you're sleeping. And yes, sometimes they touch you.
The thing is, I kind of like it.
And I get why people do it. It's exciting to see a woman with a giant belly! Under what other circumstances do you get to watch a woman's life change before your eyes?
Women who've had babies — and the partners who supported them through those 40 weeks — get nostalgic when they look at you. They want to tell you what it was like for them. They want to induct you into the secret society of Women Who Know.
And people who've never had a baby stare, too, because, let's face it: Pregnancy is insane. One day you're a normal-looking woman; before long you're bursting at the seams with a live human creature.
Here's what I love about sporting a bump that seems to have become part of the public domain:[jump]
It's an instant ice breaker.
Last Friday I went to karaoke night at Burlington's St. John's Club. I'd never been to the club before, and I arrived about half an hour before the rest of my friends. So I headed for the bar.
Sipping my cranberry and soda somewhat awkwardly, I scanned the crowd for faces I recognized. That's when the old fellow beside me at the bar looked down at my floating orb and smiled.
"Big things ahead," he said warmly.
And then he told me about his three children and several grandchildren. He said that in the 1970s, when his wife was giving birth to his daughter, he wasn't permitted in the hospital room. That was back when the men sat outside in a waiting room, playing cards and smoking cigarettes.
It was a lovely conversation. And by the time we'd run out of things to say to each other, my friends arrived.
People are nice to you for no reason.
When I got up to sing karaoke — stone-cold sober in a room full of strangers — I felt oddly at ease. My rendition of "Oh What a Night" left much to be desired, but audiences
love
a pregnant lady with a microphone. Folks seem to expect you to be demure, or to stay at home, just because you're having a baby. I've never gotten so many high fives as when I shook my bump on the dance floor to "Hit Me Baby One More Time."
And yes, strangers sometimes touch your belly.
I'm fine with this. It's always bothered me that people apologize for simply brushing into one another. I know there are folks out there who are sensitive about personal space; I'm just not one of them. Besides, when strangers touch my midsection, their eyes tend to widen. I like knowing that I'm not the only one in awe of this great, growing belly of mine.
Wearing a bikini has never been more freeing.
Finally, I can let it all hang out. And it is glorious.
Megan James is the managing editor of Kids VT. She'll be blogging about her pregnancy until the baby arrives — hopefully in early May.