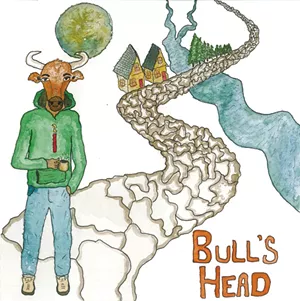 (Self-released, digital)
One of the most tired clichés in music is the whole "making an album is like having a baby" thing. For starters, unless you're a Scandinavian black metal band, the process of making a record shouldn't involve literal blood.
That said, there is an interesting subgenre of music that blurs the line between the cliché and making properly introspective work. For lack of a better term, let's call it "music by new parents." (I'm not using "dad rock," goddamn it.)
Take the debut record from South Burlington-based songwriter Andy Samara. Performing under the moniker Bull's Head, Samara has put together a record that vacillates between tender folk and lush indie rock. In an email to Seven Days, Samara writes that one of the reasons he felt the urge to record Bull's Head was to share with his young children something they can have of their father in the future.
The record, performed and produced in its entirety by Samara, opens with two missives to his kids: "Bean Sprout" and "Franny (Bean Sprout Reprise)." Samara plays a jaunty electric guitar figure before he sings out, voice drenched in reverb, "Grow up boy, grow up girl, bean sprout / Know my love like you know the sun / Or like the moon, always full." It's a simple yet evocative declaration of unconditional love that sets the tone for a record that feels like a tenderly written letter.
"Stone Road" finds Samara functioning as a one-man band. He layers take-me-to-church organ over a swinging country beat to great effect. There's a hint of an edge to the singer's otherwise clear voice, just a twinge of grit that adds some wonderful complexity to his melodies and lyrics.
Perhaps most impressive about a record that possesses such thematic fidelity are the subtle yet-chameleonic shifts from song to song. "Morning Moon" comes across like a spiritual hymn, with cavernous-sounding vocals over gentle acoustic guitar. Yet beneath the arrangement one can hear layers of static, like radio waves surging out to space.
Samara entertains the bigger, cosmic questions while making a very rooted sort of album. "Far Past the Houses Rivers and Trees" is a beautiful ode to his lover and the lives they've created together. "As night falls and rains fall and fog fills the sky / Into rose-colored rooms where new breath came to be / And you made new life like it was a dream," Samara sings, conveying a loving sort of awe.
For all the grandeur of the folkie moments on Bull's Head, Samara's talent really shines on the more synth-driven indie-rock songs, such as "Race Against Joy." Here Samara creates a distinct musical identity, a sonic calling card the songwriter might just be able to build upon. In Vermont's crowded folk field, those less-traditional leanings could add the color to push him above the pack.
As a missive to his kids, Bull's Head is a loving, sun-drenched tribute. As Samara's debut record, it's a promise-filled marker. Hear for yourself at bullshead.bandcamp.com.