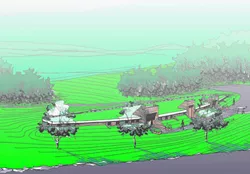 Architect Keith Dewey describes his latest brainchild as "a thesis of non-architecture." It's a cluster of four ultra-energy-efficient apartments that will be so sleek, low profile and integrated with the natural landscape that the human eye will barely notice them. Locust Knoll, as the project is called, will be built directly into a hillside near Route 2 in Richmond. To passersby, it will look like little more than a landscaped terrace that blends harmoniously with the contours of the surrounding organic farm.
But life inside this earth-sheltered "quadplex" will be anything but cold, dank or cave-like. Expansive southern exposures will maximize sunlight and offer dramatic mountain views. These one-story, three-bedroom apartments - four free-standing homes of similar design are coming later - will be powered mostly by solar photovoltaic panels and a communally owned wind turbine, if conditions allow. They will also share a pellet-fired boiler, all but eliminating the need for fossil fuels. The quadplex will be hooked up to the electricity grid, but at certain times of the year, its generators may produce more power than the apartments use. The excess energy will be fed back into the grid, allowing the utility meter to run backward.
The quadplex's green sod roof, sown with native grasses transplanted from a nearby pasture, will act as a buffer against extreme temperature fluctuations in winter and summer, reducing the homeowners' energy use. The building's shared walls will be constructed of ICF, or integrated concrete form blocks, which provide more than a foot of highly effective weather and sound insulation. The quadplex's structural design will allow its interior to be reconfigured easily. Yet the building will require virtually no major maintenance, such as new roofing, siding or insulation, over the course of its life.
"The average stick-framed house built in the United States right now has a life cycle of 60 to 80 years, if we're lucky, before it needs major renovation," says Dewey, owner of Dewey and Associates Architects and Planners of Londonderry. "What we're aiming for is more of a Chinese mindset, where we're thinking in terms of a 200-year building."
Indeed. There's something almost Zen-like about the design philosophy behind Locust Knoll, a collaborative project being built this spring by Dewey, home builder Tom Moore of Underhill Center, and landowner and organic farmer Jennifer Gilligan and business partner Jim Hering. Locust Knoll offers a glimpse of the future of "green" building in Vermont - a future in which the goal is to move beyond mere energy efficiency and off-the-grid self-reliance to a holistic home-construction process. That approach encompasses designing modestly sized interiors that are cheaper to heat and cool; using locally produced and nontoxic construction materials; building shared infrastructure, such as water wells, septic tanks and community gardens; and preserving adjacent farmland and undeveloped spaces.
Other Vermont builders and construction professionals have envisioned this future as well. Many have recognized that the rising costs of land and energy, as well as the indisputable reality of global warming, are redefining how they do business. Given these problems, the sooner they join Vermont's green-building revolution, the better.
On a sunny Wednesday morning in the Capitol Conference Center in Montpelier, the Associated General Contractors of Vermont gathered more than 50 developers, architects, planners and state regulators for a daylong "green building workshop," one of five such workshops being held statewide. Run by the Burlington-based Building for Social Responsibility, the sessions are introducing home-building professionals to a new pilot project called the "Vermont Builds Greener/LEED for Homes Program." In essence, it's a system for rating the energy efficiency and environmental soundness of new housing projects. The goal: to produce homes that are healthier, more comfortable and more energy efficient, with a smaller environmental footprint than homes that are conventionally built.
The morning's presenter is Chuck Reiss, a developer and environmental guru in Vermont's green-building movement. Reiss, who taught environmental science for many years at the Community College of Vermont, is also a co-founder of BSR. Because a green house in Charlotte, North Carolina, doesn't necessarily make environmental sense in Charlotte, Vermont, Reiss and other greens are working to tweak the national standards established by the U.S. Green Building Council, without lowering the bar for Vermont's green builders.
This morning, Reiss is explaining to the attendees how they can earn credit or "points" for decisions they make during the building and design process. As members of the crowd scribble notes, Reiss walks them through the steps they'll need to take to build earth-friendly houses. It's soon evident that building green homes takes more than mere expertise with a hammer, plumb line and skill saw; these days, green builders also need a working knowledge of such diverse sciences as hydrology, botany, soil ecology and urban planning.
For instance, a developer earns two points for not building in a FEMA-designated flood plain, one point for building on a previously developed site, and three points for building within a quarter-mile of 14 "basic community resources," such as schools, banks, libraries, police stations and supermarkets. Not introducing invasive plant species is mandatory, while landscaping with drought-resistant trees and shrubs is optional. Including photovoltaic cells, wind turbines and triple-pane windows significantly boosts construction costs. Making 70 percent of the site permeable to water runoff, or selecting a location that doesn't contribute to suburban sprawl can be accomplished cheaply with smart planning.
The system sets up eight mandatory categories for meeting the performance standards of a certified green home. They include initial site location; water and energy efficiency; indoor environmental quality; and educating homeowners, tenants and property managers about how to properly operate and maintain their green homes.
At the workshop, the builders' responses to Reiss's presentation reveal some quirks in the point system. One builder wonders about the definition of "open spaces" - "Does that mean for people or just squirrels?" It turns out that open spaces must be publicly accessible to humans and not just furry critters.
Another attendee notices some apparent inequities in the point system. For instance, a developer can earn three points by limiting the use of turf that requires constant mowing and fertilizers, but only two points by building a housing development with an average density of seven dwelling units per acre. While the former is relatively easy to accomplish at low cost, the latter requires considerable planning and forethought.
Despite such shortcomings, the Vermont Builds Greener/LEEDS for Homes Program adds up to a global rethinking of how new development takes place in Vermont. "My goal is to do everything we're talking about today, soup to nuts. I'm not just looking at energy usage," Reiss explains during the noon break. "We're saving farmland and we're building for durability. If my customer has to re-side his house every five years, I haven't saved him any energy. Globally, I haven't saved any resources. We have to do it all."
Reiss isn't just talking the talk. His South Farm Homes project in Hinesburg may be one of the most ambitious green-building projects ever undertaken in the state. It's an entire subdivision that aims for "net-zero energy" - that is, to produce all its own electricity, heat and fuel on-site, using a combination of solar, wind and geothermal energy, while releasing virtually no greenhouse gases.
The project began several years ago when Reiss was approached by the Russell family, who've been in Hinesburg since 1785 and have farmed this particular land since the early 1800s. Twenty-three-year-old family member Joe Donegan, an organic dairy farmer, says his grandfather used to herd cows to pasture down Route 116 - an impossibility these days.
Donegan and his 27-year-old brother James, an organic vegetable farmer, are committed to what Joe calls "human-scale" agriculture, which uses "nothing more mechanized than a lawnmower." Donegan explains that the family chose Reiss because he was willing to save some of Hinesburg's most productive farmland, while also keeping the family's 60-acre sugarbush from being subdivided and developed.
"An essential part of building green homes is building the health of the whole ecosystem," Donegan says. "As we build our homes and our lives, if we want them to be green, our actions should also benefit the soil, the air, the water. In theory, what's good for one is good for the other."
Like the Locust Knoll project in Richmond, South Farm Homes is going green across the board - with modestly sized houses, triple-pane windows, nontoxic and locally produced building materials and Energy Star appliances, among other features. Only a small portion of the 24-acre site, just off Route 116, will be developed. It will offer hiking trails with easy pedestrian access to downtown shopping in Hinesburg Village, reducing the residents' dependence on cars for trips to the store.
Residents of South Farm will need to alter their habits somewhat to achieve their energy-efficiency goals. "You can't be net-zero and not have some lifestyle change," Reiss says. "If you come in your door, flip on every switch, turn on the oven and leave the TV on all day, it's not gonna happen."
However, Reiss emphasizes that green building doesn't demand radical lifestyle changes, either, just more awareness of energy consumption. Like Locust Knoll, the South Farm homes are smaller in size and will use only one-third of the energy of a conventional home.
Housing developments like Locust Knoll and South Farm are still a niche market in Vermont. A single-family home or apartment in either development will start in the $425,000 range and rise considerably from there, depending on the amenities.
That said, people who can afford the homes now are likely to see a payout down the road, for both themselves and the rest of the community. "We have a problem in this state, and that problem is Vermont Yankee and Hydro Québec," Reiss says. "In six years, we're all going to be screwed. When people start thinking that this kind of building costs too much, what happens when our electricity bills triple in six years?"
Dewey, who conceived Locust Knolls, agrees. "Long term, if you consider all the true costs to our society, a green building is far cheaper than a conventional one," he says. "One of the things we're banking on is that society is starting to mature to the point where what made the bottom line in the 20th century is a whole lot different in the 21st century."
It's no accident that two of the greenest housing projects now in the works in Vermont are being built on organic farms. Locust Knolls is sited on land owned by organic farmer Jennifer Gilligan, who raises sheep and chickens on land that's been in her family since 1923. Gilligan believes that green building bodes well for Vermont farmers - not because it's new, but because it's a return to the wisdom of the past, when development and agriculture coexisted harmoniously.
"It's very much like the old days, where you try to stretch your assets as far as you can, and that includes energy," she says. "Living with an eye towards nature, that's the old way. It's nice to see it's come around again."