Jim Westphalen
The Hunt family home in Stowe.
Standing in the kitchen of architect Harry Hunt's Stowe home, leaning against the poured-concrete countertop, you can see nearly every part of the first floor. There's the open living room, with a couch, cozy window seat and plenty of books (but no television). There are wrought-iron lights from Hubbardton Forge, which hang from the ceiling and illuminate the simple wooden dining room table. And there's a view through the windows in any direction you care to look.
On the outside, Hunt's 2,700-square-foot house is all corrugated steel and wood, streamlined and elegant. It is not just a home for his family of four — wife Stephanie and children Alaena, 13, and Tucker, 10 — but also a model for the kind of energy-efficient buildings "with soul" that Hunt likes to design for his clients.
Jim Westphalen
The 2,700-foot home was constructed from corrugated steel and wood.
From the thermal envelope that keeps the space warm in winter and cool in summer to the lofty ceilings to the numerous Vermont materials used in its construction, the structure exemplifies ways in which beauty and sustainability can intertwine.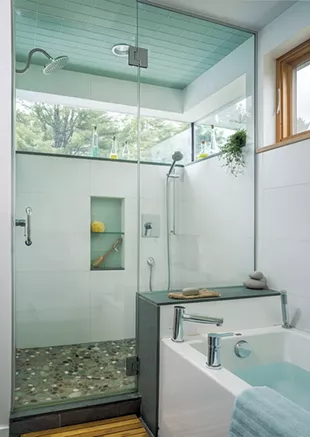 Jim Westphalen
The master bedroom has a glass-enclosed shower and separate bathtub.
"We tried to make the house as energy efficient as we could," Hunt says, without sacrificing the home's coziness and personality.
To that end, Hunt combined blown-cellulose insulation with a type of rigid foam — called polyisocyanurate — that is more ecologically friendly than the old pink and blue stuff. He also forwent a basement in favor of a first-floor mechanical room and lots of clever built-in storage.
Hunt worked to pare each room down to its essentials. The home office is a cozy 6-by-7-foot nook on the first floor. Each child's room is 10 by 10 feet — "which is about as small as a bedroom can be, functionally," says the architect. Yet, because of Hunt's careful design, these rooms feel functional rather than constricted. "As things get smaller, you have to be more thoughtful and intentional," he says.
Jim Westphalen
An energy-efficient skylight lights up the upstairs hallway.
The matching kids' bedrooms, for instance, are painted in cheery accent colors of their choosing and feature plenty of storage for toys and clothing. Their hobbies were considered, too. Tucker's room contains hanging storage and containers for what may constitute the largest Nerf gun arsenal in Vermont. His wall is decorated with a collection of Star Wars decals. Each youngster has a private loft; Alaena has equipped hers with a grow light for her seed starts.
Those elevated hideaways provide the children with autonomy and privacy. "It's hard for parents to get there," Hunt points out. "You can, but you have to climb a ladder."
The playroom — which triples as a TV room and guest room — has its own bathroom and loft. That's where the guest bed is, but the red pullout couch below can sleep two, as well.
The bright and simply decorated master bedroom is larger than the children's rooms, equipped with a separate closet across the hall. Its bathroom features Vermont slate tiles and a bathtub separate from the glass-enclosed, double-headed shower, which has a fetching pebbled floor. The setup is both efficient and romantic.
In the upstairs hallway, the ceiling towers overhead. Soft light seeps in from a frosted, energy-efficient skylight that faces north. The ventilation system — necessary in such a tightly constructed house — is located nearby, so high up that it barely catches the eye. The crisp white walls and a niche at the top of the staircase — displaying a large, smooth rock that the family brought home from Maine — lend the space a gallery-like quality.
Jim Westphalen
The playroom triples as a TV room and guest loft.
Highlights of the Hunt home include the use of numerous floor-to-ceiling doors and windows on the ground floor and the careful crafting of exterior spaces. A covered outdoor "room" has a soaring wood ceiling — it's easy to forget it's there, although it offers protection from the sun and rain. The patio furniture is spare and modern.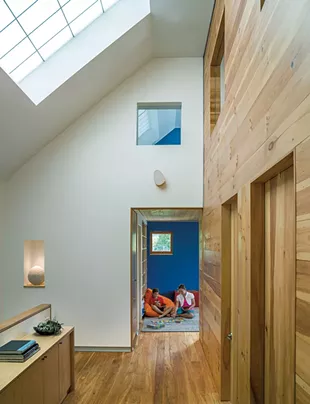 Jim Westphalen
Clever design keeps the children's small bedrooms functional, not constricted.
Why use so much glass in a cold climate, or construct an outdoor sitting room? In part, it's to supply balance, says Hunt. Unlike an old farmhouse, with leaks and drafts that literally let you know which way the wind is blowing, homes that hew to contemporary standards of energy efficiency are tightly buttoned. Thus, it's easier to lose touch with nature.
Hunt explains that, in his house, it can be "20 below outside, and you wake up and it's 68 degrees, and you can walk around in your pajamas, your underwear, and you'd never know. You might think it's a sunny warm day." So, he continues, "You have to be a little careful and look at the thermometer to decide what to wear."
The more the inhabitants see the outside world, the more they stay in touch with what's happening beyond the building's walls. Says Hunt, "It's an important part of being human, to hear the birds and feel the breeze."
Jim Westphalen
The Hunt family around their Stowe home's outdoor firepit.
Another foundational principle of Hunt's design is taking into account the habits of his clients and their families. He gives each client an 11-page questionnaire so he can understand their daily habits and design with those in mind.
Jim Westphalen
The outside deck showcases the home's floor-to-ceiling windows and doors.
Hunt, who also designs commercial buildings, points out that every project is site-specific. "You're not designing for everywhere. You're designing for that where," he says. For instance, an architect needs to consider the way light will fall through the windows at different seasons and the thermal impacts that light will have, as well as pondering where the windows should be placed for optimal views.
Overall, Hunt says, "Great sustainable designs should feel different. Sitting in a sustainable building, your experience is different than it would be with any other building. It should raise your awareness about sustainability."
In his home, that's certainly the case.