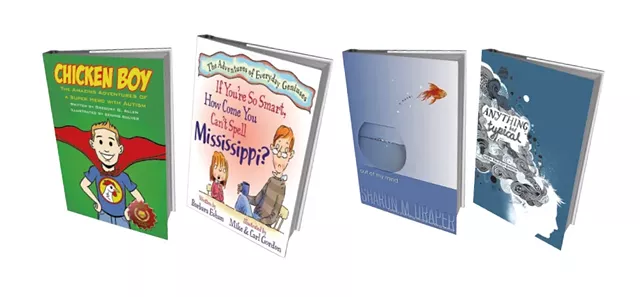 Books that feature characters with disabilities can be a great way to start conversations about the ways we're all different. Sam Drazin, founder of the educational nonprofit Changing Perspectives, thinks that discussions like these can help kids learn to be empathetic. (Read about Drazin's work in "Lessons in Kindness.") We asked Drazin to recommend a few of his favorite titles.
Chicken Boy: The Amazing Adventures of a Super Hero With Autism
by Gregory G. Allen, Ages 4 & up
Says Drazin: "The story is told through the point of view of a young boy who describes some of the daily challenges he faces living with autism, as well as his strengths as a person. The main character also explains how he wishes others would interact with him. A great book not only to discuss autism with young children but how every one of us has our own strengths and challenges."
If You're So Smart, How Come You Can't Spell Mississippi?
by Barbara Esham, Ages 6-8
Says Drazin: "This picture book follows third grader Katie as she realizes that her father, a successful lawyer, struggled with learning challenges in school when he was a kid. The book describes what dyslexia is and reminds the reader that even though you might have a learning disability, it doesn't prevent you from being successful."
Out of My Mind
by Sharon M. Draper, Ages 10 & up
Says Drazin: "The story is told through the perspective of the main character Melody, a teenage girl with cerebral palsy. What makes this story interesting is that Melody is nonverbal and uses a device to communicate with others. This book helps the reader understand that even though someone may not be able to communicate in the traditional way, they still have a lot to offer the world."
Anything But Typical
by Nora Raleigh Baskin, Ages 10 & up
Says Drazin: "This book follows 12-year-old Jason, who has autism, as he navigates school. The story is told through Jason's perspective, helping the reader to gain a better understanding of what it might be like to navigate the neurotypical world while being on the autism spectrum."