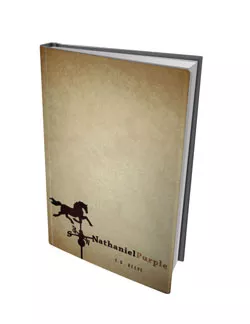 A few chapters into F.D. Reeve's recent novel, Nathaniel Purple, I had it tagged as a poet's first attempt at fiction. The plot cuts awkwardly between the peaceful domestic life of a librarian narrator — an underdeveloped character — and the senseless brutality of an abusive farmer neighbor. The writing likewise lurches unexpectedly from poetic gem to inscrutable dialogue to perplexing reference. "As the morning wore on, spreading what the Chamber of Commerce calls 'its amiable refulgence on Haystack Mountain,' the phone in the library kept ringing off the hook," reads one of the last cases. Sentence fragments and writerly crutches such as the slash do heavy work, as in "a woman weeping/not weeping."
My first assumption was incorrect. The Wilmington author, now in his early eighties, has written five previous novels, the first of which was published in 1968. But Reeve is better known as a poet, the field in which he has justifiably garnered both praise and awards. So why would he write another novel?
Seemingly for the same reason that drives a lot of writing in Vermont: the wish to portray small-town life in the Green Mountains in all its anachronism and timelessness. And this Reeve does quite well.
Nathaniel Purple takes place in a small village in "these years after the Gulf War" (whether the first or the second is unclear). The village "seems a toy set, an architect's cardboard design" to the narrator, Nathaniel Purple, as he sits atop his horse, Crystal, on his morning ride through the hills. But he knows it is anything but. A feud between two families, the Andermans and the Sawyers, is coming to a head, and the outcome will draw the town together.
The instigator is Carl Anderman, an uneducated dairy farmer who resents his older daughter for having gone to college and shoots his gun in the general direction of his younger daughter when he finds her sleeping with the Sawyer boy. When Carl later discovers that his wife, a cleaning woman named Gertrude, is having an affair with John Sawyer, his rival, he loses it, bashing the man nearly to death with a piece of furniture. In an "angry mob" scene right out of the movie Frankenstein, the town's men convene and resolve to make Carl pay for his actions: "I'm for makin' a posse and payin' a visit to Mr. Anderman. Who's with me?" one villager shouts. But before they can, Carl sets his own barn ablaze and goes down with it, intentionally or not.
Nathaniel is a patrician, educated type who admires the "oikological perfection" of his study; the first word there means "domestic" and was last used around 1890. To the working-class villagers with a more limited vocabulary and worse grammar, he's "Mister Purple." (The name cries out for explication; could Reeve be making a self-deprecating reference to his own purple prose? But, alas, the sense of humor evident in his most recent book of poetry, The Puzzle Master, is largely absent here.) Rather unbelievably, Mister Purple worries about being "as dated as Swedenborg" with his beloved, Catherine, yet when he stops in for a Long Trail at the local pub, the all-male clientele call him "Nat" and expect him to have the inside scoop on town gossip.
Reeve creates a more believable character in the wife beater, Carl, who can spoil his dog, Red, with treats and then viciously swing at him without missing a beat. Carl prefers his cows to the females in his life because "they reassured him. Their heads nodding and their tails flicking approved whatever his plans were. Being milked, they yielded to his hands." There's also the French Canadian general-store owner, Arnie Prideaux, with his massive butcher's arm and fluid French cursing; and the town doctor, Jack Evarts, who won't charge patients he knows can't pay.
These are characters we've seen before, if not outright stereotypes. If anything, Reeve celebrates that familiarity by placing them in a kind of historical arc that renders them eternal. The Anderman-Sawyer feud is tied to the "conflicting land grants" of 17th-century Vermont. Nat is "surrounded by three hundred years of furniture" inside his house. A memory of falling in love with Catherine is followed by another one rather puzzlingly described as occurring "some 380,000 cosmological years later."
Whether this renders the novel's characters and events more or less interesting — does nothing change? — is a matter for the reader to decide. In the meantime, one wishes Reeve's next novel would offer fewer obscure references to cosmological years and Chamber of Commerce brochures, and more sentences of pure poetry like this one: "The lemon sunlight falling on the pond falls on the dead, taking them down into a willowy half-night, folding them into the long trays of the valleys."
"Nathaniel Purple" by F.D. Reeve, Voyage/Brigantine Media, 128 pages. $13.95.