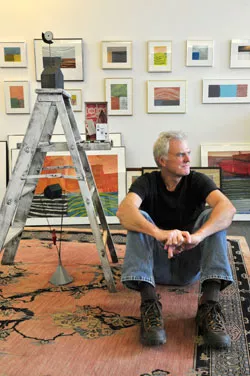 Jeb Wallace-Brodeur
Axel Stohlberg
When artist Axel Stohlberg was 24, he built a house in Middlesex. Then a recent graduate of Massachusetts College of Art and Design with no prior carpentry experience, he raised the post-and-beam home with a team of friends, and then raised a family in it.
Now 59, Stohlberg works in a variety of media, but for a long time there's been a house in nearly everything he does — paintings, charcoal drawings, sculptures and assemblages. Often he uses a simplified image: just a cube topped with a sloping roof, no windows or doors.
"I've been sort of playing with the house shape: the house as a shelter, as a home, as myself," he says. "I mean, not to get too romantic about it, but I guess it became an image of me."
Stohlberg has white hair, a warm smile and cool blue eyes. When he speaks, he does so slowly, as if carefully weighing each word before selecting it. He seems to build his sentences as sparingly and deliberately as he constructs his assemblages, each one a story contained in just a few found objects and a bite-sized title.
In "Little Stories," an exhibit of assemblages currently on display at Studio Place Arts in Barre, Stohlberg includes "Carrying the World," which comprises a miniature man lugging a giant sphere on top of which balances a tiny wooden house. "Thinking Out Loud" offers a little red house tucked in a deep wooden frame, with an oversized paper funnel (or loudspeaker?) shooting from the roof. "House of Wax" is exactly that, bolted together above a gouge in a wooden block, with a partially burned candle below it.
During a recent visit to the artist's Waterbury storefront, Axel's Gallery & Frame Shop, we find a trio of table-top sculptures-in-progress laid out on Stohlberg's worktable, each one incorporating a house. One has a plumb bob dangling from it. Another has a handle sunk into its roof.
Taped to the table beside the sculptures is an old Gary Larson cartoon. In it, a huddle of museum-goers admires a painting, and one lady brags, "My boy made the frame." It used to hang on his mother's fridge, the artist says with a smile.
Stohlberg has run the framing business in Waterbury for 26 years, but it started years earlier in the basement of his Middlesex home. "I used to go out like Willy Loman, with a case," he recalls. "That got old real quick."
Now his Stowe Street shop serves as a gallery, too. His abstract paintings — layers of colorful bands — take up one wall; his small wire sculptures adorn another.
"I have a lot of art crap," Stohlberg offers, referring to the found objects he uses to create his assemblages. Most of these items are boxed up in the shop basement.
On the way down the steps, Stohlberg points out two heavy doors from a vintage red truck leaning against the stairwell. He found them at the Waterbury train station's old freight house, which is slated to be relocated next year to make way for a parking lot.
"They paved paradise," Stohlberg murmurs in a nod to Joni Mitchell before descending the darkened stairwell.His stuff is packed on shelves next to the stairs: boxes filled with paper funnels, bird cages, wooden knobs, fishing weights and an old lunchbox.
Stohlberg grew up in North Plainfield, N.J., the son of an electrical engineer and a mother with an artistic bent. Before graduating from Mass Art in 1974, he took a leave of absence and moved to Kirby, Vt., where he shared a house with seven other guys. They called themselves the Kirby Mountain Boys.
It was during this time that Stohlberg met his wife, who was from Middlesex, and decided to put down roots in Vermont. The couple raised two children there before they divorced. After 35 years in the house he built, Stohlberg moved to Stowe this fall. "It's actually been hard, leaving the house," he concedes.
In a joint show with Burlington artist Catherine Hall at the T.W. Wood Gallery in Montpelier last spring, Stohlberg showed a lot of house-shaped sculptures, including a large one made entirely of reclaimed windows. He considers that show a kind of swan song for the theme, and lately he's been tackling more abstract paintings and mixed-media works.
"I wanted to get it out of my system," Stohlberg says of the houses. He later admits, though, "I'll believe it when I see it."