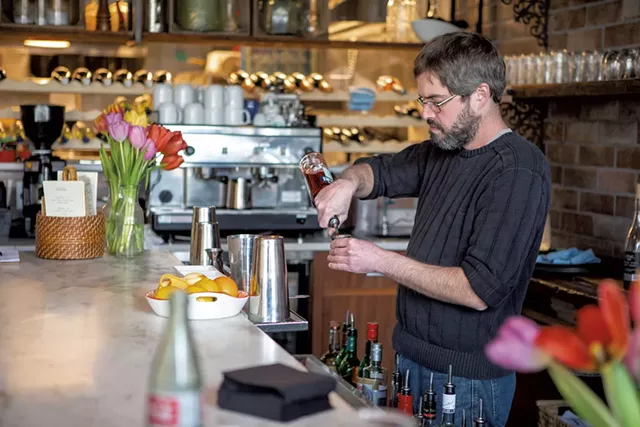 Luke Awtry
Mike Dunn
The eight-stool bar was filling up the other night at Burlington restaurant Poco when I arrived carrying a yellow legal pad, two pens and a laptop. I spotted a seat in the corner, hoping to claim enough space for a cocktail and a computer.
From behind the bar came a directive: "Sally, relax."
It was Mike Dunn, the bartender, intuiting my unease about taking up a slab of marble bar top with work gear.
"What're you drinking?" he asked.
"What do you recommend?" I answered, eyeing the cocktail menu.
"I usually drink a Negroni," Dunn said. "But I'm partial to the daiquiri."
I ordered the Negroni.
"We'll start there," Dunn said, "and begin our journey."
That journey started with a Negroni, amber-gold and potent, at the tapas restaurant on Main Street and wound up on a second night with a bottle of Molson at T. Rugg's Tavern, a neighborhood bar in the Old North End.
Dunn, 33, tends bar at both places. I trailed him to each and had a drink and some conversation for this first installment in an occasional series called "Bugging the Bartender."
At Poco, a cocktail or a glass of wine complements a well-crafted meal. At T. Rugg's, a shot and beer are paired with a bag of chips. But the two bartending gigs are bound by an overarching sensibility, Dunn said.
"It's not so much [about] making the drink," he told me. "What I enjoy is interacting with my fellow humankind. We have a short time on this Earth. I'd rather spend it with everyone else."
The former bar manager at Misery Loves Co., Dunn is bartending while he and his partner, Grace Meyer, develop their plan to open a distillery called Unearthed Spirits, which will produce vodka from potatoes.
"I want to make a business that's smart and doesn't overstep its boundaries," Dunn said. "I want to be doing [Unearthed] when I'm 85 years old. Vodka's a people's beverage. It's not for the czars."
As Dunn mixed drinks and served food at Poco, he talked about his entry into restaurant work as an 18-year-old music major at the University of Vermont, where he played sax and studied jazz performance. Dunn got a job as a dishwasher at Sneakers Bistro in Winooski, where he later worked as a prep cook and line cook. "I was in the back of the house first," Dunn said, "and I wasn't very good at it."
He went on to host at Sneakers and said that when you're a host, "people will eat you alive." Dunn noted a theme common to restaurant labor and playing music: "Working in a fast-paced environment is a lot like improvising."
Dunn was recalling his early years in the business, including his first bartending gig, at the Monkey House in Winooski, when a woman named Marsya Ancker arrived at the restaurant. She took a seat at the bar, handed Dunn her credit card and asked him to give her the bill at the end of the meal; she wanted to pay for her husband's birthday dinner.
"You wink and give me the word," Dunn said.
I chatted at the bar a bit with Ancker when Dunn was too busy to be bugged. "Whaddya think of Mike?" I asked, seeking her first impression.
"I think he seems sincere," Ancker answered, "not willing to get wrapped up in other people's business, but willing to guide you."
At Poco, Dunn works with chef-owner Stefano Cicirello, his "goombah" from a decade back, when the two were bouncers at Three Needs Taproom & Brewery. "He was great," Dunn said. "He was a lot more jacked than me. I'm five-nine, 165 pounds with a beer gut. You need someone like Stefano to roll in and say, 'Hey!'"
The bouncer buddies sometimes looked to the future. "I remember telling [Stefano], 'Don't be a bouncer the rest of your life,'" Dunn said.
Looking ahead now — both to an upcoming shift at T. Rugg's and his long-term plan of opening a distillery — Dunn likes what he sees.
"I love bartending," he said. "Sometimes it gets in the way of opening a distillery, 'cause I like it too much."
Six days after I hung out at Poco with Dunn, I brought my laptop to T. Rugg's to ask him more questions.
SEVEN DAYS: What subjects do you need to know something about to shoot the shit with bar patrons?
MIKE DUNN: Sports. The weather. A lot of people that come here live around here. You got to know about the Old North End, what's going on in terms of where they live. People talk about their jobs, their friends, their problems, their roommates, their wives and husbands. You have to be a good conversationalist.
SD: In 15 years working in Winooski, from host at Sneakers to bar manager at Misery Loves Co., what changes did you see in that city?
MD: The rotary was huge; the rotary wasn't there when I started. And more restaurants. Winooski was a different place, definitely.
SD: Where do you go for a drink if you want a shot and a beer? How about a craft cocktail?
MD: T. Rugg's for a shot and a beer. For a craft cocktail, I like Monarch & the Milkweed, Deli 126, Misery.
SD: What is a "craft cocktail," by the way?
MD: I don't know.
SD: Me neither.
MD: It's a well-thought-out, culinary-based, overly priced, strictly measured-out adult beverage.
A MAN AT THE BAR: Do you know who invented the toilet?
[Before Dunn, or anyone else, could reply, the patron answered his own question: "Tom Crapper."]
SD: Do you ever get the feeling you're hosting a party when you come to work? How do you keep it light and flowing?
MD: I don't think I'm hosting a party. It's more like opening up my living room. Sometimes it can be a party, sometimes it's not.
You got to be equal parts authoritative, as well as approachable. You're the star. It's your vibe. Everyone's vibe is different. The bar is different depending on who's working.
SD: How do you think the proliferation of breweries in Vermont has affected the state's bar scene?
MD: I think for the better. There's more beer bars and a higher appreciation for beer throughout — [from] the Vermont clientele, not to mention the tourism. It's good for the state. It brings in outside money; that's what we need here.
SD: What qualities does it take to stick with bartending for more than a decade?
MD: Patience. That's all I got.
SD: How do your two gigs — Poco and T. Rugg's — fit together for you?
MD: I like the difference in styles. Poco's about the food, and I like working in restaurants. And [T. Rugg's] is more about the people, which is fun, too. Nothing is hard here. I'm conversing with my brothers and sisters.
SAME MAN AT THE BAR: Are you a Yankees fan?
MD: Of course I'm a Yankees fan. The only New York team I don't root for is the Rangers.
SD: Do you ever have to cut people off?
MD: Of course.
SD: How do you do it?
MD: Tell them politely it's time to go home.