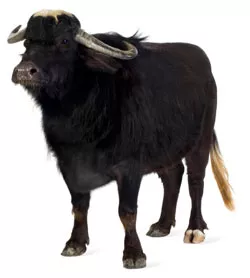 This month, the second largest water buffalo creamery in the country, Michigan's di Bufala Farms, will put its udders up for auction. In an article that appeared in the Grand Rapids Press, its owner lays some blame for the failure on "the economic slump and credit crunch."
But the country's largest water buffalo creamery, Bufala di Vermont of Woodstock, isn't feeling the pinch. "There's such big demand that there can be another 100 businesses like this, and it wouldn't make a dent," boasts owner Frank Abballe.
He explains that the Midwestern business hadn't even started churning out dairy products when it closed down. His assessment? "Nobody was hands-on," Abballe says. "It's a really tough business; it's an art." He attests that he personally oversees everything on the Green Mountain farm, and his sons run the creamery.
Just how well is the dairy doing? Abballe says his fresh mozzarella, cheeses aged at Jasper Hill Farm, and hunks of baby buffalo meat are selling like wildfire in New York City. "Last year, we did the Union Square market, Brooklyn market and Queens. Whatever I brought down there was all sold out. There was a really good reception," he says.
Abballe plans to hit more markets this year, and he's working on a line of cured meats, including "Buffalami." But don't expect to see a slew of water buffalo products around here. Abballe says that Burlington-area businesses have been selling a lot of his yogurt, but haven't shown much interest in the cheese.