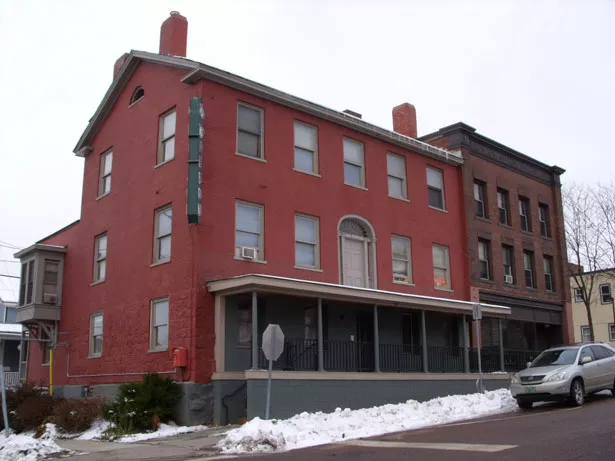 COTS Waystation on Church Street, Burlington
VERMONT - Winter doesn't officially start until next week, but every homeless shelter in Chittenden County is already full, and emergency-fuel requests are twice what they were last year.
Vermonters who can't afford rental apartments - or find a bed in shelters - have traditionally sought help through the state's Emergency/General Assistance fund, which pays for semi-permanent motel stays. Between 2006 and 2007, the number of households seeking EA-funded motels in Chittenden County increased from 370 to 774. Approximately 1100 children may have been affected.
But the program is in jeopardy. Social-service providers recently learned that the fund's $150,000 budget will likely run out by the end of the month. They say EA/GA's budgeting snafu underscores disturbing flaws in Vermont's social-welfare system, and that policymakers aren't doing enough to help struggling Vermonters transition off welfare and into affordable housing.
Rita Markley, executive director of Burlington's Committee on Temporary Shelter (COTS), warns that the "sky is falling" on Vermont's low-income population this year. At a Monday press conference on homelessness at Burlington City Hall Auditorium, Markley exhorted Agency of Human Services (AHS) Deputy Secretary Patrick Flood to fully fund the program through the end of this season.
The EA/GA fund is "the very last strand [of the safety net] for people who have no other housing options," Markley insisted, rising from her chair to address Flood. "If there isn't room in the shelter, just imagine where these 774 families would go."
"We need to restructure GA, period," Flood conceded to the 50-plus-person crowd. He expects to receive an additional $300,000 from a state budget committee to fund the program.
But in the lobby afterward, Markley said throwing cash at the program won't fix the problem. According to the 15-year COTS veteran, homelessness in Vermont has "mushroomed" while policymakers "keep ignoring and ignoring" it. Specifically, she thinks the state should provide more housing opportunities and make its "back-rent" program - which only offers rent-assistance grants to parents with minor children - more "flexible."
As is, many people who need back-rent assistance don't qualify for it, Markley said. The state, which doesn't keep stats on the people it turns away from the back-rent program, under-spent its $577,000 back-rent budget by almost half in 2006 and 2007- a sign of misguided social-welfare priorities, she suggested.
"We could do significantly better with back rent," admitted Joseph Patrissi, deputy commissioner of the state's Economic Services Division. The administrator stressed, though, that his department is doing something. It currently sponsors EA/GA "pilot" projects in Springfield, St. Albans and Morrisville that provide case-management services for "underlying issues" such as drug and alcohol abuse. Patrissi wants to bring the pilot to Burlington and Rutland.
Markley is optimistic about Patrissi's plan, but wishes state officials would think more proactively. "Because of the expense of the EA motels," she suggested, "it's finally generated attention so that people are looking more systemically at what has caused the problem - and how to resolve it."
Erhard Mahnke, coordinator of the Vermont Affordable Housing Coalition (VAHC), takes a similar tack. "Part of the solution that AHS is supporting is a Band-Aid," asserted Mahnke, who thinks the back-rent program should also cover single individuals. "The bottom line is that . . . it's much more efficient and effective if you deal with things in a preventive way, rather than after the crisis has occurred."
Last weekend, the Central Vermont Community Action Council (CVCAC) in Morrisville was helping three separate homeless parties pay for local motels at $78 per night via funding from the United Way, according to CVCAC housing specialist Wendy Allen. On Monday morning - just as the homelessness conference in Burlington adjourned - one couple was forced to move from a motel into their car. The homeless woman "started a job today," explains Allen, "and I don't feel that she's going to be able to hold onto it." Allen speculated that her client will soon return to state welfare rolls.
"It's this vicious cycle of setting people up to fail," said the housing specialist of Vermont's social-welfare system. "The low-income and the middle class are not able to sustain anymore - we're seeing more and more of that every day."