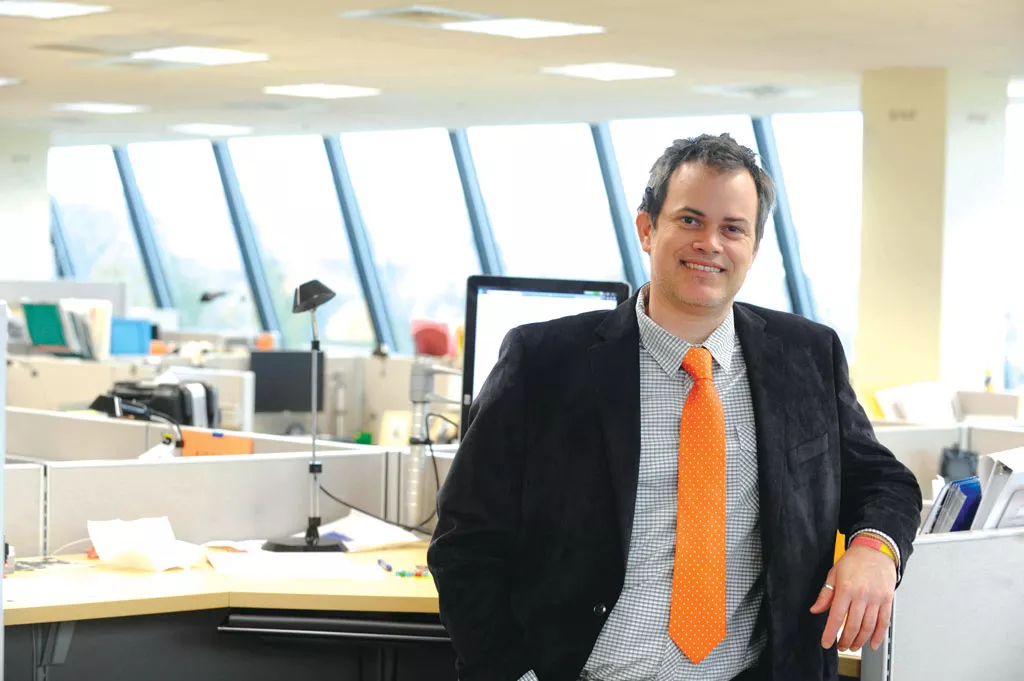 File: Jeb Wallace-Brodeur
Lars Hasselblad Torres
Technically speaking, Vermont's Office of the Creative Economy isn't going away. It just won't be staffed anymore.
That's the word from Lisa Gosselin, commissioner of the Vermont Department of Economic Development, who confirms that the one-person office — "It's really just a cubicle," she notes — will remain unoccupied owing to state budget constraints. The OCE director's position has sat vacant since October 2014, when its last director, Lars Hasselblad Torres, resigned to become executive director of the Burlington-based maker space Generator.
"Our goal is to continue the good work Lars started," Gosselin says. "But there's a challenge, too, in that 'creative economy' means a lot of different things to different people."
Indeed, the definition of that term has morphed in the four-year life of the OCE. The office was launched in 2011 with the goal of creating jobs and stimulating economic activity among Vermont's "knowledge workers," who produce everything from music to video games to documentary films. The office, born out of the now-defunct Vermont Film Commission, was meant to broaden the commission's mission beyond just attracting film productions to Vermont. It was initially headed by the VFC's then-executive director, Joe Bookchin, which helps explain the office's early emphasis on filmmaking and other visual arts.
Shortly before Gosselin took her post in 2013, she says, the OCE was moved into the economic development department so it could focus more on "economic drivers" — that is, businesses with greater growth and hiring potential than filmmaking, such as software design, gaming, information technology and media development. After Bookchin resigned in February 2013, he was replaced by Torres, then a 42-year-old entrepreneur with solid tech credentials.
"Lars did a fabulous job bridging both those areas and really helped grow a network," Gosselin adds.
The OCE will still exercise all its existing functions on a "limited basis," she says, including state sponsorship of technology-related events such as the Vermont Tech Jam employment fair and HackVT, a 24-hour app-creating hackathon. The DED's current staff of 18 will take on other OCE functions.
"We absolutely believe in the emerging creative industries in this state," Gosselin emphasizes, "and this in no way means that we are not going to continue to celebrate, support and mentor those industries. I can't say that loudly and clearly enough."
She points to Vermont 2020, a statewide comprehensive economic development strategy announced last June that identifies 12 "priority sectors" — including arts and culture, food systems, and biotech and software development — as prime targets for state resources.
Torres isn't convinced. Though he readily admits that some of his remarks might be interpreted as "sour grapes," he says he doesn't believe the OCE ever got the support it deserved from the administration.
"I do feel that there was a much, much bigger opportunity than the governor ever got a chance to hear, or [than] was ever communicated to him," he says.
Torres, who ran the office for about a year and a half on a $30,000 budget, suggests that his vision of Vermont's 21st-century creative economy — as "essentially a freelance economy" — didn't jibe with the Agency of Commerce & Community Development's more traditional notion of economic activity.
Freelancing is an arena Torres knows well as the creator of Local 64, a coworking and community events space in downtown Montpelier that caters in large part to the capital region's nontraditional and freelance workforce. By contrast, he characterizes the state's vision of creative economy as looking more like a standard 40-hour-workweek job with salary and benefits in a bricks-and-mortar setting.
Torres says discussions of how the state might broaden that definition never gained traction. "There simply wasn't the right political climate to go out on that limb," he adds. "At a time of tough budgets and new leadership, when the governor was singlehandedly focused on health care reform, there was a lot of reason to be risk averse."
Jay Craven, cofounder of Kingdom County Productions, agrees. The Barnet filmmaker suggests there's a "huge unexplored and undeveloped potential for Vermont's creative economy," and that state government should play a bigger role. Craven recognizes that Vermont can't compete with neighboring Massachusetts and New York, which contribute 25 percent and 30 percent, respectively, toward budgets of films shot in those states. Still, he says that Vermont could make things easier for arts nonprofits, which are only marginally funded and taxed on the tickets they sell.
"I had several brainstorming sessions with Lars Torres," Craven says. "I liked Lars, and he meant well, but he had no real budget, no real authority and no real portfolio to make things happen. Without these, the best anyone could do is be a cheerleader."
Torres strikes a similar note. "I didn't feel authentic engaging Vermont's creatives and saying, 'Tell me what you need,' and then not being able to deliver anything but networking," he says. "Networking is fine. It's important. But it can't be the bulk of a state employee's, much less an appointee's, job. We need to deliver real benefits."
When asked about the OCE's lasting achievements, Gosselin was reluctant to give credit to her department.
"Our role is to encourage an ecosystem," she says. "We're a little like the gardener who pours the water to make sure the plants are protected and growing. But they're the ones doing the growing."