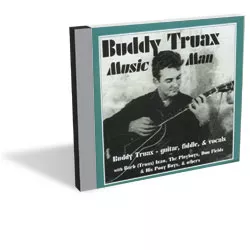 (Rootstock Recordings, CD)
If you've never heard of Sheldon "Buddy" Truax, it might be because you're under the age of 80. But once upon a time — from 1940 to about 1962, to be semi-precise — the Québec-born guitarist and vocalist was among Vermont's most highly regarded musicians. Whether with country bands such as the Pony Boys or the Playboys, or with any number of local jazz ensembles, Truax was a fixture at grange halls, barn dances and roadside honky-tonks throughout the Northeast. However, when he passed away in 2007, his legacy nearly died with him. While Truax had appeared on numerous recordings throughout his career, he had never released his own album. He seemed destined to be little more than a historical afterthought, existing solely in the liner notes of long-forgotten recordings. Until now.
Music Man is, for all intents and purposes, Buddy Truax's debut record. Compiled by his son, Scott Truax, and musicologist Mark Greenberg, the album is composed of recordings taken from a variety of sources, including radio appearances and performances at supper clubs and square dances. Music Man is both a career retrospective and an audio time capsule: It not only captures the music of a phenomenally talented player, it provides a grainy portal into a unique and seemingly simpler era of Vermont music.
The 19-track album is split into two distinct parts: "Country Buddy" and "Jazz Buddy." The first half documents Truax's twangy leanings and features a sampling of rootsy standards and country hits of the era. In the album's comprehensive liner notes, Greenberg writes that Truax felt more kinship with crooners such as Jim Reeves than with ramblin' men like Hank Williams — the latter of whom was "a little too honky" for Truax. "Country Buddy" bears out that distinction, particularly on numbers such as Buck Owens' "High as the Mountain" and the Webb Pierce ballad "Slowly." Both songs feature Truax's wife, Barb, on lead vocals. Her singing is pure and heartfelt, much like that of her reported idol, Patsy Cline. Buddy's guitar and fiddle work are subtle and tasteful and, as Greenberg notes, likely would have rivaled many of the day's finest players from Nashville.
"Jazz Buddy" showcases Truax's virtuosic jazz-guitar chops, which he honed playing in army bands — alongside folks such as Glenn Miller — during World War II. As it turns out, Barb Truax was no slouch with a guitar, either. Her rhythmic turns on "Bye Bye Blues" and "You Belong to Me" are especially solid. The record's latter half also highlights Buddy's easy vocal style. His performance on "Pennies From Heaven" is simply swoon worthy.
Music Man by Buddy Truax is available at Buch Spieler in Montpelier, Stowe Street Emporium in Waterbury and Country Bookshop in Plainfield, and online at worldmusicstore.com.