Dan Bolles
Dan Bolles and Buckley at Oakledge Park
I first met Buckley 16 years ago. I was in Brooklyn visiting my friend Ben, who had just adopted this spastic, year-old (we thought) puppy from a nearby shelter. He'd been found on the side of the New Jersey Turnpike, so the shelter had given him the rather unimaginative name Jersey, which Ben changed, thankfully. (Buckley, aka Buck, was named after both the late singer Jeff Buckley and an obscure New England Patriots player, Terrell Buckley. And this is why Ben and I are friends.)
I didn't know then how big a role Buck would come to play in my life. But he sure seemed to. My first night in Brooklyn, Buck padded downstairs from Ben's room while I was sleeping on a futon. I woke up to find a white, furry ball curled up behind my knees, much as I would on countless mornings in the years that followed.
Ben had a hectic schedule and, with Buck's general craziness, it quickly became obvious that he was not meant to be a city dog. So I adopted him from Ben a few months later, when I moved back to Vermont from Boston. And my life profoundly changed.
That first year, I lost about 25 pounds just trying to keep up with him on walks. I got a crash course in patience and unconditional love — and how they work in concert. Buckley wasn't just my dog or my best friend. He became an inextricable part of my identity. I'm a different and better person because of him.
All owners think their pets are special, and they're right. But I've never known a sweeter, more affectionate and loving dog.
Because he had been abused and abandoned as a puppy, Buck was a nightmare in his youth — high-strung, impulsive and stubborn, to put it kindly. (Less kindly: He was an asshole.) But he was always a sweetheart. Even at his most manic, you could see how desperately Buckley wanted to be good and to be loved. And because he was loved by nearly everyone who entered his life, he grew into a truly remarkable creature. His transformation is one of the things of which I'm most proud.
I have a million Buckley stories. Here are but a few.
For the first several years of his life, he was terrified of water — one of his many quirks. Another was severe separation anxiety, a likely result of having been abandoned. One summer at a friend's camp on Joe's Pond in Danville, my then-girlfriend and I exploited one fear to conquer the other. We repeatedly jumped off the dock and tried to lure him into the pond. After about the fourth or fifth or 16th attempt, Buck's irrepressible need to be close to his people overrode his disdain for being wet, and he executed an awkward and spectacular belly flop. I can still see it.
After a few minutes of frantic splashing, the light went on. Suddenly, Buck loved swimming. For the rest of his life, I could hardly keep him out of the water. The strategy did backfire later that evening, however. When my girlfriend and other friends went out for a sunset cruise in the boat while I helped with dinner, Buck, who I thought was napping on the porch, dove in after her. I had to swim out halfway across the pond, wearing a life jacket, to retrieve him. Dude sure could swim, though.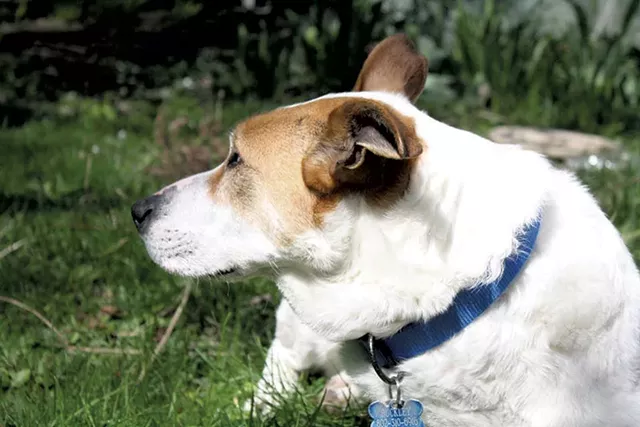 courtesy of Bekka Burton
Buckley circa 2013
Then there was his "ability" — really, a heartbreaking response to anxiety — to catch his tail and move around a room in circles, tail in mouth, even going up or down stairs. (I used to joke that he was part goldfish because he moved in circles so often in his youth.) And there was the time he jumped from a second-story window in Charlotte to chase a rabbit. I only know he caught it because he gleefully trotted home two hours later covered in blood that wasn't his.
Buck had a weird thing about people leaving. Anyone could come into our home, and he'd welcome them with open paws and a thigh nuzzle. But as soon as they tried to leave he would circle them and bark, often placing himself between the exiting guest and the door. I sometimes took ironic comfort in knowing that, while a burglar could get in pretty easily, they'd have a hell of a time leaving.
I figured this would just remain another of Buck's many mysteries (like how he could scarf the last bite of my sandwich but somehow spit out the lettuce), until he solved it for me.
One fall at another remote Vermont camp, I went outside for a morning coffee and smoke (sorry, Mom). As I groggily opened the door of the cabin, Buck burst past me and made a beeline for the neighboring cow pasture — which happened to be ringed by a barbed electric fence. Somehow, he made it through the fence unharmed and, to my added horror, reached the herd of cattle 20 yards beyond it. I didn't feel the coffee spill on my pants as his life flashed before my eyes. I was in a state of shock, anticipating a stampede of hooves and an explosion of white fur.
My blind panic soon turned to awe and wonder. Buck began to circle the cows, nipping at their heels and barking with clear intent. To my knowledge, Buck had never met a cow in his life to that point. But he was herding them like he was born to do it. As it turns out, he was.
A little research following the herding adventure uncovered that Buck was likely an Australian cattle dog, also known as a heeler. He was a red heeler, a less common cousin — at least in the Northeast — of the blue heeler. He wouldn't let people leave the house because he was corralling his flock.
I always suspected some other stuff in Buck's lineage, though I never got around to a DNA test. The paperwork from the Brooklyn shelter listed "Jersey" as a "pit bull/shepherd mix" — a vague and unhelpful description. But, though he was lean and powerful, Buck didn't have a pit's blocky head. And his coat and frame bore little resemblance to any shepherds I'd known. If anything, he looked like an overgrown Jack Russell terrier. I used to call him a "Jacked Russell" when curious fellow dog walkers would ask me what he was.
Whatever. He was just Buckley. (He was also strikingly handsome and a total chick magnet. I was I-Spied at least twice because of him. Good lookin' out, li'l wing dog.)
I could go on for hours reminiscing about Buck — and sometimes I do. But my best memories of him are much like that first one in Brooklyn: snuggled up together somewhere cozy. As a good friend once put it, Buckley had a way of making any couch more comfortable. Hence my favorite of his roughly 300 nicknames: Little Spoon.
Last April, after more than 15 years together, I said goodbye to Buck. As heartbreaking as it was, I feel lucky to have had an amazing run with a unique, challenging and wonderful friend and to have shared him with so many of my favorite people along the way. I'm grateful, too, that I had the opportunity to spend his last days, hours and minutes where I'd loved being for so long: right by his side.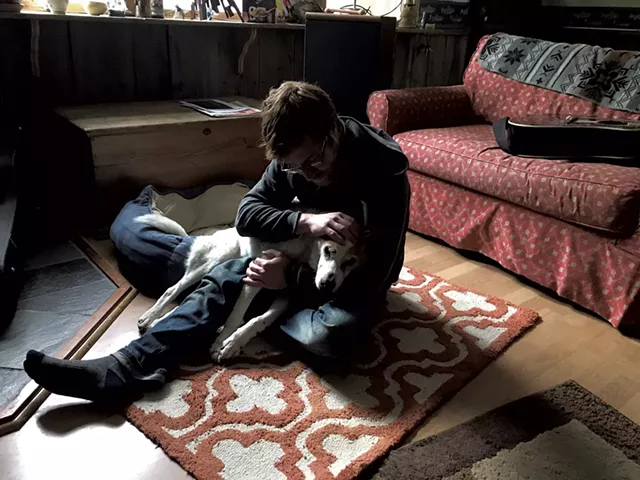 courtesy of Alex Hudson
Dan and Buckley on the morning he died
I stayed home with Buckley in the week leading up to his scheduled passing. Knowing exactly when your best friend is going to die is surreal. It was sort of like sitting shiva before your loved one has actually passed. But there was a good side, too.
Over that week, a number of friends — including ones I hadn't seen in a long time — stopped by to visit. We'd talk a lot about Buck and share old stories, some I'd forgotten.
One evening, I joked to my friend Jeremy that Buck's greatest life regret was that, for all of the many critters he'd caught over the years, he never got a squirrel — though not for lack of trying. The next night, Jeremy showed up with a six-pack in one hand and a squirrel pelt in the other. He placed the latter in Buck's paws as he slept. (In case you're wondering, Jeremy didn't kill a squirrel to satisfy a dying dog's last wish. His own dog had caught it years ago, when Jeremy happened to be learning how to tan pelts.)
Yes, I have great friends, and I'm sure they stopped by primarily to console me. But I think they also came out of genuine affection for Buck. It was hard not to fall in love with him. And, as more than a couple of irritated ex-girlfriends might tell you, Buck and I were a package deal — for better or worse, in sickness and in health, 'til death do we part.
When death did come, I held Buckley in my arms as he slipped away. And then I held him a while longer. I found beauty and comfort in him leaving the world as sweetly as he had lived in it. But, man, oh man, I really miss him.
Sweet dreams, old friend. I love you.