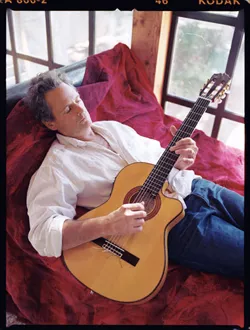 Singer-guitarist Lindsey Buckingham is best known as one of the driving forces behind multi-platinum pop-rock legends Fleetwood Mac. The group - which featured Buckingham sharing center stage with his ex-lover and songwriting partner Stevie Nicks - were mainstays on commercial radio and living room turntables for much of the 1970s. Hits such as "The Chain" and the Bill Clinton-approved "Go Your Own Way" became anthems for a generation burned out on the lysergic free-for-alls of the previous decade. But underneath the pop perfection lurked a seething, if repressed, animosity - it's not easy to be in a mega-selling supergroup with a former flame. But it sure makes for great tunes.
A lot has changed for Buckingham, now 57. Drugs and drama are no longer part of the equation. The California native is the proud father of three, and family life holds more enticements than parties and industry schmoozing. But Buckingham has never been far from the spotlight, particularly when his old band comes calling. Between big-money reunion tours and the occasional new Mac record, the pop maestro makes his own music. He just takes his sweet time doing it.
Buckingham is not only a skilled songwriter and able guitarist; he's also a studio perfectionist whose best work ranks with that of another West Coast production legend, Brian Wilson. Buckingham released his first two solo records back in 1981 and 1984, when he was still a member of the act that made him famous. Although the efforts were critically well received, the ongoing Mac melodrama overshadowed them.
Tensions within the band reached a head in 1987. Buckingham jumped ship, leaving many personal issues unresolved. An invite to play Bill Clinton's 1992 presidential inauguration brought him back into the fold; a world tour and accompanying live disc followed, along with some much-needed fence mending.
At the end of the '90s, Buckingham was hard at work on a new solo record when Fleetwood Mac again came calling. His record company persuaded him to give a bunch of his new tunes to the band. These songs formed the core of Say You Will, the first FM studio album in more than 15 years to feature both Buckingham and Nicks.
His latest release, Under the Skin, is sparser than the baroque soft-rock for which Fleetwood Mac is known. But its intimate ambiance only highlights Buckingham's musical gifts, and the album has already earned rave reviews. He'll be performing selections from it, as well as Fleetwood Mac classics, at the Flynn MainStage on Sunday, April 1.
Seven Days recently chatted with Buckingham via phone from a hotel room in Myrtle Beach, California.
SEVEN DAYS: You've enjoyed a lot of acclaim as a guitarist, singer and songwriter, but a lot of folks don't know about your production skills. What's your inspiration as far as studio work goes?
LINDSEY BUCKINGHAM: It isn't about copying anyone; it's about finding your own voice and making it work. There are so many people out there that are great producers - people who were outside the box and had to fight hard to get others to hear what they were hearing. Certainly Brian Wilson and Phil Spector fit that description. Long-term, one of my agendas was to define myself on my own terms. So there are times when you've got to subvert, but you don't want to do that just for the sake of doing it.
SD: Under the Skin is one of the most interesting-sounding "singer-songwriter" records I've heard in a long time. It's pared down, but hardly empty. How did you find the magic formula for this one?
LB: It wasn't too hard; it was actually kind of liberating. I'd been attempting to get a solo record out for a while, and had gotten sidetracked a number of times. A good portion of the material I had ended up on the last Fleetwood Mac album. So when I started writing again, it was with a whole new perspective. During that time I'd gotten married, had kids, and a lot of questions had been answered. Then there was the theoretical aspect - transforming material that had been designed as ensemble pieces into guitar and voice numbers. I started thinking, "What if I were to take one or two guitars and try to get them to do the work of all these instruments?"
SD: Speaking of guitar, you're a fingerpicker who rocks really hard when necessary. How did you develop your technique?
LB: I started playing pretty young, and I never used a pick then, and I guess it just continued. I listened to my brother's rock 'n' roll 45s, then got into folk music, then a little classical guitar. I wasn't really a lead player, and by the time I got called upon to do that, it was too late!
SD: I've read about how you'd often give music intended as solo material over to Fleetwood Mac. How do you feel about that?
LB: I think everything happens for a reason. When I look at my new record, it took a long time to get it out, but I'm glad the music is what it is. In retrospect, some of the material I thought was supposed to be for a solo album was meant for Fleetwood Mac. So I don't feel bad about it at all. If you say you're in a band, and you're an active member, it's part of what you have to do. You can't be out there for yourself - you have to consider the needs of the whole. And I have no problems with that.
SD: In your earlier work, I hear controlled anger, or at least a bit of resentment. It's not that your new stuff lacks teeth, but do you feel like you've let some of that go?
LB: Well, I hope so! Fleetwood Mac was definitely a trying experience - for all of us, but as trying for me as anyone. It was difficult to be in a group with your ex and not have any closure. It was also tough to be producing hits for her, which in theory was driving her further away. There was a lot of living in denial, a lot to wall up. So there was some pent-up anger about that, as well as a certain amount of frustration about adapting into what Fleetwood Mac needed me to be as a musician. But, obviously, those people are some of the closest friends I'll ever have, and yet, off and on, they've been adversaries, too. It's a mixed bag, but I've learned to live with it.
SD: It must be difficult to have to talk about your past every time you discuss a current project. How do you deal with that?
LB: Well, every time I look at the past, it has a different context. The last time I put out a solo record, I wasn't married, I didn't have kids, and I didn't think I ever would. I saw a lot of friends screw up their kids because they weren't there for them, and if they were there, they were the wrong kind of presence. I swore I would never do that, because I revere the way I was brought up. Anyway, so many things have changed since the last album. Hopefully, you keep looking at the past with a new refinement. And that's as it should be.
SD: That's a great attitude. Still, you can't be a rock fan and not know about the situations surrounding, say, Rumours. What drives your songs these days?
LB: Back then, I'm not sure we even knew we were writing songs about ourselves; we'd assign them to generic characters, and it was only in hindsight that we realize they were mostly autobiographical. Today, it's easier to be connected to reality. I know myself as a person better, and can look at things with possibly a wiser set of eyes. What I'm interested in now is more the craft of writing and less the craft of record making. It's about striking a tone that's authentic, and being able to maintain it for the length of a song.
SD: What do you feel about your old work being re-evaluated? I've always thought Tusk ruled, but it's really found a new audience.
LB: It's been very gratifying to me. You know what else is ironic? In the wake of that album, since it failed to sell 16 million more copies to make it as big as Rumours, there was a heavy-duty backlash within the band. There was this political dictum that came down, like, "Lindsey, we want you to produce, but we don't want you to do that anymore." Which left me kind of treading water. They wanted me to backtrack and make Rumours II, but it doesn't work that way. But now, even Mick [Fleetwood] and Stevie will say it's their favorite album. So that's great, too.
SD: And you no longer face commercial pressures?
LB: Well, it's ridiculous for me to be trying to play some kind of radio game. The state of the business these days, ironically, for me, is kind of freeing. Because it makes it more clear that I've earned the right to do what I do, and I can just go ahead and do it.
SD: But will we have to wait another decade for a follow-up to Under the Skin?
LB: I'm the Terrence Malick of rock, right? Well, what usually happens is I'll put out a solo album and Fleetwood Mac is right there. But I've staked out a time window to not only tour more extensively, but also put out an album in 2008. And if Fleetwood Mac comes knocking, well, I guess I'm prepared to just let 'em knock for a while.