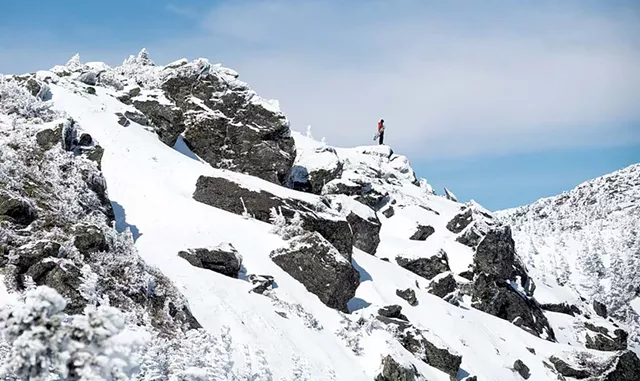 Nathanael Asaro
A snowboarder on the ridgeline of Mount Mansfield
We're delighted to have you! BTV: The Burlington International Airport Quarterly is a bilingual magazine — translated into French for our Québécois visitors — that highlights Vermont's recreational, cultural and dining scenes according to the season.
While it can be tempting to stay inside and hibernate through a long, dark winter, as many of our animal friends do, getting outside and savoring the snow is key to avoiding cabin fever. In this issue, we'll point you in the right direction for frosty fun, from cross-country skiing to open-air ice skating. And for, ahem, purely research purposes, we also visited Vermont's Northeast Kingdom to alternate dips in the icy mountain stream and the Scandinavian-style wood-fired hot tubs at WilloBurke Nordic Spa.
Back in Burlington, you'll get a warm welcome at the city's many shops and seasonal markets. To that end, we compiled a roundup of Vermont-made products perfect for gift giving — or perhaps keeping for yourself as souvenirs. Your call!
Burlington's annual Highlight New Year's Eve festival also promises to brighten spirits: Live music, dance and fireworks ensure the year ends with a bang. Read all about it, and much more, in the pages that follow.
If you're just passing through Vermont, we hope you'll be convinced to return for a longer stay. Use this magazine, too, as a guide to the airport and on-the-ground transportation options.
While you're waiting for takeoff, the Burlington International Airport aims to make your stay a pleasant one. Please have a look around and enjoy its amenities and services, including a yoga space, breastfeeding rooms, charging stations, free Wi-Fi and local art. Locavore crêperie the Skinny Pancake has café locations before and after security to keep you happily fed whether you're coming or going.
We thank you for flying BTV and hope you'll come back to see us soon. Let the beautiful city of Burlington and state of Vermont amaze you.
---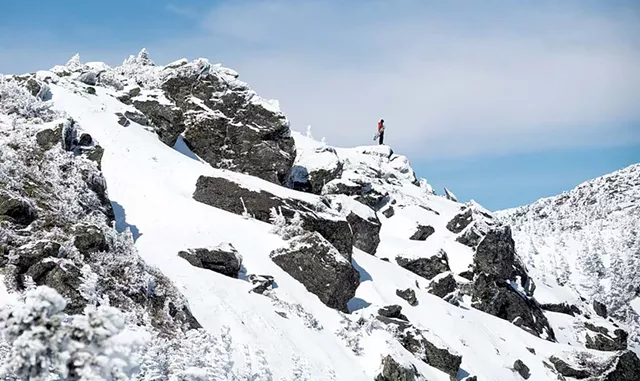 Nathanael Asaro
A snowboarder on the ridgeline of Mount Mansfield
Nous sommes ravis de vous accueillir! BTV : Le bulletin trimestriel de l'Aéroport international de Burlington est un magazine bilingue, traduit en français pour nos amis québécois, qui met en valeur les attraits récréatifs, culturels et culinaires du Vermont, selon la saison.
Même s'il pourrait être tentant de rester à l'intérieur et d'hiberner durant le long et sombre hiver qui s'annonce, comme le font bon nombre de nos amis les animaux, il est primordial de sortir et de profiter de la neige pour éviter de souffrir d'enfermement. Dans ce numéro, nous vous dirons où aller pour apprivoiser l'hiver, des pistes de ski de fond aux patinoires extérieures. Et strictement à des fins de recherche, bien entendu, nous avons également visité le Northeast Kingdom du Vermont pour faire trempette, en alternance, dans le torrent glacé et les bains chauffés au bois de style scandinave du WilloBurke Nordic Spa.
De retour à Burlington, les boutiques et les marchés saisonniers qui pullulent dans la ville vous réserveront un accueil chaleureux. À cette fin, nous avons dressé une liste de produits faits au Vermont parfaits pour donner en cadeau – ou pour garder en souvenir. À vous de voir!
La veille du jour de l'An, l'annuel festival Highlight de Burlington promet également d'égayer les esprits : musiciens sur place, danse et feux d'artifice sont au programme pour clore l'année en grand. Apprenez-en davantage sur ces événements, et bien d'autres, dans les pages suivantes.
Si vous ne faites que passer au Vermont, nous espérons que vous voudrez revenir pour un plus long séjour! Utilisez également ce magazine pour vous orienter dans l'aéroport et guider vos choix de transport terrestre.
L'Aéroport international de Burlington tient à rendre votre attente aussi agréable que possible. N'hésitez pas à faire le tour des installations et à profiter des nombreux services : studio de yoga, salles d'allaitement, bornes de recharge, Wi-Fi gratuit et art local. La crêperie locavore Skinny Pancake est présente avant et après la sécurité pour que vous puissiez vous restaurer à l'arrivée comme au départ.
Nous vous remercions d'avoir choisi BTV et espérons vous revoir bientôt. La ville de Burlington et l'État du Vermont sauront vous surprendre par leurs splendeurs.