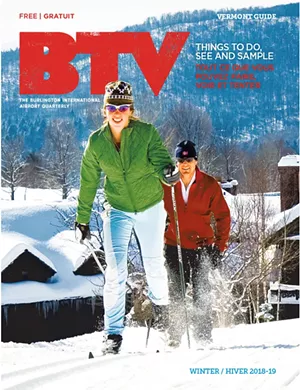 Lauren Stagnitti | Kirsten Cheney
We're delighted to have you! BTV: The Burlington International Airport Quarterly is a bilingual magazine — translated into French for our Québécois visitors — that highlights Vermont's recreational, cultural and dining scenes according to the season.
Winter is perhaps the Green Mountain State's most anticipated time of year: Snow transforms these hills and valleys into a pristine playground for sliding and gliding. This issue points the way to frosty fun, from skiing to sleigh riding.
Speaking of snow, one Vermonter captured its magic like no other. BTV looks back on the life and artwork of Wilson "Snowflake" Bentley, known for pioneering snowflake photography. Even today — more than 80 years after his death — Bentley's snapshots of snow crystals are thrilling to behold. You can view them for yourself in his hometown of Jericho.
When it's time to come in and warm up from your outdoor adventures, consider a gourmet snack at Burlington's Dedalus Wine Shop, Market & Wine Bar. We'll take you on a tour of the award-winning South End outpost. Pro tip: It's also an ideal place to find a local treat or two to bring home.
If you're just passing through Vermont, we hope you'll be convinced to return for a longer stay. Use this magazine, too, as a guide to the airport and on-the-ground transportation options.
While you're waiting for takeoff, the Burlington International Airport aims to make your stay a pleasant one. Please have a look around and enjoy its amenities and services, including a yoga space, breastfeeding rooms, charging stations, free Wi-Fi and local art. Locavore crêperie the Skinny Pancake has café locations before and after security to keep you happily fed whether you're coming or going.
We thank you for flying BTV and hope you'll come back to see us soon. Let the beautiful city of Burlington and state of Vermont amaze you.
---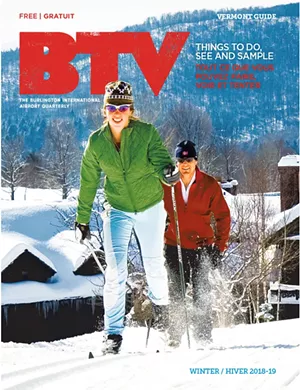 Lauren Stagnitti | Kirsten Cheney
Nous sommes ravis de vous accueillir! BTV : Le bulletin trimestriel de l'Aéroport international de Burlington est un magazine bilingue, traduit en français pour nos amis québécois, qui met en valeur les attraits récréatifs, culturels et culinaires du Vermont, selon la saison.
L'hiver est peut-être la saison la plus attendue de l'année dans l'État des Montagnes vertes, alors que la neige transforme collines et vallées en immense terrain de jeu immaculé, idéal pour les sports de glisse. Dans ce numéro, nous vous suggérons quelques idées d'activités hivernales, du ski jusqu'au tour de calèche.
À propos de neige, un Vermontois a su en capter la magie comme personne d'autre. BTV s'intéresse à la vie et à l'œuvre de Wilson « Snowflake » Bentley, pionnier des photos de flocons de neige. Même aujourd'hui – plus de 80 ans après sa mort – ses clichés de cristaux de neige sont toujours aussi fascinants. Vous pouvez aller les admirer dans sa ville natale de Jericho.
Après vos aventures en plein air, quand viendra le temps de rentrer vous réchauffer, venez découvrir les plaisirs gourmands du Dedalus Wine Shop, Market & Wine Bar de Burlington. Nous vous faisons faire le tour de cette adresse primée du South End. Conseil d'ami : c'est l'endroit idéal où trouver de délicieuses gâteries à rapporter à la maison.
Si vous ne faites que passer au Vermont, nous espérons que vous voudrez revenir pour un plus long séjour. Utilisez également ce magazine pour vous orienter dans l'aéroport et guider vos choix de transport terrestre.
L'Aéroport international de Burlington tient à rendre votre attente aussi agréable que possible. N'hésitez pas à faire le tour des installations et à profiter des nombreux services : studio de yoga, salles d'allaitement, bornes de recharge, Wi-Fi gratuit et art local. La crêperie locavore Skinny Pancake est présente avant et après la sécurité pour que vous puissiez vous restaurer à l'arrivée comme au départ.
Nous vous remercions d'avoir choisi BTV et espérons vous revoir bientôt. La ville de Burlington et l'État du Vermont sauront vous surprendre par leurs splendeurs.