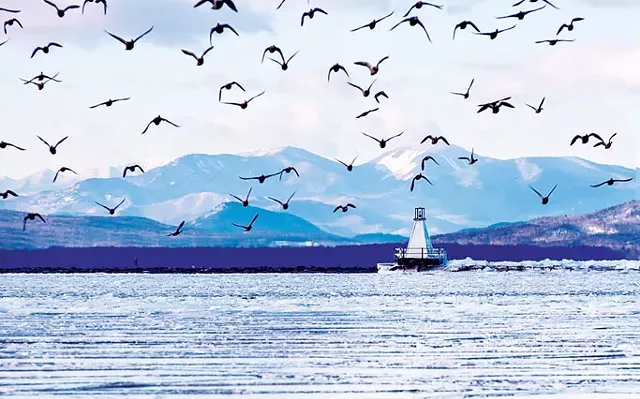 Homer Horowitz
Frozen Lake Champlain at Burlington's Waterfront Park
Welcome to Burlington — and Vermont
We're delighted to have you! BTV: The Burlington International Airport Quarterly is a bilingual magazine — translated into French for our Québécois visitors — that highlights Vermont's recreational, cultural and dining scenes according to the season.
In this issue, we explore Vermont in all its snow-covered glory. Planning to hit the slopes during your visit? While you're there, detour to a remote mountain cabin for a toasty fireside lunch or elegant candlelit dinner. Hop a horse-drawn sleigh ride through the snowy drifts, or do as the locals do and take an invigorating plunge into the icy waters of Lake Champlain for charity. It's prime time for these outdoor adventures, but you'll find plenty of tempting indoor options within these pages, too.
Or, if you're just passing through Vermont, we hope this issue convinces you to return for a longer stay! Use this magazine, too, as a guide to the airport and on-the-ground transportation options.
While you're waiting for takeoff, the Burlington International Airport aims to make your stay a pleasant one. Please have a look around and enjoy its amenities and services, including locavore food vendors, a yoga space, breastfeeding rooms, charging stations, free Wi-Fi and local art.
We thank you for flying BTV and hope you'll come back to see us soon. Let the beautiful city of Burlington and state of Vermont amaze you.
Signs of the Season
Courtesy of Shelburne Farms
Giddyap, let's go! Throughout the winter, when snowfall permits, animal lovers join a team of Percheron draft horses for daytime and stargazing sleigh rides through majestic Shelburne Farms, a working agricultural estate just south of Burlington.
As part of Burlington's Winter Lights Festival (February 3-5), light installations and canopies make the Church Street Marketplace twinkle. And that Saturday, February 4, the pedestrian blocks transform into an outdoor ice sculpture garden, with glistening frozen art lining the street.
New Year's Eve fireworks light up the night around the state — blooming over the Burlington Harbor and as high up as Mount Mansfield. For more about First Night Burlington, see "In Season." Check ski resort calendars for higher-altitude pyrotechnics.
---
Bienvenue à Burlington — et au Vermont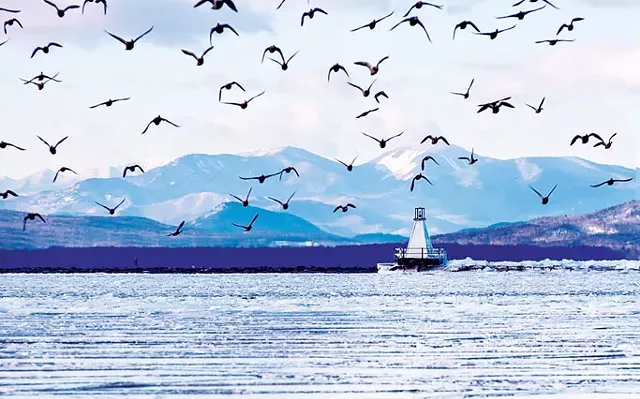 Homer Horowitz
Frozen Lake Champlain at Burlington's Waterfront Park
Nous sommes ravis de vous accueillir! BTV : Le bulletin trimestriel de l'Aéroport international de Burlington est un magazine bilingue, traduit en français pour nos amis québécois, qui met en valeur les attraits récréatifs, culturels et culinaires du Vermont, selon la saison.
Dans ce numéro, nous explorons le Vermont dans toute sa gloire hivernale. Vous prévoyez de dévaler les pentes durant votre visite? Faites un petit détour dans un chalet de montagne isolé pour un dîner auprès du feu ou un souper élégant aux chandelles. Sautez dans une calèche pour faire une promenade dans les sentiers enneigés, ou imitez les courageux de la région qui plongent dans les eaux glacées du lac Champlain pour une bonne cause. C'est la saison des aventures en plein air, mais vous trouverez aussi dans ces pages une foule d'activités tentantes à faire à l'intérieur.
Si vous ne faites que passer, nous espérons que ce numéro vous convaincra de revenir pour un plus long séjour! Utilisez également ce magazine pour vous orienter dans l'aéroport et guider vos choix de transport terrestre.
L'Aéroport international de Burlington tient à rendre votre attente aussi agréable que possible. N'hésitez pas à faire le tour des installations et à profiter des nombreux services : restaurants locavores, studio de yoga, salles d'allaitement, bornes de recharge, Wi-Fi gratuit et art local.
Nous vous remercions d'avoir choisi BTV et espérons vous revoir bientôt. La ville de Burlington et l'État du Vermont sauront vous surprendre par leurs splendeurs.
Signs of the Season
Courtesy of Church Street Marketplace
Allez hop, on y va! Tout au long de l'hiver, quand le couvert de neige le permet, les amoureux des animaux peuvent faire des tours de calèche tirée par des chevaux de trait Percheron, de jour comme à la belle étoile, sur le site majestueux de Shelburne Farms, un domaine agricole en activité tout juste au sud de Burlington.
Dans le cadre du Winter Lights Festival de Burlington (du 3 au 5 février), canopées et installations lumineuses font briller le marché de Church Street de mille feux. Le samedi 4 février, les aires piétonnières se transforment en jardins de sculptures de glace à ciel ouvert et la rue est bordée d'œuvres d'art scintillantes.
Les feux d'artifice du Nouvel An illuminent la nuit un peu partout dans l'État, explosant au-dessus du port de Burlington et fusant aussi haut que le mont Mansfield. Pour en savoir plus sur First Night Burlington. Consultez le calendrier des stations de ski pour assister à un spectacle pyrotechnique à plus haute altitude.