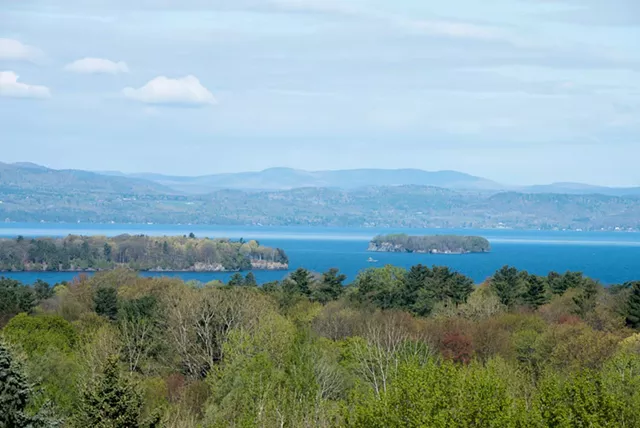 Caleb Kenna
View of Lake Champlain from Burlington
We're delighted to have you! BTV: The Burlington International Airport Quarterly is a bilingual magazine — translated into French for our Québécois visitors — that highlights Vermont's recreational, cultural and dining scenes according to the season.
Summer in Burlington is all about living that lake life. Lake Champlain's gentle blue waves beckon to travelers flying into the airport, and they're part of the welcome wagon as visitors head down Main Street into town. You don't need a boat to get out into the water; in this issue, we'll guide you to the Champlain Islands, accessible by car and bike ferry.
Speaking of transportation, the Champlain Valley Dinner Train is another way to tour the region in style. The ride from Burlington to Middlebury and back invites passengers to "rediscover the romance of the rails" over a three-course meal. Interested in hopping aboard? We'll tell you how.
This issue is full of other things to do, see and sample in Burlington and beyond. Join a drum circle at the Clemmons Family Farm, a culturally significant stop on the state's African American Heritage Trail. Kick up your heels to big-band sounds at the Burlington Discover Jazz Festival. And consider resting your head at Waterbury's 18 Elm, a 19th-century carriage house next to a brewery, pottery studio and pop-up events space.
If you're just passing through Vermont, we hope you'll be convinced to return for a longer stay. Use this magazine, too, as a guide to the airport and on-the-ground transportation options.
While you're waiting for takeoff, the Burlington International Airport aims to make your stay a pleasant one. Please have a look around and enjoy its amenities and services, including a yoga space, breastfeeding rooms, charging stations, free Wi-Fi and local art. Locavore crêperie the Skinny Pancake has locations before and after security to keep you happily fed whether you're coming or going. (Turn to page 34 for café owner Benjy Adler's sightseeing suggestions.)
We thank you for flying BTV and hope you'll come back to see us soon. Let the beautiful city of Burlington and state of Vermont amaze you.
---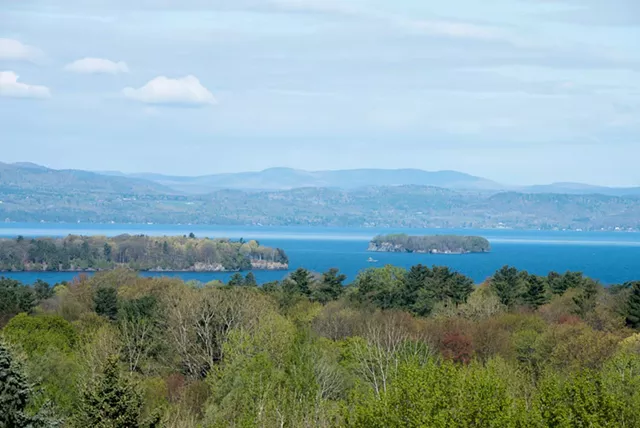 Caleb Kenna
View of Lake Champlain from Burlington
Nous sommes ravis de vous accueillir! BTV : Le bulletin trimestriel de l'Aéroport international de Burlington est un magazine bilingue, traduit en français pour nos amis québécois, qui met en valeur les attraits récréatifs, culturels et culinaires du Vermont, selon la saison.
L'été à Burlington, c'est la vie de lac à son meilleur. Les douces vagues bleues du lac Champlain saluent les voyageurs qui survolent l'aéroport, puis les accueillent alors qu'ils descendent Main Street pour entrer dans la ville. Et nul besoin d'un bateau pour aller sur l'eau; dans ce numéro, nous vous emmenons aux îles du lac Champlain, accessibles en voiture et par le traversier des vélos.
À propos de transport, le Champlain Valley Dinner Train constitue une autre façon de visiter la région avec style. Le trajet aller-retour entre Burlington et Middlebury invite les passagers à « redécouvrir le romantisme du chemin de fer » le temps d'un repas trois services. Curieux de monter à bord? Nous vous dirons comment.
Ce numéro est rempli d'autres choses à voir, à faire et à essayer à Burlington et dans les environs. Joignez-vous à un cercle de percussions à la Clemmons Family Farm, une halte d'importance culturelle sur l'African American Heritage Trail de l'État. Dansez au rythme d'un grand ensemble de jazz au Burlington Discover Jazz Festival. Puis, prenez un peu de repos au 18 Elm à Waterbury, une remise pour voitures à chevaux du 19e siècle située près d'une brasserie, d'un atelier de poterie et d'un espace d'événements éphémères.
Si vous ne faites que passer au Vermont, nous espérons que vous voudrez revenir pour un plus long séjour! Utilisez également ce magazine pour vous orienter dans l'aéroport et guider vos choix de transport terrestre.
L'Aéroport international de Burlington tient à rendre votre attente aussi agréable que possible. N'hésitez pas à faire le tour des installations et à profiter des nombreux services : studio de yoga, salles d'allaitement, bornes de recharge, Wi-Fi gratuit et art local. La crêperie locavore Skinny Pancake est présente avant et après la sécurité pour que vous puissiez vous restaurer à l'arrivée comme au départ. (Allez à la page 34 pour connaître les suggestions de sorties du propriétaire de café Benjy Adler.)
Nous vous remercions d'avoir choisi BTV et espérons vous revoir bientôt. La ville de Burlington et l'État du Vermont sauront vous surprendre par leurs splendeurs.