Courtesy Of Champlain Orchards
Champlain Orchards in Shoreham
Welcome to Burlington — and Vermont
We're delighted to have you! BTV: The Burlington International Airport Quarterly is a bilingual magazine — translated into French for our Québécois visitors — that highlights Vermont's recreational, cultural and dining scenes according to the season.
This issue is a celebration of the spring, a busy time in Vermont. As cows return to pasture and local cheesemakers return to their craft of producing award-winning cheddars and more, we help you find your way along the Vermont Cheese Trail. Spring also means the sap is flowing, and you can sample the resulting syrup at the Maple Open House Weekend in late March.
This may be Vermont's muddiest season, but there are still plenty of ways to get outside — from spring skiing and skimming to hiking and biking. As for indoor adventures, we present you with some exciting options for what to see, hear and eat in and around Burlington.
Or, if you're just passing through Vermont, we hope this issue convinces you to return for a longer stay! Use this magazine, too, as a guide to the airport and on-the-ground transportation options.
While you're waiting for takeoff, the Burlington International Airport aims to make your stay a pleasant one. Please have a look around and enjoy its amenities and services, including locavore food vendors, a yoga space, breastfeeding rooms, charging stations, free Wi-Fi and local art.
We thank you for flying BTV and hope you'll come back to see us soon. Let the beautiful city of Burlington and state of Vermont amaze you.
Signs of the Season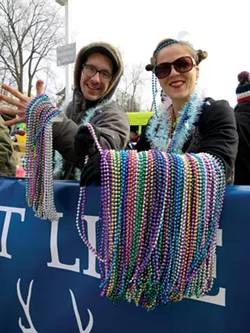 Burlington becomes the New Orleans of the North during the annual Magic Hat Mardi Gras Weekend, taking place March 9 through 12. Bead catchers from across the region converge downtown for the family-friendly Saturday parade, when whimsical floats roll through the streets.
Springtime brings a flurry of activity for Vermont farms — from planning to planting to welcoming newborn animals. Learn about the agricultural traditions on a tour of the Intervale Center, Burlington's own community farmland. Free public tours are held the fourth Friday of every month from April to October.
Twenty-six-point-two: That's the number to reach at the Vermont City Marathon & Relay on May 28. Citywide streets host thousands of runners for a race with a view of Lake Champlain. If you can't join 'em, cheer 'em on! The people watching can't be beat.
---
Welcome to Burlington — and Vermont
Courtesy Of The Intervale Center
Nous sommes ravis de vous accueillir! BTV : Le bulletin trimestriel de l'Aéroport international de Burlington est un magazine bilingue, traduit en français pour nos amis québécois, qui met en valeur les attraits récréatifs, culturels et culinaires du Vermont, selon la saison.
Ce numéro est une ode au printemps, une période effervescente au Vermont. Avec le retour des vaches dans les pâturages et la reprise de l'activité fromagère – on produit des cheddars primés dans la région, et beaucoup d'autres fromages –, laissez-nous vous guider le long de la route des fromages du Vermont. C'est aussi au printemps que la sève se met à couler. Venez déguster le sirop qu'elle permet de produire lors du Maple Open House Weekend, à la fin de mars.
Certes, c'est une saison boueuse, mais ce n'est pas une raison pour ne pas mettre le nez dehors — du ski de printemps au « skimming » en passant par la randonnée et le vélo, ce ne sont pas les choix qui manquent. Si vous préférez les activités d'intérieur, vous ne serez pas en reste : nous vous proposons une foule de choses à voir, à entendre et à manger à Burlington et dans les environs.
Si vous ne faites que passer, nous espérons que ce numéro vous convaincra de revenir pour un plus long séjour! Utilisez également ce magazine pour vous orienter dans l'aéroport et guider vos choix de transport terrestre.
L'Aéroport international de Burlington tient à rendre votre attente aussi agréable que possible. N'hésitez pas à faire le tour des installations et à profiter des nombreux services : restaurants locavores, studio de yoga, salles d'allaitement, bornes de recharge, Wi-Fi gratuit et art local.
Nous vous remercions d'avoir choisi BTV et espérons vous revoir bientôt. La ville de Burlington et l'État du Vermont sauront vous surprendre par leurs splendeurs.
Signs of the Season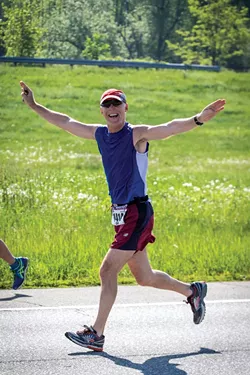 Courtesy Of Vermont City Marathon
Burlington se transforme en Nouvelle-Orléans du nord durant l'annuel Magic Hat Mardi Gras Weekend, du 9 au 12 mars. Des festivaliers de toute la région convergent au centre-ville pour profiter de la parade familiale du dimanche et admirer les chars allégoriques.
Les fermes du Vermont bourdonnent d'activité au printemps — de la planification des semences jusqu'à la mise bas des bêtes. Apprenez-en davantage sur les traditions agricoles en faisant une visite de l'Intervale Center, la coopérative agricole de Burlington. Des visites publiques gratuites sont organisées le quatrième vendredi du mois, d'avril à octobre.
Quarante-deux : voilà le nombre de kilomètres à franchir au Vermont City Marathon & Relay, qui se tiendra le 28 mai. Des milliers de coureurs prendront d'assaut les rues de la ville lors de cette course avec vue sur le lac Champlain. Si vous ne pouvez pas vous joindre à eux, n'hésitez pas à aller les encourager! Impossible de perdre quand on ne fait que regarder!