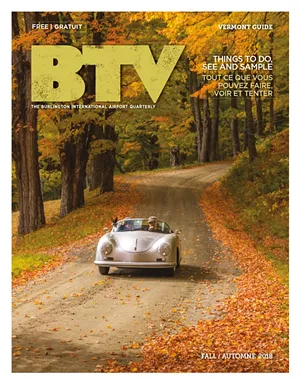 We're delighted to have you! BTV: The Burlington International Airport Quarterly is a bilingual magazine — translated into French for our Québécois visitors — that highlights Vermont's recreational and cultural scenes according to the season.
Autumn in Vermont means apples, and Shacksbury is returning to the roots of America's cider traditions. The Vergennes company ferments artisan beverages from the fruit of heritage cider varieties that have largely disappeared from commercial orchards, as well as from carefully selected wild apple trees discovered on back roads and overgrown homesteads. In this issue, find out more about Shacksbury's Lost Apple Project, a delicious development in the state's agricultural history.
Speaking of trees, leaf-peeping season is upon us! We'll guide you to some of the best vistas for vibrant foliage, from high-altitude mountaintops to wide-open waterways. Regarding the latter, fall is a lovely time to hop aboard Burlington's Spirit of Ethan Allen and set sail on Lake Champlain. The cruise ship company marks its 35th season this year, and we look back on its waterfront legacy.
Autumn also marks the start of Burlington's world-class performing arts season. We raise the curtain on the fall's most spectacular acts, as well as other showstopping area events — think arts festivals and harvest parties. Read on for our varied itinerary of what to do, see and sample.
If you're just passing through Vermont, we hope you'll be convinced to return for a longer stay. Use this magazine, too, as a guide to the airport and on-the-ground transportation options.
While you're waiting for takeoff, the Burlington International Airport aims to make your stay a pleasant one. Please have a look around and enjoy its amenities and services, including a yoga space, breastfeeding rooms, charging stations, free Wi-Fi and local art. Locavore crêperie the Skinny Pancake has café locations before and after security to keep you happily fed whether you're coming or going.
We thank you for flying BTV and hope you'll come back to see us soon. Let the beautiful city of Burlington and state of Vermont amaze you.
---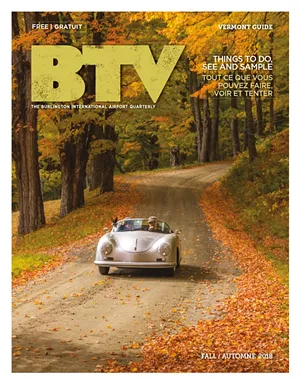 Nous sommes ravis de vous accueillir! BTV : Le bulletin trimestriel de l'Aéroport international de Burlington est un magazine bilingue, traduit en français pour nos amis québécois, qui met en valeur les attraits récréatifs, culturels et culinaires du Vermont, selon la saison.
L'automne au Vermont, c'est la saison des pommes, et Shacksbury revient aux racines du cidre américain traditionnel. L'entreprise de Vergennes fermente des boissons artisanales à partir de variétés anciennes ayant largement disparu des vergers commerciaux, ainsi que de fruits provenant de pommiers sauvages soigneusement choisis, découverts au hasard de routes perdues et de fermes abandonnées. Dans ce numéro, vous en apprendrez davantage sur le projet Lost Apples de Shacksbury, un nouveau chapitre savoureux dans l'histoire agricole de l'État.
Parlant d'arbres, la saison des couleurs est à nos portes! Nous vous dirons où trouver les meilleurs points de vue pour admirer le feuillage flamboyant, des sommets de montagne en altitude jusqu'aux voies navigables en contrebas. À ce sujet, l'automne est la saison idéale pour monter à bord du Spirit of Ethan Allen de Burlington et voguer sur le lac Champlain. Le croisiériste célèbre son 35e anniversaire cette année et nous revenons sur son héritage riverain.
L'automne marque également le début de la saison des arts de la scène à Burlington. Nous levons le rideau sur les représentations les plus spectaculaires de l'automne et les événements incontournables de la région, comme les festivals d'art et les fêtes des récoltes. Quoi qu'il en soit, vous trouverez dans ce numéro un itinéraire varié des choses à faire, à voir et à goûter.
Si vous ne faites que passer au Vermont, nous espérons que vous voudrez revenir pour un plus long séjour. Utilisez également ce magazine pour vous orienter dans l'aéroport et guider vos choix de transport terrestre.
L'Aéroport international de Burlington tient à rendre votre attente aussi agréable que possible. N'hésitez pas à faire le tour des installations et à profiter des nombreux services : studio de yoga, salles d'allaitement, bornes de recharge, Wi-Fi gratuit et art local. La crêperie locavore Skinny Pancake est présente avant et après la sécurité pour que vous puissiez vous restaurer à l'arrivée comme au départ.
Nous vous remercions d'avoir choisi BTV et espérons vous revoir bientôt. La ville de Burlington et l'État du Vermont sauront vous surprendre par leurs splendeurs.