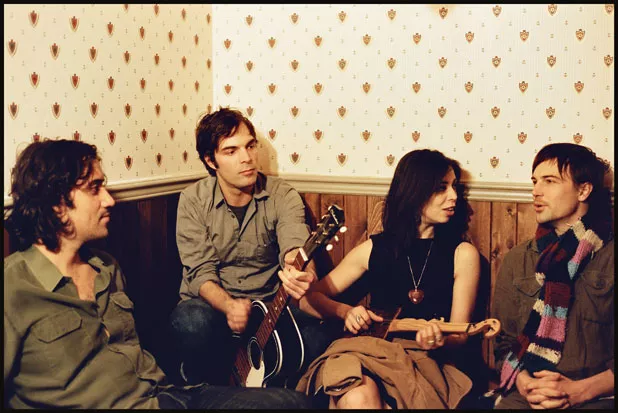 When Brad Barr first answers his cellphone he sounds upbeat. But after answering a few questions, he pauses and admits that he's exhausted. After all, his band, the Barr Brothers, which features Barr on guitars and vocals, his brother Andrew Barr on percussion, Sarah Page on harp, and Andrés Vial on bass and pump organ, have just arrived home in Montréal after five weeks touring the United States and Canada. Back in town for less than 24 hours, the band has already recorded a TV appearance and is getting ready for a performance at a downtown club. For now, Barr is enjoying a few minutes on a couch.
The band's busy schedule is due, in part, to the recent release of their debut album, The Barr Brothers, on Montréal's Secret City Records. While the label support is a big step for the band, they originally self-released the album in early 2010 to sell while on tour with their friends and fellow folk-rockers the Low Anthem. Since then, the Barr Brothers have been on the road building an audience across the U.S. and Canada. The band has garnered praise from fans and press alike, including a recent shout-out in the New York Times for lacing "folky songs with touches of West and North Africa, including Moroccan metal castanets."
Both live and on record, the band can shift gears easily from quiet harp-and-pump-organ folk into polyrhythmic blues-rock or gamelan-influenced groovers before softly settling into a romantic ballad. The quieter, more personal side of these songs — and the band's unusual instrumentation — is a big change from the music on which Brad and Andrew Barr cut their teeth in the late 1990s. Over the past 15 years, they've been known best for melting faces in clubs and at festivals as part of hard-rocking jam bands the Slip and Surprise Me Mr. Davis.
Brad Barr recently spoke with Seven Days about touring, writing for different bands and the influence of the Low Anthem on the Barr Brothers' sound.
SEVEN DAYS: You've been touring quite a bit and even had a nice mention recently in the New York Times. How does it feel to have that kind of attention?
BRAD BARR: It's kinda bizarre. Only that it's a much different angle than I've been used to. With the Slip it was like, start in Boston, then you go to Burlington and Providence and New York, and then you go a little further, maybe Philly and then Northampton, and start slowly spreading that way, as word of mouth travels. And the jam community there was very much kind of a cult thing, so it spread, and it was really about the people, the audience, and the music lovers on the ground.
[The Barr Brothers] have been starting here in Montréal, but doing interviews that end up on Vancouver radio, and interviews for newspaper articles in Alabama and California. People are absorbing it from all these different sources, including blogs. A lot of people I meet out there, I ask, "How did you end up at the show?" And they say blogs. So this is just a different approach.
SD: And the music you're making is very different from the Slip or Surprise Me Mr. Davis. There are similarities, but you've managed to create a project that's apart from your other bands.
BB: Yeah. Some people who have never heard the Slip ask me, "Is it anything like this band?" And I don't know what to say. Uh, same guitarist, same drummer, same songwriter, same singer. It's not just having harp and pump organ in the band that changes it, although on a surface level it does appear to be drastically different. It's not so much that I set out to do anything completely different from the Slip or Davis, but I think it just happened [as] a certain evolution. I would call it an evolution in my songwriting. For me, I saw it as an evolution and a step up in my conviction in the songs, and the rest is just happenstance, really, and using the most of the elements that were right there in front of us — being Sarah and Andrés — and just working with different colors and different textures.
SD: You and Andrew were friends with and toured with the Low Anthem before starting this band. Considering the instrumentation of the Barr Brothers, do you feel like you were influenced at all by them?
BB: Oh, most definitely. Group vocals, the way they sing together, the consideration they give to their harmonies, their harmony arrangements. And the pump [organ], I've always loved that instrument. I saw Neil Young play a pump organ in Boston in, like, 1992, just a solo show, and it was transcendental to me. I've always wanted to use that instrument. I'd seen Andrés play around, and I knew he played piano. What I didn't know before we talked to him about the band is that he also has a really big collection of pump organs.
SD: No kidding.
BB: Yeah, he has, like, five of them, all ranging in different sizes. But I certainly spent many nights feeling the majestic vibe of the Low Anthem, and the pump organ is a big part of that, so I'm certain that a lot of that rubbed off on me and inspired me.
SD: Is there anything you've been able to express with the Barr Brothers that maybe you weren't able to in the context of the Slip or Surprise Me Mr. Davis?
BB: Well, it's pretty much exactly how you hear it and exactly how you imagine it, too. For example, Davis is, for me, a rowdy night out on the town with the boys.
SD: [Laughs] And it sounds like that. Great description.
BB: And the Barr Brothers … Sarah on the harp, she's such a graceful person and graceful performer, it puts me in a place of a little more glowing. For me what it all boils down to is the personalities involved in the different projects and what they inspire in me. And so, if I write a song, a lot of times I know, Well, this one's going right to Davis. It's just that personality. I want to play this with those guys. Or I write something and I know, This is a Barr Brothers tune. Somewhere in there is where it comes to life.