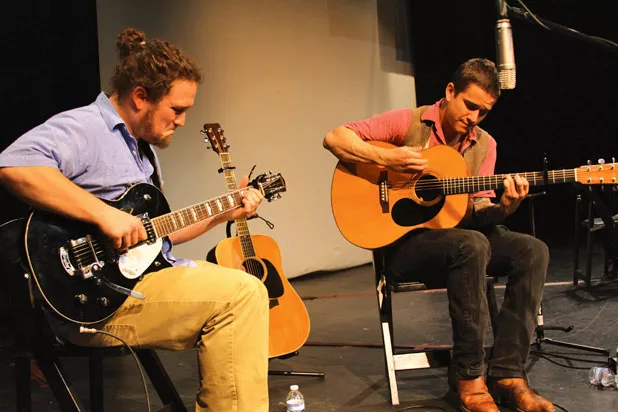 Last week, I was invited to participate in a panel discussion as part of Big Heavy World's Rocket Shop Live series at Main Street Landing in Burlington. The monthly series features performances from local artists as well as discussions with local industry types about various topics germane to working musicians, from marketing and booking advice to, as was the case in my discussion, the role of the music press and the relationship between journalists and musicians.
I'll spare you the extensive blow by blow, except to say that it was a lively and (I'd like to think) enlightening conversation that peeled back the curtain on what we music scribes do and why we do it. The talk was moderated by local songwriter Steve Hartmann and also featured my colleague Brent Hallenbeck from the Burlington Free Press. I see Hallenbeck around fairly often, but it's rare that we get to talk shop as in depth as the panel allowed. He's a bright guy and well spoken. And it's always interesting for me to hear Brent's take on the job, given that he's been doing it about twice as long as yours truly.
It was also interesting, and occasionally harrowing, to field questions from Hartmann, whose solo record, Waking Up the Echoes, I was critical of in a recent review. I kind of kept waiting for him to lean into the mic and ask, "So Dan, why are you such a dick?"
Fortunately, Hartmann is far too classy for that. But he did ask some great questions about music criticism and journalism in general. He also posed thoughtful queries about the ways in which bands can successfully vie for media attention. To paraphrase the answer to that last question: Be really good, like the DuPont Brothers.
Without question, the highlight of the night was the performance from brothers Zack and Sam duPont. I've long been an advocate of Zack's brilliance. Both of his solo records, Paths (2009) and Somewhere in Between (2012), were excellent — the latter landed on my year-end local top-10 list. And every time I've seen him in concert, I've come away deeply impressed. But Zack's collaboration with his younger brother might just be his finest project yet.
It's a little obvious to point out the wonderful things that can happen when siblings harmonize. But the clichés are justified. Though they differ in timbre — Zack's delivery is a little reedier than Sam's purer tone — together the duPont Brothers resonate at just the right frequency. There were moments that honestly gave me chills, especially when Sam joined Zack on backing harmonies.
But I think what impressed me most about the bros was not their similarities but their differences, and how well they melded their disparate writing styles. Zack has long taken a complex, bordering-on-jazzy approach to folk songwriting. Sam's tack is more direct, but no less effective or compelling. That they can strike a working balance so soon — Sam moved to Vermont just a few months ago — is remarkable.
The DuPont Brothers recently finished a debut EP, which should hit our ears sometime fairly soon. In the meantime, you can catch them … uh … wait.
Usually, this would be the part of the column in which I let you know where the musicians I've just raved about can be seen live. But, though they've been gigging a ton in recent weeks, the DuPont Brothers actually don't have any shows together in the next seven days. However, Sam has a pair of solo shows this week: Wednesday, April 24, at Nectar's, opening for the Brew; and Saturday, April 27, at the Monkey House with Old Man Luedecke. And Zack has a show at Red Square this Friday, April 26. If I were a betting man, I might gamble on one or the other showing up at his brother's show and maybe, just maybe, sitting in.
Before we move on, I should mention that last week's Rocket Shop Live was the last installment of its debut season. With any luck, the series will return in the fall. When it does, make a point to catch an episode, either in person or simulcast live at bigheavyworld.com and RETN Channel 16. It's a valuable resource for musicians looking to make sense of an increasingly challenging industry, and a great way for fans to check out local music.
BiteTorrent
I'm a jerk. I went that whole bit about Rocket Shop Live without mentioning the evening's other performer, Tim Brick. Sorry, Tim. Brick delivered an entertaining set in his own right. While his earnest take on pop country was kind of a curious companion to the DuPonts, it's hard not to like the guy. Were it not for his hellacious Vermont accent, you could reasonably think he was from Nashville, not Barre. One of these days, I want to hit up some Granite City dives with Tim Brick. Or maybe take a drive. As he mentioned during his set, he takes a lot of inspiration from driving. Indeed, most of his songs center on "going down the road" — lonely, open, country and otherwise. Look for his new record later this year.
New Band Alert! Welcome to the fray, Binger. In a recent email, bandleader Braden Winslow describes the group's groovy proclivities as, "like if Phish didn't sing … and listened to a lot of Animal Collective and Primus." As someone who has long held the belief that the members of Phish should not sing, I'm moderately intrigued. Binger make their debut at Radio Bean this Sunday, April 28.
Speaking of bands sans vocals, Montpelier's Concrete Rivals, a perennial column favorite, are heading out on a Midwest tour in May. But before they go, the killer surf-metal outfit plays a pair of local send-off shows: Thursday, April 25, at Nutty Steph's in Middlesex; and Friday, April 26, at the Hub in Johnson. Safe travels, Rivals.
Congratulations to Metal Monday. The weekly heavy-metal series celebrates its 100th installment on April 29 at Nectar's. To commemorate the occasion, some series regulars will be doing cover sets, including Musical Manslaughter playing Dethklok tunes, Savage Hen getting their Beastie Boys on and S'iva playing Pink Floyd, among other treats. Also, there will be cake. In related news, the following night, Tuesday, April 30, the Metal Monday dudes present some major out-of-town hardcore and metal talent at Club Metronome, including 3 Inches of Blood, Goatwhore, Revocation and Ramming Speed. Have I mentioned how much I love hardcore and metal band names?
Last but not least, happy trails to the Purple Moon Pub in Waitsfield, which will close its doors on Saturday, April 27, ending its 10-year run as a live-music hotspot in the Mad River Valley. Boo.
This Week on Tour Date with DJ Llu
This week's installment of Seven Days' nifty music interview podcast, Tour Date with DJ Llu, finds Llu chatting with Montréal indie outfit the Luyas. The band is headlining the upcoming Waking Windows festival in Winooski, which is pretty freakin' cool. Less freakin' cool is the seeming "Tour Date curse." Allow me to explain… The pod's last two guests, Jamie Lidell and Orchard Lounge, have both canceled their Burlington shows at the last minute. It's probably just a coincidence. Though my experience with the What's Good curse — that happens when I feature bands in our college guide and they disband shortly thereafter — does give cause for concern. In any case, it's a great interview and, if you listen in, you could win tickets to their Waking Windows show. Assuming they're still a band in May. Check it out at 7d.blogs.com/tour_date.