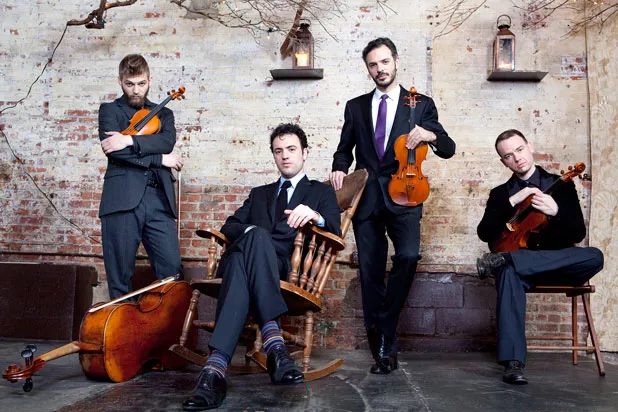 The Hopkins Center at Dartmouth College has been celebrating its 50th birthday in grand style — and, unlike most of us, for more than just a day. One of its party favors for the public? The world premiere of a Hop commission for Brooklyn Rider. The eclectic string quartet performed at Burlington's Flynn Center last November, but that program was not what listeners will hear this Friday. In fact, says programming director Margaret Lawrence, "The group only got the music to learn in the last couple months."
The Hop concert will comprise an installment in an ongoing project the foursome calls Brooklyn Rider Almanac. The Hop-commissioned pieces are by jazz guitarist Bill Frisell, Swiss pianist Nik Bärtsch, Padma Newsome of indie rockers the National, pianist Ethan Iverson from jazz trio the Bad Plus and Deerhoof drummer Greg Saunier. Don't worry, classical fans: Brooklyn Rider will also perform Beethoven's String Quartet No. 14, which many consider his finest work for that ensemble.
How does the Hop choose artists for commissions? No mystery, actually. "We have a strong relationship with Brooklyn Rider," says Lawrence. "And they are extremely creative in how they go about working with composers. [In this case,] they wanted to see what would happen outside the classical-music realm."
Apparently, the Brooklyn-based quartet wanted to see what might happen outside the ivied walls of Dartmouth, too: On Monday night, they appeared with other cultural cognoscenti at White River Junction's quirky-cool Main Street Museum for an event that director David Fairbanks Ford called a "Creative Placemaking Dialog."
Brooklyn Rider Hop Commission/World Premiere: Friday, January 18, at 8 p.m. at Spaulding Auditorium, Hopkins Center, Dartmouth College
The print version of this article was headlined "Easy Rider".