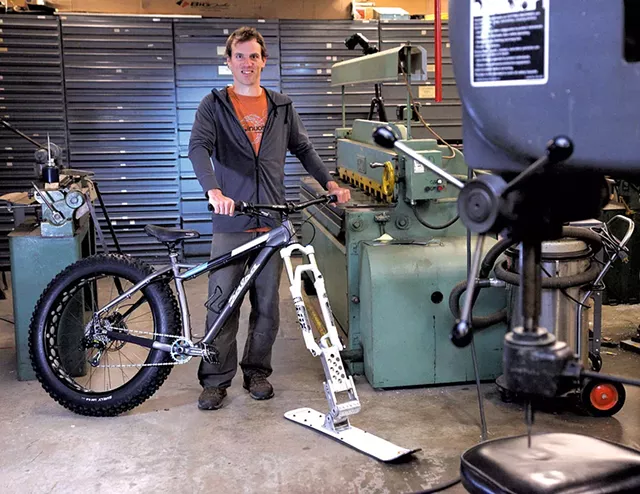 Matthew Thorsen
Brooke Scatchard
Brooke Scatchard unveils his pièce de résistance unceremoniously, with hardly a nonchalant wave. His fat-bike ski has been 15 years in the making; now it leans inconspicuously in the corner of the University of Vermont's machine shop, waiting for a few final tweaks — and snowfall.
This is the 13th and final iteration of Scatchard's invention, a mountain bike with the typical oversize tire in the rear and a removable ski in the front. The five-pound aluminum attachment can replace the front wheel and brake on any fat bike. The wide ski allows the cycle to "float on the snow," Scatchard says, and maintain control through turns.
Over the years, he has shaped and reshaped the curvature of the ski, added pivots, streamlined the design and adjusted the suspension. Soon the members of UVM's Instrumentation & Model Facility will run a stress-strain analysis to address any weak points in the design. Meanwhile, Scatchard is developing a marketing strategy and seeking investors and a regional manufacturer for the product. Each fat-bike ski attachment, he anticipates, will sell for about $875.
The 34-year-old Morristown resident has received two patents for his creation, which won an award in the October Pitch It, Fab It! competition at the Generator maker space in Burlington.
"He's just a really knowledgeable entrepreneur," says Lars Hasselblad Torres, Generator's executive director, of Scatchard. "He has a well-defined problem and a well-articulated solution. It's not a whim, a lark."
Scatchard's idea isn't entirely novel. An online search of bike skis (or the more common term "ski bikes") yields dozens of models: contraptions with two or three skis, with bike tires or tracks; models for sitting or standing or downhill skiing; and motorized versions.
But his product, Scatchard insists, is different. It's the only ski-bike design, to his knowledge, that has just one ski and can navigate both cross-country ski trails and downhill slopes. And, he adds, it works better. "It's the feeling you want riding a bike," he says. "I'm fulfilling needs that other people aren't meeting."
For Scatchard, the fat-bike ski is a combination of art, science, calling and career. It's the product of single-minded doggedness and an instinct for the needs and interests of the mountain-biking community. He believes his design represents a new wave for winter enthusiasts and stands in the vanguard of Vermont's outdoor recreation scene.
That confidence may seem at odds with Scatchard's unassuming persona. He's not a natural salesman. He understates almost everything and shies away from the limelight. He habitually ruffles his mop of auburn hair as he pauses to collect his thoughts, resulting in a slightly scruffy appearance.
In the UVM shop, when asked to pose for a photo, Scatchard throws a leg over the seat of his bike ski. His face assumes an expression of concentration. Even surrounded by machinery, he's on a bike and in his element.
That focus becomes even more evident in the videos on the product's website, created by Scatchard's friend and business partner Dan Kirk.
On camera, it's clear that Scatchard manages his bike with an agility and grace that are difficult for some of us on two feet. In videos scored to upbeat rock, he hurtles through winter forests with joyous audacity, navigating tree-lined trails and plunging through deep powder. And he's not above the occasional display of gaudy flair, flying over jumps and sending cascades of snow into the air as he speeds through turns.
"When you tell someone about [the fat-bike ski], they're like, 'That's pretty neat,'" says Kirk. "When you show them a video, they ... get out their checkbook."
Scatchard's prototype will make an appearance in the snow-sports adventure film Warren Miller's Here, There & Everywhere, which will screen at Middlebury's Town Hall Theater on November 30 and December 1 and at the Flynn Center for the Performing Arts in Burlington on December 2. And, most importantly to the inventor, his design will head into production by the end of this winter.
If anyone knows the bike market in Vermont, it's Scatchard. The Charlotte native has spent the better part of his life in the mountain-bike community. Scatchard fell into the sport at age 11, influenced by a mountain-biking uncle. Soon after he began racing at 14, he was recruited for the Cannondale Headshok development racing team. Each winter, Scatchard competed on Champlain Valley Union High School's Nordic skiing team to get in shape for mountain biking, then waited anxiously for the snow to melt so he could get back out on the trails.
For his senior project, Scatchard embarked on a model of what would become his first fat-bike ski, which he dubbed "bikes on snow." Initially, his interest in the project stemmed from "winter boredom and wanting to ride my bike," he says. Scatchard spent his free afternoons in the CVU metal shop, staying late when his teacher would allow it.
That year he constructed a prototype and applied for his first patent on the model before he graduated from high school in May 2000.
While attending UVM, Scatchard raced his mountain bike semi-professionally and worked at bike shops. He volunteered for Fellowship of the Wheel, Chittenden County's chapter of the Vermont Mountain Bike Association. After graduating in 2005 with a degree in geography, he continued to pursue mountain biking for both livelihood and leisure.
Now, Scatchard and his girlfriend, Mariah Keagy, own and run their own trail-design company, Sinuosity. Together they have designed and built nearly 40 trail projects across Vermont and New Hampshire.
All the while, Scatchard has been refining the fat-bike ski, funding the project himself. He follows what he calls an "iterative trial and error" process. In practice, that means spending long hours tinkering in his basement and toting a couple of wrenches on every test ride.
Some initially tepid responses to the product left Scatchard discouraged and nearly ready to throw in the towel. But then, in early 2015, he raced his bike in Stowe after a snowstorm. "Everyone was crashing all over the place," he recounts. "You couldn't ride in a straight line." It was all the motivation he needed to continue his work.
Scatchard has tapped into a zealous audience and a burgeoning mountain-bike industry. Vermont currently boasts about 800 miles of mapped trails; in-the-know locals make use of hundreds more, according to Tom Stuessy, executive director of the Vermont Mountain Bike Association. That's about 25 percent more trails than when Stuessy started at VMBA in late 2012. The number of the organization's volunteer-led chapters has doubled over the same period, and membership has more than tripled.
Winter fat-bike riding is on the rise, too. The phone calls Stuessy fields most frequently during the winter, he says, are from bikers seeking recommendations for fat-biking trails. And, he notes, the pastime has fostered a culture of innovation. "Every time you look at the mountain-biking sport, people are looking down the road," Stuessy says.
Innovation doesn't necessarily lead to profits. But Scatchard remains convinced he's created a product that will sell. Last year, he competed with his bike ski in the Fat Bike World Championships in Crested Butte, Colo. (That's where Miller filmed him flying through fresh powder.) Scatchard only placed 20th, but after the race, he says, fellow contestants were lining up to try out his rig.
Meantime, videos on YouTube and fatbikeskis.com have garnered more than 750,000 views, says Kirk. The nascent company's email list includes interested customers from as far away as Switzerland, Scandinavia and Russia. In fact, Scatchard's biggest worry is keeping up with what he sees as the potential demand.
Scatchard has the work ethic, persistence and relationships to make his design succeed, according to Kirk. "Brooke's given so much to the biking scene in Vermont," he says, "[and] he's been able to leverage some of those connections to get the word out. If anyone can do it, he's the one."