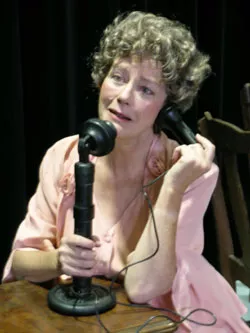 People have long debated the question of what it means to be human. What defining characteristic distinguishes us from the animals? The scientist might point to the power of speech. The philosopher might propose the capacity to reason. The playwright, however, focuses on how people interact — their ability, or inability, to connect with others. How they love, how they hate; how affection, longing, resentment and shades of joy and sorrow develop between flawed individuals on their journeys.
The central tragedy of Tennessee Williams' The Glass Menagerie (1944) is that one character can't properly connect with anyone in her world. Twenty-three-year-old Laura relates only to her treasured assemblage of tiny glass animals. Her separation from reality "increases till she is like a piece of her own glass collection, too exquisitely fragile to move from the shelf," according to Williams' description prefacing the play.
In Lost Nation's current production, director Peter Sander miscast Laura's role and thus weakened the heart of Williams' message. Other poor directorial choices also detracted from the play's impact. But Jeremy Benson's ebullient performance as the gentleman caller, Jim, brought considerable shine to Act II, closing the deeply moving story on a strong note.
Playwright Williams drew freely from his painful family life to create the play that brought him from obscurity to what he later called "the catastrophe of success." Laura was inspired by his older sister Rose, whose devastating bouts with mental illnesses ultimately led to a lobotomy. This treatment was not uncommon in the 1930s, but it left Williams guilt-ridden. He suffered his own nervous breakdown, and battled depression throughout his life.
Autobiographical details litter The Glass Menagerie, set in 1937. Tom (Tennessee's real first name) works unhappily in a St. Louis shoe warehouse (as Williams did) to support his mother Amanda and sister Laura.
The frustrated poet both narrates the story and takes part in it. It's clear Tom longs to escape, and Amanda fears he will abandon them as his father did. Her best hope: a gentleman caller, like the ones she remembers fondly from her Mississippi plantation childhood, who will marry the unstable Laura and take over her financial support.
At his mother's request, Tom brings home a friend from work, Jim O'Connor. Amanda engages in furious preparations and invests extravagant hopes in Laura's first potential suitor. But Laura is petrified. Barely able to relate to her mother and brother, she nearly shatters at the thought of a stranger. Jim's simple visit does bring about change in the Wingfield household, but not the hazy romantic fantasy Amanda has imagined.
Laura Bozzone was ill suited for the role of Laura Wingfield. She exuded far too much energy, spunk and vitality for the emotionally disturbed character. Bozzone adopted gestures to show nervousness, such as wringing her hands and gazing off into the distance. But her facial expressions and body language remained largely unhaunted by the specter of Laura's inscrutable inner torment. She came off as shy and unfocused, not someone irrevocably retreating from life.
How to secure Laura's future is the dilemma driving the play. So it sapped dramatic urgency from the Lost Nation production to have a Laura who seemed like she might be able to fend for herself. Director Sander also could have given better direction to two well-cast actors: Christopher Reiling as Tom and Janis Stevens as Amanda.
Tom's narration establishes that The Glass Menagerie is a "memory play," in Williams' words. It sets an allegorical tone and frames the story by opening the action, introducing many scenes and adding a final coda. With the exception of the last few lines, Sander had Reiling deliver Tom's narration in a hard-edged but strangely passionless monotone. This odd cross between a world-weary James Cagney character and an opening voice-over à la "Dragnet" gave no hint of Tom's wistfulness, sadness or regret. If the play represents Tom's most significant memories, why would he, a self-professed poet and adventurer, recount them so lifelessly? It drained energy from the storytelling.
Reiling showed he was capable of much better. He displayed plenty of passion and range in his scenes with other characters: eye-rolling exasperation at Amanda's smothering, and softhearted tenderness toward Laura's eccentricities. He delivered Tom's snappy comebacks with deadpan comic timing.
Janis Stevens demonstrated her virtuosic chops in last year's one-woman show Vivien, also directed by Sander, unfolding actress Vivien Leigh's tragic story with moving grace. But her portrayal of Amanda lacked the same subtlety. Amanda "must be carefully created," Williams cautions in the character description. She is "a little woman of great but confused vitality clinging frantically to another place and time." Stevens played Amanda with the volume stuck on high: She dialed the Southern-belle affectations up to Scarlett O'Hara at "Fiddle-dee-dee!"
It was frustrating that Sander didn't tone down these mannerisms so that the more compelling elements of Stevens' performance could shine. She showed Amanda's conflicted heart as a mother. Her eyes and lips narrowed with withering disapproval in one scene; her whole face and body softened with doting concern in the next. But Amanda's intriguing contradictions — hectoring, nurturing, mercurial, scared — were to a certain extent overwhelmed by the drawling, sashaying and other Southern airs.
The one actor who hit all the right notes was Jeremy Benson as the gentleman caller. He embraced Jim's gregarious sincerity — slightly goofy, utterly guileless and completely charming. Delivering lines assertively and making direct eye contact, Benson completely inhabited his character's embodiment of mid-20th-century American optimism. Credit goes to both Sander and Benson for interpreting O'Connor in a straightforward manner, and not casting his "ordinariness" as ironic or sinister.
Benson's presence invigorated the play, just as Jim's arrival briefly enlivens Laura's life. Benson and Bozzone played their long concluding scene together with convincing dignity and affection, as Jim tries to teach Laura, "Being different is nothing to be ashamed of."
Elements of the production design could have better supported the storytelling. When the dramatic intensity on stage flickers, details start to irk. The most glaring omission: Where was the menagerie? Laura's small collection, housed in a tiny étagère, amounted to a dozen or so figurines. Williams specifies "scores," which mathematically must mean at least 40. If amassing, playing with and caring for the collection is Laura's whole life, we need to see it on stage. Glass — its beautiful transparency, its inherent tendency to shatter — is the play's central metaphor.
Another detail of Donna Stafford's scenic design was jarring: The oft-used fire escape looked like a cozy teak pathway, not a gritty ironwork stair. Jeffrey E. Salzberg created some elegant lighting effects, such as the rainbow kaleidoscope of the dance hall, but they were underused. Music designer Tim Tavcar selected eclectic, lyrical excerpts — Scott Joplin, Gabriel Fauré and Claude Debussy among them — but the director needed to integrate the music more seamlessly into the action.
Lost Nation has an ambitious agenda for 2008, mounting a self-proclaimed "season of classics." Last month's terrific opener, To Kill a Mockingbird, set a high bar. The good news: Many of Menagerie's problems could be fixed during the current run. The cast and crew possess the talent, and Williams' play deserves no less. It rocked the American theater world when it premiered. Because, then and now, Menagerie's messages cut deep: Even in families rent by the most painful conflicts, there can be tenderness and love. Humans, especially those entangled by common DNA, have a desperate need to connect.