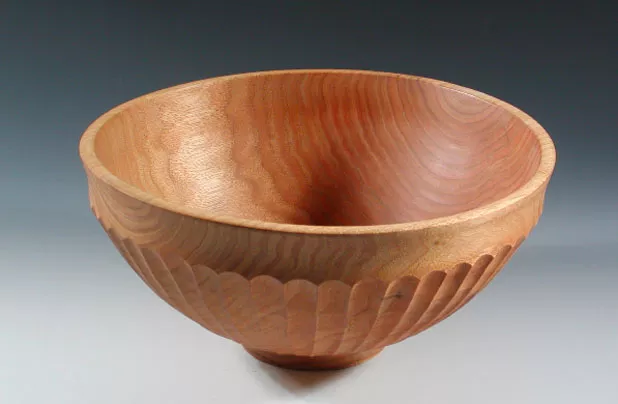 Enosburg Falls is a long way from London, England. That may be one reason Al Stirt was especially pleased to hear last week that one of his wooden bowls had been acquired by the Victoria and Albert Museum. Though his gorgeous turned pieces have landed in 18 museums around the United States — including the American Craft Museum in New York City and the Smithsonian in Washington, D.C. — "There's something about that British accent," he quips. "I was really pleased, maybe because it's overseas."
Stirt, 62, explains that the fluted butternut bowl, which he made in 1987, had been in the possession of a collector in Arkansas. Apparently the woman — who Stirt says has one of the largest collections of turned wood in the country — was deaccessioning. "My guess is she offered them some pieces and they made a few choices," he says of the V&A. The bowl, made of native Vermont wood, will take its place amid the vast store of treasures at the London facility.
Stirt, a Brooklyn native who moved to Vermont in 1970, says the best market for his bowls is "not in Vermont." Though he has sold functional pieces through Frog Hollow, his best venues are galleries in places such as Los Angeles and Miami. The functional works, he explains, sell from $100 to $400, while "the more decorative work can go for anywhere between $300 and $4000." Those higher-end sales, Stirt admits, "don't happen a lot."
Turning wood is a venerable craft tradition, and sylvan Vermont would seem to offer plenty of natural material. Not on Stirt's property, though; he reveals that his 40 acres contain "mostly scrub wood." He buys most of his hardwood from local firewood cutters — call it one small transaction in the creative economy. That butternut bowl now owned by the Brits began as a hunk of American log, Stirt says. He first milled it out with a chainsaw, then turned it, shaped it, and meticulously carved the flutes with a "power-assisted" tool he adapted from one used by stone carvers.
Stirt's website displays other pieces in the fluted style, along with African-inspired works, "classic bowls" and a newer series of square "ceremonial" bowls. Each piece is unique, and reveals why wood artists are enthralled by the unpredictable beauty of what was once part of a tree.