Vyto Starinskas
Savory pies
Americans welcomed the British Invasion with full-throated enthusiasm, but they've been a little more standoffish about English food. The two come together harmoniously in an unlikely venue — a Brandon barn once owned by artist Warren Kimble and now operating as a performance space, tearoom and restaurant.
Classical and jazz concerts are held regularly at the world headquarters of the Divine Art Recordings Group, under the direction of co-owner Stephen Sutton. Even when no one is playing live, music from the label's artists fills the room. At lunchtime, you might hear composer Paul Mealor's Now Sleeps the Crimson Petal, of royal wedding fame: It played at the nuptials of Prince William and Kate Middleton. Or the The Finck Album, named for Herman Finck, a composer of English music-hall hits in the 1910s and '20s.
Whatever the accompaniment, chef Donna Towle's food takes center stage. Edna Sutton, who owns the café with husband Stephen, carefully trained the American chef to prepare her native English fare.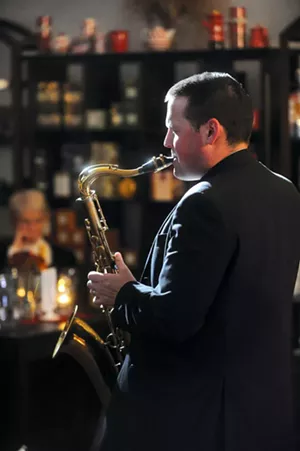 Vyto Starinskas
Sax player at the Brandon Music Café
While some customers order Towle's award-winning chili, those in the know sip potato-leek soup. Or they may prefer to start their meal with a walnut-and-blue-cheese tartlet. A light custard packs a fermented wallop of Stilton amid creamy, eggy delights housed in a flaky piecrust.
Savory pies are a specialty here, too. A steak-and-ale version is richly flavored with Guinness and topped with buttery puff pastry. A banger pie is stuffed with lightly spiced sausage meat and served with creamy mashed potatoes and red-wine gravy.
Contrary to American expectations for British fare, each of the pies comes with a fresh salad, served with a trio of homemade dressings. The raspberry vinaigrette pops with unbroken chunks of pulp, while the balsamic vinaigrette is flecked with fresh herbs.
Add a pot of bracing Assam tea and the sound of bow strokes, and it's the next-best thing to supper at "Downton Abbey."