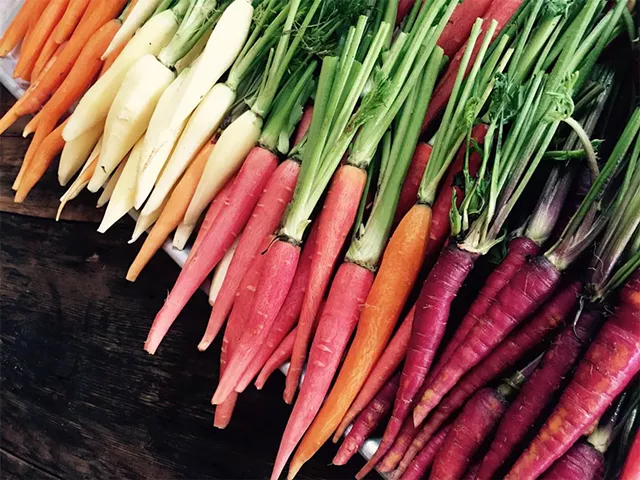 Since Tandem opened in May 2015, the airy spot at 26 Main Street in Bristol has evolved to serve multiple functions. It's an occasional tasting room for local purveyors. It's an event space for happenings such as Tandem Night Market, a Thursday evening summer farmers market. And it's a production kitchen for its owners, craft soda maker Jess Messer of Savouré Soda, Jam and Pickle and caterer Lauren Gammon of Nomadic Chef Catering.
Gammon and Messer aren't hibernating this winter — instead, they're organizing a wealth of events to busy the community through the holidays and into the New Year. "The Vermont craft-food scene and its viability is endlessly fascinating to me," says Messer, "both as intellectual exercise and a real-world enterprise." The point of Tandem, she says, is to highlight small-scale local producers in a malleable communal space.
Gammon recently launched the sequel to her popular winter 2016 series of pop-up dinners. One night a month, from November through May, she'll provide a six-course tasting menu focusing on one region of the globe. Last weekend, her first pop-up featured bites such as flash-roasted calamari with smashed fingerlings and delicata squash tempura with bacon and smoked-apple compote.
Also on Tandem's winter schedule are visiting-chef takeovers, including a family-style Eritrean/Ethiopian meal by chef Alganesh Michael and a Polish dinner from well-known pierogi maker Luiza Bloomberg. On December 2, a Chocolate Walk holiday event will feature more than two dozen Vermont craftspeople, and, on December 23, Tandem will host its first Lumen Festival pig roast, fronted by Luke Stone of Cloud 9 Caterers.
To keep track of the goings-on, visit Savouré Soda's Facebook page or join the Tandem mailing list.