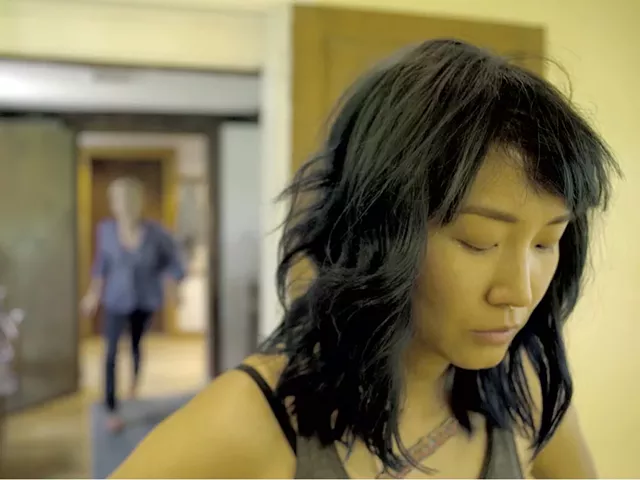 From the Hanji Box by Nora Jacobson
Orly Yadin smiles when she talks about movies. So does Seth Jarvis, her right-hand man. The executive director and outreach coordinator, respectively, are two of the busiest bodies at the Vermont International Film Foundation and at the organization's yearly festival. But even as they rush to prepare for the 10-day affair — which begins this Friday, October 21, in Burlington — Yadin and Jarvis speak about the selected films with more than a little reverence.
Perhaps that's because they and four more members of the programming committee spent almost eight months scouring the landscape of modern cinema for gems, and developed an affection for certain titles in the process. Many of the films they winnowed from that search focus on current issues, ranging from gender and sexuality to refugees to rebellion.
At this year's festival, Yadin says, a few things will look different. She's particularly pleased that nearly half of the filmmakers represented are women — a drastic departure from Hollywood norms. Returning festivalgoers may also notice an increase in the number of fiction films over documentaries, which have historically dominated VTIFF. And, last but not least, "I think it's the first time ever that we have chosen a Vermont film [for] the opening night," Yadin enthuses. "I'm very happy and proud about that."
That would be The Hanji Box (2016), directed, written and produced by Norwich-based Nora Jacobson. The fictional tale, filmed in New York and Vermont, chronicles one woman's conversation with herself about adopting a Korean daughter.
"I think international adoption is a very curious phenomenon," Jacobson reflects over the phone, "that only exists in what we call 'first-world countries,' where people have the [ability] to pay quite a bit of money to get children."
"Curious" may be a careful choice of words, but that carefulness also characterizes the film, in which one woman's search for answers seems intended to open a discussion about issues of ethnicity, heritage and privilege.
Fittingly, conversation occupies a significant portion of this festival. Yadin observes that this year's event will host more speakers than those of past years. One panelist is the former United States ambassador to Syria, Robert Ford, who now lives in Vermont. He'll introduce A Syrian Love Story (2015), which Yadin says is one of her favorite films of the season. It hits on one key theme she sees emerging in this year's lineup: home.
"It's a very good example," she says, "because it deals with this [activist] family who has to leave Syria [for France], but it's not the usual refugee story at all."
Rather than stay in relative safety, the woman in the doc returns to her homeland to continue protesting, leaving her husband and four children behind.
Powerful female figures like this pop up throughout the program. Four notable ones appear in the 2016 documentary Political Animals, which tells the story of openly gay female legislators in California. One of them, former state senator Carole Migden, will be in attendance to present the film and facilitate a Q&A.
"Seth and I love it," Yadin says of Political Animals, "but we were thinking, How are we going to sell this film? Because it's basically the story of several court cases, and you think, Oh, my God, how boring is that? But it's actually one of the most fascinating documentaries in the festival this year."
The list goes on — with 15 documentaries, 27 narratives and a selection of Lunchtime Shorts and family-friendly flicks, not to mention the 16 films in the Vermont Filmmakers' Showcase. Says Yadin with a smile, "It gets better every year."
Disclosure: Seven Days is a media sponsor of the Vermont International Film Festival.