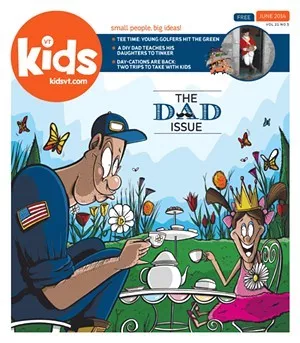 Our award-winning cover illustration
For the fourth year in a row,
Kids VT
took home top prizes in the annual Parenting Media Association's Design and Editorial Awards Competition, which recognizes excellence in journalism, photography and design at member publications.
The PMA presented the awards last Saturday at its convention in Baltimore, Md. A panel of judges awarded
Kids VT
first-place "gold" in its circulation category for:
Best Overall Writing — for the fourth year in a row
Best Cover Illustration:
Matt Mignanelli
(June 2014)
Best General Feature: '
"A Cabot Family Makes the Case for 'Unschooling"
by Kathryn Flagg (September 2014)
Best Publisher/Editor's Notes: Megan James
Best Personal Essay:
"Rebirth Plan: A 'natural' mom comes to terms with her C-section"
by Meredith Coeyman (May 2014)
Kids VT also won a "silver" award for "The Art Of" column by Alison Novak; and a "bronze" award for Best Overall Design. The judge in the Best Overall Writing category praised the "lively writing" in each issue of
Kids VT
: "From the highly personal editor's note to the regular 'Go Ask Dad' segment, these writers set an excellent example for the kids who are learning to, as the title of the closing essay suggests, 'Use your words.'"
This is the fourth year
Kids VT
has entered the competition since the magazine was purchased and redesigned by
Seven Days
. We're thrilled to be recognized!