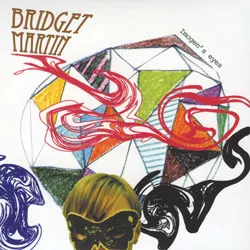 (Self-released, CD)
Funny story: Recently, Bridget Martin, sister of local songwriter Jenny Martin (aka. Jenny Montana), stopped by the Seven Days office to drop off her new CD, Imogen's Eyes. When the coworker who had received her came to my desk to inform me of my visitor, she mentioned that she thought Martin might be deaf, as she was using a pen and notepad to communicate. Typically, I'm loathe to meet with unannounced callers. But music critics very rarely work with the hearing impaired, for obvious reasons. Curiosity piqued, I emerged to greet her. Long story short, following a series of rather awkward exchanges — during which, I'll remind you, I thought Martin to be deaf — I returned to my desk and popped the disc into my player.
At this point, two things became (almost) immediately clear. One, Bridget Martin is one hell of a songwriter. Two — and here's the embarrassingly funny part — Bridget Martin is not deaf. She had, um, merely lost her voice, hence the pen and paper. The latter fact I would later confirm through a mutual friend, just to be sure — and lest a call to David Fricke be in order.
Though I'll not be dialing my direct emergency line to Rolling Stone quite yet — dirty secret: all music crits have one — Imogen's Eyes is a remarkable record, through and through. From the sleepy bedroom pop of opener "Battle Tears" and slow-burning bruiser "Adelaide," to quieter, mostly acoustic numbers such as "Magnified Already" and "Mandy," to the lazily countrified "Body of Water," Martin trades in a kind of haphazardly breezy, heart-on-sleeve indie fare that could rest comfortably somewhere in the space between Rilo Kiley and Yo La Tengo.
Martin is something of a globetrotter, having spent time recently touring in New Zealand and Australia, as well as living in Korea, where most of these tunes were penned with her band, Bridget and the Puppycats — great name. The album itself, however, was largely recorded at Big Orange Studios in Addison, under the watchful eyes — and acute ears — of producer Ryan Power. And with the aid of some local luminaries, including Power on drums, keys and backing vocals, and Paddy Reagan (bass, banjo), Martin has crafted a cleverly idiosyncratic album that reveals new charms with each listen.
So, is Bridget Martin an indie-pop Beethoven? No. But she is an immensely talented and imaginative songwriter nonetheless. And one who will prove a welcome addition to Burlington's bustling indie scene, should she choose to stick around for a while.