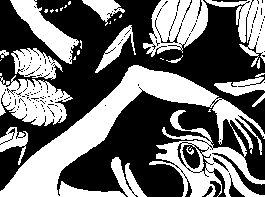 If you want your bridesmaids to like you after the wedding, here are a few suggestions from someone who's been there.
• Give them specifications and let them choose their own dress.
• Remember, not everyone looks good in an Empire waist or thinks peach is an appropriate color for a dress.
• Better yet, give your bridesmaids an excuse to buy their dream dress. When my mother got married, the only direction she gave her maid of honor was to buy a dress she absolutely loved.
• If you're going to dress your bridesmaids like Junior Misses, pick up the tab. It's your production, so pay for their costumes.
• Don't expect your bridesmaids to fork over for professional hair and makeup. They don't care about the pictures as much as you do, so if you want them coiffed and polished, provide the service.
And here's a tip for anyone in the wedding party: If asked to give a toast, keep it short and about the bride and groom. Try "Congratulations" followed by a short anecdote that illustrates how perfectly matched they are.
I learned this past fall that no first-time bride is immune to princess-for-a-day pitfalls. Even the most grounded, least materialistic women start to contemplate horse-and-buggy arrivals to the altar, and to cavalierly throw around the words like "disaster" and "catastrophe." There is perhaps no more painful position from which to watch wedding plans transform from fun party to overbudget Disney production than the sitting-duck role of bridesmaid.
It all began with a timid phone call. "Would you be a bridesmaid in my wedding?" Laura asked. It sounded so innocuous, as if it were a one-day commitment, but I knew better, and I remember thinking: "Where to run?"
It wasn't that I didn't love Laura, but I selfishly wanted to sit out the Bridezilla period from a safer distance. On the one hand, it was an honor, and I was touched that my friend would ask me in the supporting cast on the most important day of her life. On the other and less good-natured hand, she was asking me to spend a lot of money that I would rather have put towards a washing machine.
"I'd be honored," I said.
Even with the big day six months off, Laura spoke of nothing but band selection — jazz or pop? — wedding photographers and Chateaubriand versus lamb tenderloin. I was dating a professional photographer at the time, and Laura and her fiancé dangled the bait in front of him.
"George," Laura asked sweetly, "How do we find a photographer as good as you?"
Knowing that Condé Nast magazine editors were more forgiving clients than brides, George knew not to touch this one. "Go with a professional who's done thousands of weddings… They wanted $5000 for the day? Yeah, that sounds reasonable," he advised over the phone.
Occasionally Laura would remember her former self and inquire about the personal lives of her friends, but after two minutes or so she'd stare off into space and reply with non sequiturs such as, "Do you think I can find a dress you all will look good in?"
After threatening her bridesmaids with various confections in satin and taffeta, Vera Wang gowns were suggested — which would set me back a washer and a dryer. But luckily, her true kindness resurfaced at the critical moment. Maybe it had something to do with one of the bridesmaids being five months pregnant. Laura told each of us to choose a formal, black, ankle-length dress of our liking. This meant no dyed shoes, and that I'd look thin and stylish instead of like a helium balloon. Suddenly the wedding sounded much more bearable.
Laura's emergency calls had even slowed. I'd heard all about the engraved invitations with the faded "r" in "Dr." They were reprinted. I'd sympathized with the engagement photo that collapsed Laura's neck. I even en-joyed the agonizing over whether Laura's gay friend Mark should be a groomsman or a bridesmaid. I reminded myself that in saner times Laura viewed the world with hysterical commentary, but that for the moment her world had narrowed considerably. I could only hope that my old friend would return from her Caribbean honeymoon a normal, if slightly more boring, married version of herself.
Notably, she never expressed doubts about David, the groom. Still, I gave her my own advice, taking pains to remind her, "Laura you're not stuck with him. Never feel trapped. If you think he's cheap now, you're going to think he's really cheap in 40 years. There's nothing final about a wedding."
It wasn't the most romantic advice, but I figured she was getting enough rose-petal speeches. How better to soothe jitters, even if she wasn't having any, than to remember there were always options. Jessica Sklar certainly did, divorcing her husband of six weeks to marry Jerry Seinfeld.
I went on the obligatory lunch and fitting outings in New York, found my own dress at Nan Patrick, and bought a present for the shower I had to miss. There was one unattended detail. I dreaded being the saddest of all creatures — an unattached bridesmaid, especially since I knew few of Laura's friends and didn't want to have to smile and extrovert my way through the evening. I needed a low-maintenance date, someone who would be happy on his own at a big party, who'd be willing to rent a tux and spend a day at a Long Island Country Club. I called the sweetest boy I know: my brother.
"Do you remember the pig-out wedding scene in Goodbye Columbus?" I asked Erik over the phone, "At Ron's wedding … no, Ron's the brother who always played the 'Goodbye Columbus' record … Remember that obscene buffet and Neil is, like, 'What am I doing here?' Right, so picture the Patimkin wedding, multiply that by 10, and that's what Laura's wedding is going to be like. And you get to wear a tux!"
Thus, with the promise of an excessive buffet, I convinced my 26-year-old law student brother to escort me. The rehearsal dinner, an exercise in frugality hosted by the groom's parents, was followed by three full hours of toasts. Each was alarming for its own reasons.
The groom's father, a famous doctor with an suspect interest in surveillance, played an audiotape of a phone call that Laura and David made from Paris to announce their engagement. Every last friend of the bride and groom made a 10-minute speech. Many of them actually had very little to do with the couple — which one groomsman addressed in his intro, "I'm going to diverge from the theme and give a toast that's not about myself."
The next afternoon at 2, I was choking on hairspray at a Long Island hair salon. The rest of the bridal party was already coiffed and at the country club, but I was still sitting in a vinyl chair suffering a French twist, while the hairdresser told me I had "just too much hair."
When I finally got to the country club, wearing jeans and a severe Grace Kelly look, I bumped into the groom's father, who was roving the empty lobby with his digital videocam. "Alexia just arrived," he narrated. "Alexia, isn't this an exciting day? Say something for the camera."
So I asked what I'd been wondering for the last 12 hours. "Did you just happen to have a tape recorder handy when they called from Paris, or do you record all your phone calls?"
"Oh, ha ha ha, Laura is just down the hall on the right," he said.
Laura was just slipping into her dress and looked breathtaking. We all gathered around — Laura's mother, David's mother, the three bridesmaids — and marveled at the transformative powers of a white ball gown. Laura smiled, too. She seemed calm for the first time in months.
She smiled all afternoon on that crisp, Indian-summer October afternoon. The two-hour photo shoot took place on the lawn outside the country club's gabled mansion. The wedding photographer deftly mixed members of the wedding party in rapid-fire musical chairs: "bridal party… groom's extended family… bride's immediate family."
After an hour of this, Laura was still beaming, with no sign of facial paralysis. "You're doing great," I said, finding my bouquet very heavy. "You've been smiling for an hour straight. That's impressive."
She responded with her characteristic directness, "It's the happiest day of my life — of course I'm smiling."
After pictures, it was time for the rehearsal, which was also captured step-by-step by both the photographer and the groom's father. Mr. Gorsky, the manager, marched us through our parts so quickly that everyone looked too confused to say anything, or to ask to repeat the choreography we would perform in half an hour. Guests began to arrive. We were cloistered in the back room for the signing of the Ketubah, a Jewish marriage document.
Then there was a lot of waiting — an endless half-hour with nothing to photograph and no wine to drink. Then, suddenly, it was time to begin. We walked down the aisle, this time with an audience and without Mr. Gorsky shouting at us to slow down. I didn't trip, stood to the left of the chuppah, and hoped I wasn't blocking anyone's view.
As the ceremony began, I saw the photographer hiding behind a potted plant near the chuppah. He grew more and more brazen as the ceremony began to drag. "Psst," he finally hissed. I looked over, and he motioned for me to move another bridesmaid so he could get a straight shot of Laura and David. I looked away, pretending not to see him, and concentrated on holding my bouquet.
Fortunately, Laura was too happy to notice anything strange on her wedding day. After months of obsessing over minutiae, she was relaxed and remarkably sober. She didn't even notice when her father-in-law started breakdancing, or when Mr. Gorsky asked one of the bridesmaids to sit on his lap. She was princess for a day, and everything was perfect.