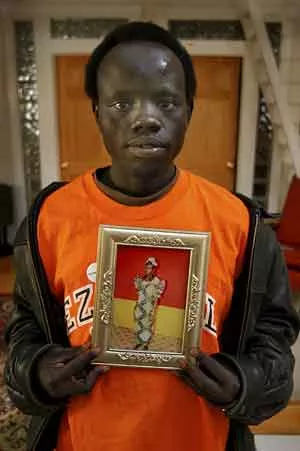 Since arriving in Vermont four years ago, 40 of the so-called "Lost Boys" of civil-war-torn Sudan have settled in nicely. They have cars. They have jobs. They go to church. They have cell phones. Many have high school diplomas and some are pursuing college degrees. What's missing for the young men is marriage, as defined by the traditions of their tribe. Many of those who made the long trek to the United States, like 22-year-old Simon Ateny, are going back home for brides.
But why not an American wife? "It's personal," says Ateny, who is reluctant to speak about his love life and still struggles to articulate complicated matters in English. Asked what his Dinka "brothers" in Burlington will do about their "I do's," he demurs quickly, "That's up to them."
Michael Sheridan, an assistant professor of anthropology at the University of Vermont, explains that Ateny's selection of a spouse is not as simple as I am Dinka, therefore I must marry Dinka. "Certainly, one part is marrying someone who has gone through a similar experience," he suggests, "and someone who can communicate in the same mother tongue."
Ultimately, though, choosing a mate "is more about ethnic identity, which signals how you fit into a community," Sheridan says, noting that identity is a work in progress for everyone. But refugees in particular have a history in one world and a future in another. Arranging a traditional marriage may be one way to reconcile that conflict.
Employed by City Market for the past few years and a recent graduate of Burlington High School, Ateny has made a place for himself in the community. But by marrying someone back home, he also can preserve his place in the Sudanese social order. After all, thousands of years of tradition came with him on the long journey to America, and he feels duty-bound to the Dinka customs of marriage and family -- as well as to the 3000 or so less-fêted "Lost Girls" left behind at the Kakuma refugee camp in northern Kenya. While the boys were given visas to America, these girls disappeared into "foster homes" in the camp.
In fact, an entire way of life could be lost after 21 years of war in Sudan, a country that has the most displaced people in the world, according to the U.S. Committee for Refugees. The 20,000 "Lost Boys," world-renowned for walking four months and a thousand miles to safety in 1992, represent only a fraction of Sudan's suffering. It's up to expatriated Dinkas everywhere to maintain a link to the past so that the largest ethnic group in southern Sudan might have a future with traditions intact. "God willing," says Ateny, who is a Christian.
Among those tribal traditions is a cattle dowry payable to the father of the bride. As strange as that may sound to North Americans, who prefer a diamond engagement ring to demonstrate the groom's wealth and the bride's value to him, cattle are at the center of Dinka culture and identity. Before the war, when Dinkas and their livestock roamed freely, a dowry might have included a hundred cattle. After being corralled in Kakuma's overpopulated camp for the past decade, however, most men can only offer the promise of cows to come -- an oxen "I owe you" redeemable when peace is secured and prosperity returns.
For now, though, Ateny himself is returning. And because of his relative prosperity and frugal spending habits in Vermont, he can afford a few cattle for his new relatives in Kakuma even after the enormous travel expenses associated with going back to Africa.
Actually, Ateny is already technically married, to 20-year-old Atong Magot, a stunning woman he knew from childhood and with whom he reunited in the camp a number of years later. "We are from the same Bor clan," he explains with a broad smile. Because he wasn't sure when he could make it back to Africa, the families decided to go ahead with the nuptials without him and recorded it on videotape. His trip to Kakuma will seal the deal.
A hopeful Ateny left for Kenya on Tuesday, February 1, following a going-away fundraising party at City Market last Sunday evening. After 24 hours of flying and layovers -- Burlington to New York to Amsterdam to Nairobi -- it will take another day to travel overland by bus from Nairobi to Kakuma. The family reunions and wedding festivities are expected to last two months. On April 15, the "Lost Boy" will return to Vermont a married man in every sense of the term. But still, unfortunately, without his wife. It will take more time and money -- and an immigration lawyer -- before "Ms. Ateny" can make the trip.
Ateny has spent the past several months getting his own travel documents in order. He also spent thousands of dollars for documentation of the wedding ceremony he missed.
Somehow, even video services have arrived in the dry, desperate outpost of Kakuma along with more than 100,000 refugees from Sudan, Somalia, Congo, Eritrea, Rwanda, Burundi and Ethiopia. Ateny's father, who also miraculously turned up at Kakuma after his son was repatriated, procured the services of an Ethiopian "company" in the camp to record the festivities for the exorbitant fee of $3000.
The otherwise shy Ateny is eager to share the three-hour evidence of his matrimony -- and this picture is worth a thousand unspoken words. Although the videotape is dark and out-of-focus, it beautifully captures the color and chaos of the uniquely Dinka ceremony. On the outskirts of the camp, in the shade of acacia trees, more than a hundred Dinkas gather to join two of their own.
The video begins as the ceremony does, with men in suits and ties from both families -- every brother, uncle, nephew, cousin and father who survived his own trek to Kakuma -- formally negotiating the pros and cons of Ateny's character. Is he a good man? Will he be a good provider and father? Such questions are no doubt discussed privately among friends and family of an American bride. But in Dinka culture they make for a loud, lively public discussion.
Once both sides have formally approved the groom, joyful song ensues as the men wait for the women to join them for the wedding rites. The women have been dressing the bride in a bright batik-print dress and decorating each other with braids and hair dyes. Once they arrive at the site, the Dinka men celebrate -- and compete for female attention -- by jumping backwards as high as they can. The sight of hundreds of them hopping all together makes Donald Trump's third, obscenely extravagant walk down the aisle look like a funeral.
Because Ateny was not present for the nuptials, his brother is standing in for him, and the bride nods stoically when a Dinka elder asks what appear to be the important questions. Afterwards, a special feast is served -- a major accomplishment considering that food is not abundant in Kakuma. The revelers pause only to share in the meal, then resume dancing and singing for the night. With a few rolling credits, the video finally ends after 180 minutes. Ateny, who rarely provides any commentary while sharing the video with his American friends, watches with rapt concentration. He obviously can't wait to be part of the real program. One can only imagine what goes through his head with each image. Memories of an old life? Fantasies for the future? Regardless, his is certainly an identity in transition, as Sheridan notes.
Perhaps some other "Lost Boys" will find love, American style. But the Dinka obligations and pride that accompanied Ateny to Burlington are what now carry him "home" to marry.