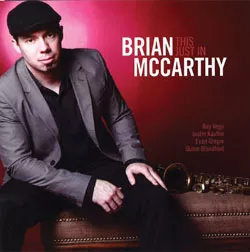 (Self-released, CD)
In 2011, local jazz saxophonist Brian McCarthy stepped out from the shadows as a longtime sideman and delivered a sterling debut, Brian McCarthy Quartet, that ranked among the better Vermont jazz releases in recent memory. McCarthy, perhaps better known to casual fans as a member of the Ray Vega Quintet and the Grippo Funk Band, among myriad other collaborations, is, as Vega himself has called him, "one of the most important jazz musicians to the Vermont scene." His debut did nothing to diminish that high praise, cementing his status not only as an in-demand player but a formidable composer and bandleader. McCarthy's sophomore outing, This Just In, should serve to further that reputation and suggests that the next generation of Green Mountain jazz is in extremely capable hands.
Since that first record, McCarthy's ranks have swelled to a quintet, featuring Vega on trumpet and a trio of up-and-coming regional players: pianist Justin Kauflin, bassist Evan Gregor and drummer Quinn Blandford. Under McCarthy's sage direction, the group grooves and glides through seven original compositions and a cover of Duke Ellington's "The Feeling of Jazz" that reverently walk in the footsteps of giants like Coltrane and Rollins, while keeping an ear to modern sounds as well.
Much as on his debut, McCarthy lays bare an affinity for straight-ahead jazz, with compositions that exist somewhat in the mold of Joshua Redman — a player to whom McCarthy elicits reasonable comparison. Like Redman, McCarthy plays and composes with palpable sensitivity. While he can certainly bring heat, as on fiery album opener "Mack Attack," he's at his finest in the album's more contemplative moments. For example, the moody "Precipice," a track that expands and contracts with alternately unsettling and soothing grooves.
"The Departure (Part One)" is a blissful slow burn, replete with a serpentine bass solo courtesy of Gregor. "Loved Ones" is a tender ballad in which McCarthy's mournful sax finds its match in Kauflin's light, meandering keystrokes. "The Arrival (Part Two)" closes the record in celebratory fashion with a breezy jam that culminates in a playful duet between McCarthy and Vega.
Seems like it's been awhile since a substantial local jazz album hit our collective ears. With This Just In, Brian McCarthy has not only filled that void but raised the bar for jazz recordings in Vermont. Thoughtfully conceived and expertly executed, it's a fine achievement from a tremendously gifted local musician.
This Just In by Brian McCarthy is available at brianmccarthyjazz.com. The Brian McCarthy Quintet perform this Saturday, April 13, at the FlynnSpace in Burlington.