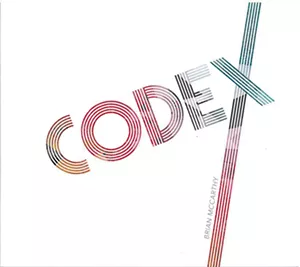 (Self-released, CD, digital download)
Five months after the release of his epic, high-concept masterwork The Better Angels of Our Nature, Vermont saxophonist Brian McCarthy returns with a revealing new album, CODEX. Better Angels placed the composer at the intersection of academia and self-expression through thoughtful modern jazz interpretations and reinventions of Civil War-era music. On his latest effort, McCarthy looks inward for inspiration, attempting to unmask himself as both a composer and a person.
Through a mix of originals and reinterpreted covers, McCarthy pays homage to his most influential mentors. These include educators from his alma mater, William Paterson University ("Elder Lion," "Miller Time"), as well as both personal idols ("Serenity") and those of his colleagues ("El Manisero"). On "Causeway" he nods — or perhaps winks — to his partner in and out of the studio, producer Linda Little, formerly the director of the Burlington Discover Jazz Festival
"Elder Lion" and "Miller Time" are remembrances of James Williams and Mulgrew Miller, respectively. Both men served as director of jazz studies at WPU, and both passed away earlier this century.
The swingin' "Elder Lion" has McCarthy doing sonic cartwheels as his nimble fingers traverse nearly every key on his alto. Similarly, pianist Justin Kauflin balances his right hand's flights of fancy while his left keeps things anchored with syncopated chords.
Slimming his band down to a quartet from the nonet on Better Angels, McCarthy takes on even more of a starring role. That choice makes sense, given the album's expository essence. He delivers soprano and alto sax solos with staggering intimacy, often coming so close to the microphone that you can almost feel his breath make contact with the reed as his vibrato pushes out the faintest of notes.
"Miller Time," for example, has subdued, modern energy. Here, McCarthy trades instrumental acrobatics for an emphasis on tonality and emotive resonance in his solos. The song is heavily punctuated with arresting, syncopated chords and is front-loaded with a lilting bass solo from Evan Gregor.
The most freewheeling track on the album, "Acoustic Shadows," plays with a mysterious sonic phenomenon of the same name, in which topography and other factors can suppress and redirect sound waves. (The anomaly has been noted in reference to certain Civil War skirmishes.) Each instrumentalist seems to wander in a dreamlike daze across a smoky battlefield, peaking to spine-tingling trills just before the six-minute mark.
McCarthy notes in an accompanying press release for the album that trumpeter Clark Terry, composer of "One Foot in the Gutter," taught him that jazz is a linguistic discipline. The saxophonist's retread is probably the most accessible cut on the record, favoring traditional, down-to-earth jazz chords and structure over highfalutin expressionism.
McCarthy's pointillism of personal influence results in a hefty, satisfying record that offers new perspective on the composer as a person. McCarthy's densely packed arrangements will likely serve hungry audiences new aural morsels with every listen.
CODEX is available at brianmccarthyjazz.com. The Brian McCarthy Quartet performs on Saturday, December 2, at the FlynnSpace in Burlington.