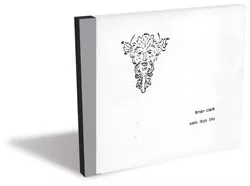 (Thunder Ridge Records, CD)
If you're a relatively savvy fan of local music, you've probably heard Brian Clark. The Calais-based guitarist has lent his considerable talents to numerous projects by such notable central Vermont songwriters as Jay Ekis and Kris Gruen, among others. But with Solo Duo Trio, the longtime sideman steps out from the shadows and into the spotlight himself. It's an intimate and humble offering, and long overdue.
"Wishes" leads off with a meandering acoustic guitar line recalling the atmospheric Pink Moon-era guitar work of Nick Drake. Clark's unadorned vocal performance is charming and understated. But don't let his simplicity fool you. "I haven't got the ego to spend, telling you what I did," he sings plainly. "But then the drought is like a knife in my back," he continues, as a stabbing one-note guitar line punctuates (punctures?) the lyric.
Ekis returns earlier favors, appearing as Clark's backing guitarist on the second track, "Stuck." It is a driving little tune, even without drums, that casts Clark as something of a poor man's Bobby Bare Jr. — certainly not a bad thing. Here, he exhibits a similarly lean lyrical prowess.
The beautiful ballad "West" is next. Ekis' sparse and dusty electric guitar work is the perfect companion to Clark's searching lyrics and fractured vocal delivery.
Clark is a gifted player, which is evidenced throughout, but particularly in moments such as on the solo instrumental "The Lake." He possesses both a gift for gripping melodic invention as well as immaculate technical ability. It is a rare combination and a pleasure to experience.
Fans of latter-day folk-rocker Joe Pug will likely enjoy the casual straightforwardness of "Over on Me." Clark again proves an efficient songwriter.
"Two of Us" highlights Clark's playful side, despite the tune's desperate melancholy. Twin guitar lines swirl airily around each other, introducing the song. Tension builds slowly, allowing the listener ample opportunity to savor the songwriter's sneakily clever wordplay: "The old guy at the bar leaned back and said / 'It's always been about just the two of us.' / He spoke to the mirror, he even raised his glass. / And in a maudlin voice, 'Here's to the two of us.'"
Brian Clark's solo debut is impressive for a variety of reasons: solid songwriting, excellent instrumental performances, homespun charm. But what is really remarkable about the record is the tactful humility he employs throughout. It's almost as though the longtime sideman takes a backseat to his own music. The result, of course, is a gripping collection of tunes that belongs on the shelf alongside any album he's previously helped create.
Solo Duo Trio is available at iTunes and CD Baby.