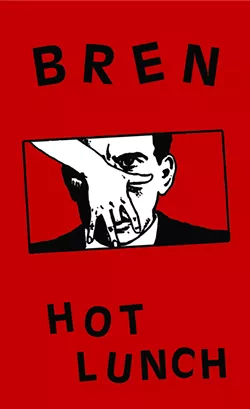 (Rat Pâté Records, cassette, digital download)
Something of a rock-and-roll renaissance is happening in Plattsburgh. Though it may be too soon to call what's bubbling up in the Lake City a full-blown revival just yet, we're hearing sounds — encouraging and loud sounds — from across the lake. And we like what we hear.
The spark igniting the scene is a newish cassette label called Rat Pâté Records. At present, the imprint boasts a slim catalog of four recordings, three of which belong to Comrade Nixon. CN's latest release, Wine and Circus, was favorably reviewed in these pages last week. It's a snarling punk-rock gem that obliterated any skepticism about what's going on in P-burgh. But the label's fourth release, Hot Lunch by Bren, has us genuinely excited about the city's nascent punk scene.
Comrade Nixon favor an old-school brand of hardcore punk that recalls the likes of Minor Threat, Dead Kennedys and Bad Brains. Bren prove just as vicious on their debut but take a slightly different approach from their label mates.
"Parade" opens the record with a punkabilly riff that nods at the Cramps. But it's a setup. The tune takes a sharp left turn, veering close to pop-punk territory. Bren never quite yield to their pop inclinations. That's in part due to Matt Hall's performance. He sings with a high-pitch, nasally whine that absolutely sneers through the speakers — think Nerf Herder's Parry Gripp if he were more emotionally imbalanced and sarcastic. Hall brims with unhinged angst and his bandmates follow suit. Together they deliver punchy, chunky punk that hits with power and precision.
"If There Was Something Going On..." is the album's shortest and best cut. It's an 88-second "fuck you" to an unfaithful lover that sears with hurt and anger. But the sonic fury almost obscures some surprisingly potent and poetic songwriting. "I felt the fall chill for the first time today / I put a sweater on and closed the windows up / For the first time since May," Hall sings. Then, "The sky was much more gray than blue / and there were things I wished I knew / Way before I put down roots in this place." That's more the sort of atmospheric scene setting you'd expect to find on a sad-bastard folk record than a DIY punk tape.
But that's exactly what makes Hot Lunch great: Beneath the rough exterior is a lot of heart. Kind of like Plattsburgh itself.
Hot Lunch by Bren is available at thebandbren.bandcamp.com. Bren play at Battery Street Jeans in Burlington on Friday, April 8.
Correction, March 16, 2017: An earlier version of this story incorrectly stated that Matt Hall founded Rat Pâté Records.