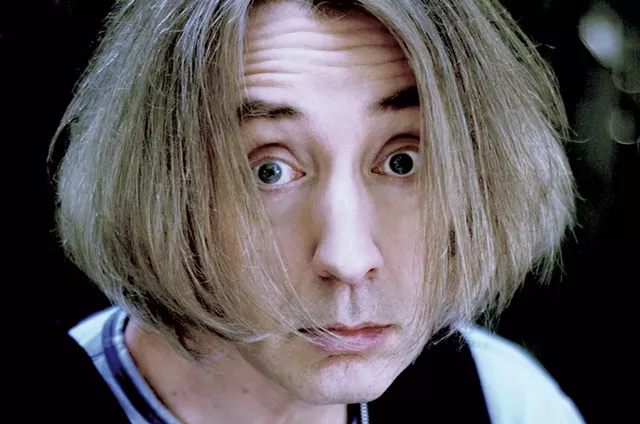 These are dark times, friends. It seems like every time you turn on a television or log into social media, you're treated to one horribly depressing story after another. Violence, civil unrest, Donald Trump. Even for the sunniest among us, it's enough to make you want to curl into the fetal position and ride out the next few months (years?) under a heavy blanket with a bottle of bourbon. So we could all use a good laugh, right?
Well, here's some good news. Burlington is presently smack in the middle of the 2016 Green Mountain Comedy Festival. Founded by local comedian Kathleen Kanz in 2009, the GMCF has grown into a sprawling laugh riot with events all over town — and even a couple outside of town. This year's festival features more than 100 local standup, improv and sketch comedians. That's in addition to the slew of big-name headliners and hot up-and-coming comics who anchor the fest. The question is: Where to begin?
What follows is a day-by-day guide to the best the 2016 GMCF has to offer. For more, check out greenmountaincomedy.com
Wednesday, July 20
Sketch Showcase
Vermont Comedy Club, 7:30 p.m. $12/15.
The local standup comedy scene is well established, and local improv is increasingly popular. Though sketch comedy flies a bit more under the radar, some truly hilarious troupes are writing and performing in these Green Mountains. The Sketch Showcase at Vermont Comedy Club features two of the best. Feed the Meter is the state's newest entrant, whose favorite targets are pop culture and politics. Headlining are Vermont's longest-tenured sketch team, Stealing From Work, founded by Angie Albeck and Marianne DiMascio.
Recommended if you like: "Saturday Night Live," "The Kids in the Hall," "Key & Peele"
Liza Treyger
Vermont Comedy Club, 9:30 p.m. $15/18.
Brash, bawdy and occasionally boozy, Chicago's Liza Treyger is a comedian on the rise. The self-described "casual feminist" has been on "Chelsea Lately," MTV 2's "Joking Off" and "Adam Devine's House Party" and premiered a half-hour special on Comedy Central in 2015. The same year, her debut album, Glittercheese, dropped. Treyger thinks dating is dumb and pregnant women are disgusting. (See: "brash, bawdy," above.) Local standup Bryanna Doe opens; 2016 Vermont's Funniest Comedian finalist Anya Volz hosts.
RIYL: Kyle Kinane, Janeane Garofalo, Amy Schumer
Thursday, July 21
Quickfire!
Halflounge Speakeasy (Burlington), Sweet Melissa's (Montpelier), 8 p.m. Free.
Quickfire! has long been one of the GMCF's cornerstone shows. This year, audiences in both Burlington and Montpelier will see why. At Halflounge Speakeasy in Burlington, catch rapid-fire quips from Pete Brown, Cori Marnellos, Ed Brady, Beth Norton, Liz Thompson, Maggie Lenz and host Melissa Moran. At Sweet Melissa's in Montpeculiar, Kathleen Kanz heads a lineup that includes Bryan Muenzer, Jonah Cipolla, Heather Caldera, Collen Doyle, Ashley Walton and host Suzan Ambrose.
RIYL: Aziz Ansari, Paula Poundstone, Mike Birbiglia
Seaton Smith
Vermont Comedy Club, 8 p.m. $15/18.
You might have seen Seaton Smith on "Girls," "Inside Amy Schumer" or "Mulaney." Or you might have caught him opening for Hannibal Buress recently in Burlington. Named one of Vulture's "50 Comedians You Should Know in 2015," Smith is a rising star. Time Out New York praised his "naturally effervescent stage presence," adding that he is "as spirited as he is cerebral." New York City's Kyle Ayers is the featured comic; Burlington's Jade Marcotte hosts.
RIYL: Hannibal Buress, John Mulaney, Donald Glover
First Comes Love
Vermont Comedy Club, 10 p.m. $15/18.
Have you ever wondered what would happen if comedians acted out amateur porn scripts onstage? Of you course you haven't. Fortunately, Kyle Ayers has spared you the trouble — and mental imagery — with his show First Comes Love. It consists of submissions from a Craigslist ad Ayers posted advertising a fake job writing pornography. He and other comics, and even audience members, act out — to a point, anyway — the screenplays from aspiring smut writers. Hilarity ensues. And only hilarity.
RIYL: My Dad Wrote a Porno, Orgazmo, and, um, porn
Friday, July 22
Made in Vermont
Club Metronome, 8 p.m. $10/12.
Here's a sign that standup comedy in Vermont is a fertile scene: Our best and brightest comics keep moving away. That sounds counterintuitive, but it's true. Numerous comedians who got their starts on local stages are now pursuing comedy careers elsewhere. It's sort of like when your favorite local band moves to Brooklyn, only funnier. The Made in Vermont showcase at Club Metronome features several such expats, all of whom honed their funny bones in Vermont. These include Carmen Lagala, Will Betts, Jess Reed, Danny Killea, James Huessy and Ellington Wells.
RIYL: "Last Comic Standing," "Conan," "The Daily Show"
Bodega & Apollo
Vermont Comedy Club, 8 p.m. $15/18.
If you've never seen an improv comedy show, this show from NYC improv troupes Bodega and Apollo would be a good place to start. Bodega is a diverse group composed of comedians from Barbados, Cape Verde, Haiti, Mexico and the U.S. Apollo is an improv team formerly of the Upright Citizens Brigade in NYC, whose members have appeared everywhere from "Late Night With Seth Myers" to "The Knick." For the unfamiliar, the troupes take prompts from the audience and then improvise comedy scenes based on those suggestions. It's the comic equivalent of a high-wire act, and no two shows are ever the same.
RIYL: "Whose Line Is It Anyway?" "Key & Peele," "The Kids in the Hall"
iSpy Improv
Vermont Comedy Club, 11:55 p.m. $10/12.
The iSpy Improv show is undoubtedly the most popular annual GMCF showcase. Performers from the aforementioned Apollo and Bodega troupes, as well as Vermont troupes Napoleon and the Unmentionables improvise scenes based on the first section of Seven Days you turn to each week: iSpy.
RIYL: "Whose Line Is It Anyway?" "Key & Peele," passive-aggressive voyeurism
Saturday, July 23
Vermont Comedy Divas
Vermont Comedy Club, 6 p.m. $12/15.
Long before the Vermont comedy scene exploded, there were the Vermont Comedy Divas. Founded by veteran local comedian Josie Leavitt, the Divas have been performing around the Green Mountains for a decade and feature some of the funniest women ever to call Vermont home, including Tracie Spencer, Autumn Engroff Spencer, Hillary Boone and Sue Schmidt.
RIYL: Tig Notaro, Tina Fey, Wanda Sykes
Emo Philips
Vermont Comedy Club, 8 & 10 p.m. $25/29.
This year's GMCF headliner is Emo Philips, a man Jay Leno once called "the best joke writer in America." Philips has been performing his offbeat brand of comedy since 1976 and is one of the most respected and admired standups on the planet.
RIYL: Steven Wright, Bobcat Goldthwait, Maria Bamford
VT Exodus Roast
Vermont Comedy Club, 11:55 p.m. $10/12.
As mentioned earlier, one of the signs of a healthy comedy scene is that it produces comics who go on to find success elsewhere. Before the next wave of young comics ships off to Los Angeles and New York City, the local scene is sending them off in proper comedic fashion: by mercilessly making fun of them at a roast. Scheduled to appear and/or be taken down a notch are Jess Reed, Anya Volz, Jade Marcotte, Richard Bowen, Lori Goldman, Danny Killea, Will Betts, Taylor Scribner, Grant Robin and Tim Bridge. VCC owners Natalie Miller and Nathan Hartswick serve as roast masters.
RIYL: The Friars Club roasts, Don Rickles, Jeff Ross