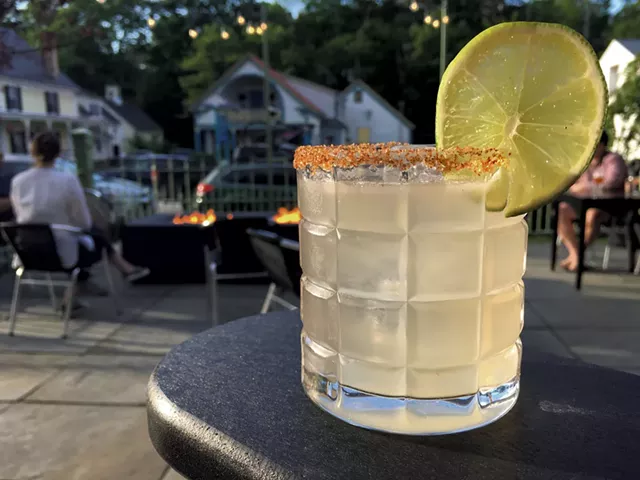 Melissa Pasanen
Palomaniac cocktail on the patio at Main + Mountain Bar & Motel
Things I expected to find when I headed down to Ludlow for a trio of meals and an overnight: good food, a hip new motel to sleep in and a scenic hike to balance out the eating.
Then there were the things I was pleasantly surprised to find in the southern Vermont town at the base of Okemo Mountain Resort: more promising places to eat and drink than I had slots to fill, the kind of community where the hardware store can still leave plants and rakes out overnight, and a confluence of locals who have returned — or stayed — to open their own hospitality businesses.
In that last group are Eliza Greene, 29, who grew up in nearby Chester, and her partner, Justin Hyjek, 30, a Ludlow native.
Several years ago, the couple was working at a hostel and farm in the hills outside Santa Marta, Colombia, while writing a business plan for their own hostel. "We settled on doing it in a ski resort town where we knew affordable lodging is always in demand," Hyjek explained. "Then we said, 'Shit, we're from a ski resort town, and we have family there.'"
"We hadn't really been back in 10 years, and we were shocked at how much was going on," Greene chimed in, "and real estate was so cheap compared with other places."
In 2014, the couple opened Homestyle Hostel on Main Street in a renovated early 19th-century home, offering a mix of shared and private rooms, a bar, and dinner four nights a week.
Then, last year, sort of by accident, Greene and Hyjek placed the winning auction bid on an old motel across the street from their hostel. (They'd been looking for more hostel parking — but it came with a motel.) After an extensive renovation, the couple opened Main + Mountain Bar & Motel in December 2017.
I can personally vouch for the comfort and style of the freshly modernized motel rooms and the top-notch creative cocktails that Hyjek shook and stirred for my husband and me.
We enjoyed them in Adirondack chairs on what the couple describes as the motel's "badass front patio" and watched the world go by on Ludlow's happening Main Street.
Mojo Café
106 Main Street, Ludlow, 228-6656, mojocafevt.com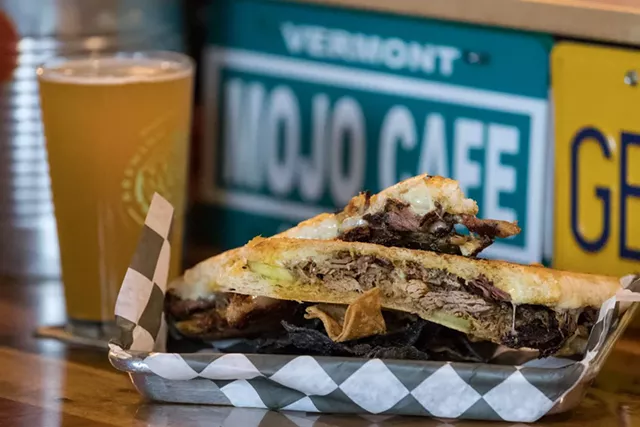 Tom McNeill
Mojo Café's Cuban special
Arriving in Ludlow after a two-hour drive from Burlington, we headed to Mojo Café for a late lunch. I'd heard only good things about this funky fusion spot where John and Jodi Seward and their team have been serving up a creative mix of Mexican, Cajun and what they call "street food" since the summer of 2014.
The Sewards are originally from neighboring Mount Holly (John) and Rutland (Jodi). After more than 14 years of working for other restaurants in the area, John said, they decided that "it was time to put our own ideas into action." Their exuberant menu travels the world in its varied flavors and textures: from broiled crawfish bread (like the best tuna melt ever) to spiced cauliflower-and-plantain tacos to restorative ramen soup made with house chicken stock.
106 Main St.
Brattleboro/Okemo Valley
Ludlow, VT
802-228-6656
Tex-Mex/Southwestern and Mexican
The narrow, orange-walled space is imbued with quirky charm: A rubber chicken hangs from the ceiling fan, and a full drum set is tucked in an alcove over the open kitchen. The café's only negative is that, on a busy weekend, you might have to wait a while for a table.
We had to try the famous lobster nachos ($18), designed by John at the Food Network's request. (The channel was preparing a roundup of next-level nachos, though Mojo's wasn't featured in the end.) A generous pile of local tortilla chips, topped with sweet morsels of tempura-battered lobster and spangled with a mix of peppers, melted local cheese and lemongrass-wasabi aioli, hit all the right notes.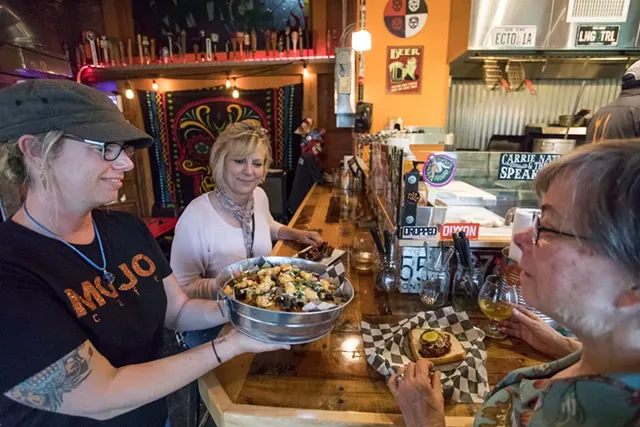 Tom McNeill
Mojo Café owner Jodi Seward serving local customers Pam McLaughlin and Leanne Jewett lobster nachos
We could have stopped there, but tacos called. The Nashville hot chicken taco ($6.25) carries a spiciness warning and elicits a chuckle when you see that the cayenne-amped fried chicken comes wrapped in a slice of white bread and a tortilla. The slow-roasted green chile pork taco ($4.25) was so tender and smoky-delicious that I would happily drive two hours just to eat it again.
Key lime pie ($5) caught our eye from the specials board. It proved, once again, that Mojo does everything with its own twist, from the graham cracker crust made with plantains to the whipped cream spiked with Grand Marnier.
"My life is better than your vacation," proclaimed a sticker over the counter. Our mini-vacation was off to a great start.
Stemwinder
46 South Depot Street, Ludlow, 228-5200, stemwindervt.com
While exploring downtown, we spied an interesting place tucked off a side street and peeked in its windows: Stemwinder bills itself as a wine bar with small plates. Later, after enjoying a predinner cocktail at our motel, we stopped there again on our way to dinner and decided to share a glass of wine.
46 Depot St.
Brattleboro/Okemo Valley
Ludlow, VT
802-228-5200
Wine Bar and American (Traditional)
Somehow, that detour turned into ordering two glasses of rosé ($8 and $10) and a few freshly shucked oysters ($3 each) with just 13 minutes until our dinner reservation. Sitting at the bar, even briefly, was a convivial experience, and neighboring guests spoke glowingly of the food. The butcher-paper specials list on the wall was tempting — especially the shrimp stew with fennel two ways and the garlic-griddled bread — but we'd already pregamed more than enough. Next visit.
The Downtown Grocery
Tom McNeill
Heirloom tomato salad at Downtown Grocery
A passion for skiing took Rogan Lechthaler away from his hometown of Weston, and he started cooking in Breckrenridge, Colo., to support his love of snow sports. For close to a decade, the young cook expanded and refined his skills at dining landmarks including the Ritz-Carlton and Mistral Bistro, both in Boston; Blackberry Farm in Tennessee; and the now-defunct L & M's Kitchen and Salumeria in Mississippi.
But Vermont pulled him back, as it does. In 2010, Lechthaler and his wife, Abby, a Mississippi native, opened Ludlow's first farm-to-table fine-dining destination. Recently, they added a family-friendly Italian spot called Mama's, on Ludlow's Main Street, and they operate the seasonal West Town Eatery at Weston Playhouse.
"We saw Ludlow as a place that had room to grow," said Abby. "We really loved that there was an actual town. There was an authenticity about Ludlow, a community there. Rogan was always really passionate about job creation. If he was going to come home, he wanted to contribute something to the community."
41 Depot St.
Brattleboro/Okemo Valley
Ludlow, VT
802-228-7566
American (New)
Downtown Grocery's nightly chalkboard menu proudly touts the seasonal contributions of local and regional producers, about which the excellent service staff can readily elaborate. But this is not the snobby sort of farm-to-table dining. The pimiento cheeseburger with local beef and housemade everything — bun, pickles, ketchup — gets no short shrift.
Tom McNeill
Steak à la Oscar at Downtown Grocery
While nibbling on gorgeously burnished Parker House rolls and sipping glasses of a mellow, fruity Italian Vespolina, we selected first from the specials board. To start, we ordered a pair of grilled Boston mackerel dressed simply with lemon, abundant garlic, parsley and olive oil ($16); for a main, a Maryland softshell crab perched on a tangy pedestal of endive and bathed in lemon-caper brown butter ($29). Knowing from a previous visit to Mama's that Rogan makes outstanding pasta, we also ordered the house gnocchi with lobster, peas and morel mushrooms ($16), then rounded things out with a local grass-fed steak au poivre ($44).
All were perfectly executed and plate-lickingly delicious, especially the gnocchi. So were a few samples of Rogan's house-cured meats. Thankful to be within walking distance of our bed, we happily rolled our way home.
Café at deLight
145 Main Street, Ludlow, 228-2150.
Melissa Pasanen
Breakfast at Café at deLight
"There's only one light in town," explained Sharon Godfrey, referring to Ludlow's sole traffic light. So the co-owner of our breakfast destination and her business partner, Sheryl Guica, named it in honor of "de light."
That was 28 years ago, when the friends and fellow waitresses decided that "We can do it better," as Godfrey recalled, and opened their own straightforward breakfast and lunch spot in a corner of the town's old mill.
"We wanted to cater to the locals as well as tourists," Godfrey said. "We wanted it to be affordable and comfy cozy."
And that's what it is: Coffee is poured into thick white mugs, the restaurant only takes cash, and jam comes in little packets. The staff does take care with their food, which can mean a bit of a wait on busy mornings.
145 Main St.
Brattleboro/Okemo Valley
Ludlow, VT
802-228-2150
American (Traditional) and Diner
The café's renowned raisin-bread French toast is made with bread from a local baker. Blueberry, raspberry or blackberry pancakes boast whole berries in the batter, and our order of eggs over easy with a sausage patty and spicy onion home fries ($4.70) was cooked just right, with a perfect crunch on the potatoes.
Abby Lechthaler of the Downtown Grocery had recommended we order a house-baked muffin griddled ($2.45), and we obeyed. It was a good thing. And then we headed off — powered by lobster nachos, gnocchi and griddled muffins — to hike a mountain.