Glenn Russell
Cork Wine Bar & Market in Stowe
It's hard to top a mochaccino frappé, but if I had to pick a drink to surpass this frothy concoction, it would probably be a spiked version: a salted-caramel milkshake dosed with bourbon and mixed with cold-brew.
The frappé is on the menu at the Depot Street Malt Shop in Stowe, where it's served in a tall glass and slurped up fast. The boozy milkshake is at Doc Ponds on the Mountain Road, a little north and uphill from the Malt Shop.
But drinking and eating at Doc Ponds — and countless other restaurants on the Mountain Road — was out of bounds on a recent food trek to the Lamoille County town seven miles downhill from Stowe Mountain Resort. I ate three meals in Stowe on low ground at village restaurants that were accessible by foot.
Despite this self-imposed restriction, I took a walk uphill between breakfast and lunch on a blue-sky day last week. My stroll started in the historic cemetery behind the Stowe town offices, where the first burial took place in 1798. Two hundred and 20 years later, on the morning after Election Day, U.S. and Vermont flags waved above the gravestones in a stand of bare trees that seemed to announce: Winter is coming. (Indeed, Stowe Mountain Resort is scheduled to open on November 16.)
Continuing my walk, I thought I'd count the number of restaurants on a stretch of Mountain Road. I quit counting at 20 — the day was too beautiful to waste on calculation. But I noted the seemingly limitless options en route: bagels, tacos, sushi, subs, pancakes, pizza, burgers, chicken wings, salads, pies, pork dumplings, tequila, vegetable lo mein — and the list goes on.
After a mile or so, my aimless amble acquired a destination: the Alchemist brewery. Even though it wasn't among village destinations, I couldn't resist: I tasted three beers for a fun noontime snack. This gleaming oasis of beer production makes for an excellent field trip on a weekday, when the taproom is clear of crowds and you can talk to employees about their dreams for the upcoming downhill season and read about the brewery's innovative water-treatment system. Then I walked back downhill on the empty bike path for more village eats.
Breakfast: Butler's Pantry
128 Main St., 253-2955
Sally Pollak
Eggs Benedict at Butler's Pantry
Butler's Pantry is in a stately brick building on Main Street that was built in 1830, when it was the home of Stowe attorney Orion Butler. Its more recent incarnations include housing Mexican restaurants Frida's Taqueria and Grill and Mi Casa Kitchen & Bar.
In the summer of 2016, building owner Paul Biron (proprietor of Mi Casa) opened a little breakfast place on the ground floor. The hours would be a more suitable fit for a building that is also a guesthouse, Biron said, explaining that the restaurant and bar could get noisy for guests at the inn. A breakfast place held an appeal for Biron, too, who closed Mi Casa in the winter of 2015.
"I'm not getting any younger," said Biron, 66. "I didn't like the nighttime scene for a restaurant."
128 Main St.
Stowe/Smuggs
Stowe, VT
802-253-2955
American (New)
In changing over his business, Biron added two guest rooms on the ground floor — making a total of eight in the house — and created Butler's Pantry in the back. A set of east-facing windows offers a street view from the dining room, while a bar at the back of the room presents a place to watch the tube. I took a seat at the bar and watched some morning sports shows.
Biron's daughter, Zoe, a New England Culinary Institute graduate, is the chef at Butler's Pantry; his son, Max, is a server there and was ready with a strong cup of coffee soon after I sat down.
I'd heard good things about Zoe's biscuits and ordered eggs Benedict in part because the meal is served on them. The eggs, which dripped golden yolk when I popped them, were a match for the tangy, generously poured Hollandaise sauce. My vegetarian Benedict came with spinach, sliced tomato and enough steamed greens to enjoy with every bite.
A late breakfast crowd filled the dining room; a couple at the bar indulged in mimosas made with fresh-squeezed orange juice. I was tempted to order one, but breakfast felt complete with eggs and coffee, and I was ready for my walk up the hill. As it turned out, I'd refresh myself with IPA at the Alchemist.
Lunch: Depot Street Malt Shop
57 Depot St., 253-4269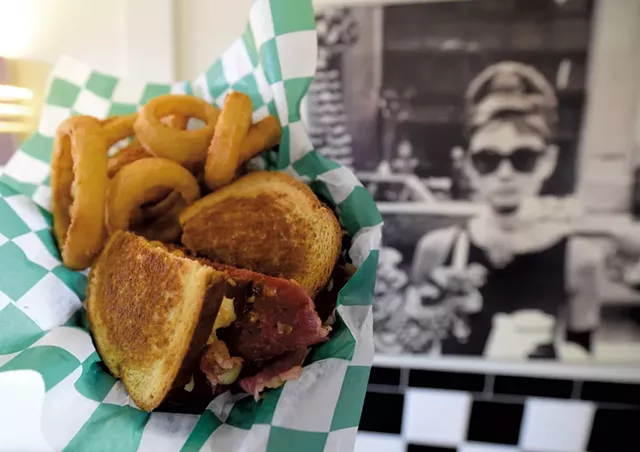 Jeb Wallace-brodeur
Reuben and onion rings at the Depot Street Malt Shop
The one-two punch of sweet and salty, in that order, ruled a leisurely and inexpensive lunch at Depot Street Malt Shop. The family-friendly restaurant with a '50s theme and an ice cream parlor vibe has been serving the good stuff — burgers, fries, BLTs and ice cream — a block from Main Street for 25 years.
I started with the mochaccino frappé — which is a fancy way of saying an old-fashioned mocha milkshake — and moved on to a Reuben with onion rings. Each was exactly what you'd want it to be: The milkshake was thick, frothy and chocolaty but with a coffee kick. The onion rings were salty and super crispy, without any sogginess or gloppy grease that sometimes afflicts them. They paired well with the grilled rye that held my pastrami and Swiss. From the selection of burger specials, my friend chose the one topped with mozzarella and pesto.
Looking down at us as we ate our lunch were Marilyn Monroe and Audrey Hepburn, two of the glamorous stars of yesteryear whose black-and-white photographs grace the Malt Shop's walls. Every time my eyes met theirs (Hepburn's concealed by shades), I felt a twinge of envy and thought, If Monroe or Hepburn ever ate onion rings, they probably shared just one.
The day after our lunch, I learned something about dining in Stowe in a phone call with Ray Knight, kitchen manager at the Malt Shop. Knight, 37, is a graduate of Stowe High School who's been working at local restaurants since he was 15, when he started washing dishes at McCarthy's Restaurant. He became a father at 18 and, to support his baby son, added to his full-time job at McCarthy's a part-time gig at Depot Street Malt Shop. That son is now 18; Knight has been working at the Malt Shop off and on for his entire adult life.
"We have the family atmosphere here," Knight said. "We're the type of place that the kids can come here after school without their parents and hang out. They get their ice cream and after-school snacks — popcorn chicken, mac and cheese, and fries — and just kind of be kids. We have that small-town atmosphere."
Rattling off the names of Stowe restaurants where he's worked, Knight mentioned Gracie's, Piecasso, Stoweflake Mountain Resort & Spa, and the Shed Restaurant & Brewery. In the village or on the Mountain Road, the businesses are bound by Stowe's seasonal cycle.
"You have your up times of years and your down times of years," Knight said. "It's definitely tough on Stowe businesses. Knowing how to manage and get through is a task, for sure."
Dinner: Cork Wine Bar & Market
35 School St., 760-6143
Glenn Russell
Arancini with saffron risotto, sweet corn, house herbs, sausage and cheddar at Cork Wine Bar & Market
It was orange-wine night at Cork when my friend and I showed up for dinner. The event in the bar area of the small restaurant was a book launch and a tasting for orange wine, which is white wine fermented with its skins.
We bypassed the festivities to take a table for two in the window-lined dining room. I kicked off the evening with a superb glass of Montepulciano made by Iole Rabasco, a winemaker with a three-and-a-half-hectare vineyard in Abruzzo, Italy. The wine was juicy and earthy, a rich ruby red. Like other wines served at Cork — which is a wine shop and bar as well as a restaurant — Rabasco's wine is naturally produced.
"We're really talking about wine with a sense of place, wine that is organic or biodynamically grown, with minimal additives and interventions," said Cork wine director Katie Nichols, the sister of business owner Danielle Nichols.
Danielle opened the first Cork seven years ago in Waterbury. She opened the location in Stowe, her hometown, three years ago at the former site of the Blue Moon Café, a beloved village dining spot. (Cork's Waterbury location closed in July.)
35 School St.
Stowe/Smuggs
Stowe, VT
802-760-6143
Wine Bar and American (New)
Our Cork dinner was a constellation of small plates from the kitchen of executive chef Chuck Spock, who joined Cork a year and a half ago from Stone Corral Brewery in Richmond. Our starter was steamed mussels with Thai chile, scallion and shredded red cabbage, which required extra bread to sop up the drinkable broth. I followed this with vegetable antipasto, a mélange of seasonal vegetables and cranberries sprinkled with pine nuts and shaved Parmesan.
Fried arancini balls were filled with cheddar and sausage and served on a spread of herb aioli. I (begrudgingly) shared this dish so I could pilfer from my friend's wonderful plate of squash and chèvre ravioli, chewy and bright. Thankfully, I had room for dessert: a slice of chocolate tart with a scoop of housemade lemon-thyme ice cream drizzled with caramel. Our meal ended on par with its excellent and intriguing wine beginning.