Jordan Barry
The roadside stand at Christie's Gone Bananas
Who doesn't love an island getaway? Since I'm only a month into working at Seven Days, my vacation time hasn't kicked in yet — so when I had the chance to take a daytrip to the Champlain Islands, I put on my tropical-print shirt, slathered on the sunscreen and headed northward.
The towns that make up Grand Isle County are mostly islands, with the exception of Alburgh farther north. They're connected to each other, and to mainland Vermont, by bridges, but that's by no means the only way to get there. The Local Motion Bike Ferry shuttles explorers on two wheels, and boaters dock along the islands' shores, making it an accessible destination however you feel like traveling. I opted to drive the 26 miles from Burlington early one Friday morning.
Since the islands are so close, I had scheduled a rotating cast of travel companions throughout the day — one for breakfast, two for lunch, and one for dinner. In between meals, I explored antique stores and galleries, stopped at every farm stand I saw a sign for, and hopped in the lake for a refreshing swim. No matter how you work up your appetite, if you visit the islands, be sure to make time to eat.
Champlain Islands Candy Lab
Jordan Barry
Caramels made from the Champlain Islands Candy Lab
Why not have candy for breakfast? It's vacation! The sign on the front of Champlain Islands Candy Lab in South Hero says "Sweets & Coffees," and that was all I needed to justify my first stop. After all, when vacation is only a day — or a morning, for the friend joining me for breakfast — eat dessert first.
We were greeted enthusiastically by Albert Reyes-McCarver, who owns the Candy Lab with his husband, Michael McCarver-Reyes. We ordered a pair of cold-brew iced coffees ($2.50 each, for 16 ounces), an apple fritter ($2) and a selection of caramels ($8 for three pieces) for a complete breakfast.
Champlain Islands Candy Lab is first and foremost a confectionery, but it has a local reputation for serving "the best coffee in the islands." As I took my first sip, I could see why. It had all the qualities I expect in cold-brew — smooth, rich, strong — but there was something else going on: spice notes, reminiscent of a chicory-spiked New Orleans-style iced coffee, but with its own completely unique flavors.
6 South St.
Champlain Islands/Northwest
South Hero, VT
802-378-5759
General Food & Drink
Reyes-McCarver must have seen the surprise on my face because he said, "We add a secret spice blend to jazz it up." I was sold, especially at half the price of what I'm used to paying for the drink.
The apple fritter was perfectly crisp on the outside, giving way to airy dough and gooey apples on the inside. It was glazed with cider from Hackett's Orchard, less than a mile down South Street, and will be made with local apples once the harvest begins.
Many of the items at the Candy Lab feature local ingredients, including the caramels I had for breakfast/dessert. These confections range from classic Vermont-inspired maple and cider caramels to adventurous combinations such as blue-cheese-and-honey caramels. Reyes-McCarver packed my selections into a delicate box, which we opened immediately outside, enjoying them on the shop's brightly colored Adirondack chairs.
Blue Paddle Bistro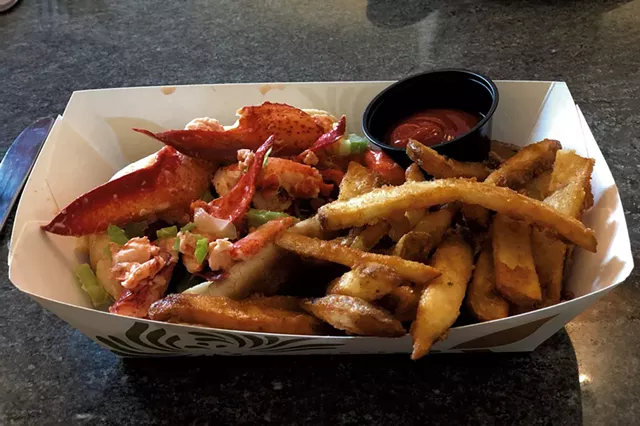 Jordan Barry
Lobster roll and French fries at Blue Paddle Bistro
The five towns that comprise the Champlain Islands offer plenty to explore, but for lunch I ended up back in South Hero at Blue Paddle Bistro. The Paddle is a perennial Seven Daysies winner, known for dinner entrées such as coffee-crusted pork tenderloin and maple-chile-glazed, caramelized sea scallops. The dinner scene is busy, and tables can be hard to come by on a high summer Friday.
Lucky for me, this islands institution also does lunch in the summertime, Tuesday through Sunday, and it's easy to walk in without a reservation. The Paddle was an ideal meeting point for lunch with my aunt, down from Swanton, and my mother-in-law, who joined us from Burlington. We had our choice of tables, as the dining room was mostly empty when we arrived. Compared to the bustle of dinnertime, it was quiet and relaxed — perfect for catching up and lingering over a meal.
316 Route 2
Champlain Islands/Northwest
South Hero, VT
802-372-4814
American (New)
The lunch menu is straightforward, featuring design-your-own cold sandwiches, salads, and classics from the grill. We ordered a burger ($13) and two of chef Phoebe Bright's seafood specialties, the lobster roll ($19) and crab cakes ($14).
The crab cakes were the star of the meal, served with a tartar sauce made with a sweet, tangy, lightly spiced mango chutney. The same dish is available as an appetizer at dinnertime and is worth getting any time of day.
Steamship Pier Bar & Grill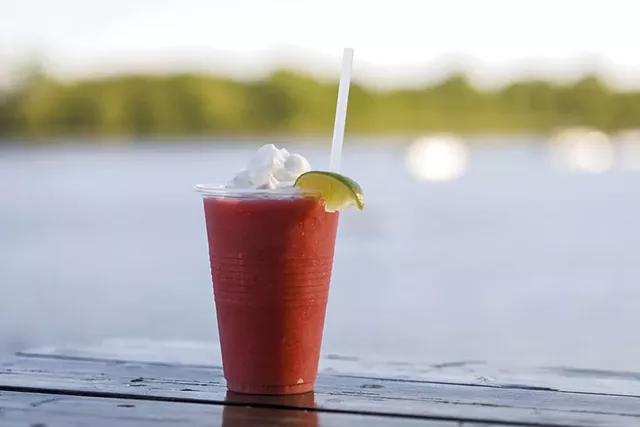 File: Oliver Parini
Strawberry daiquiri at the Steamship Pier Bar & Grill
It isn't really an island vacation without a beachfront cocktail, so when I saw the line of cars parked on the shoulder of Route 2 outside the North Hero House Inn & Restaurant, I decided to join them. My husband had made his way to the islands, and we had plenty of time to stop for a drink on our way north to dinner.
3643 Route 2
Champlain Islands/Northwest
North Hero, VT
802-372-4732
American (Traditional)
The Steamship Pier Bar & Grill is on the inn's pier, jutting out into Lake Champlain. It was packed with tourists and locals, drinking frozen cocktails and local beers and enjoying the breeze on a beautiful evening. I ordered my summer standby, a gin and tonic; my husband had 14th Star Brewing's Citranade, a New England double IPA. We found two open chairs right on the water's edge and watched boats pulling up to the dock, full of vacationers.
Savage Gardens
Jordan Barry
Pizza and greens from Savage Gardens
The northernmost destination on my island getaway was Flatbread Friday at Savage Gardens in North Hero. The farm hosts six of these outdoor events throughout the summer, scheduling them a week out based on the weather forecast and announcing them on Facebook.

Savage Gardens is a diversified farm owned by Amanda and Hugo Gervais. The couple sells organic produce, eggs, free-range chicken and flowers in addition to hosting these dinners for the community. When we first arrived, it felt like we'd stumbled on a local secret for which we'd need a password, but all we had to do was hand $20 each to the young girl carefully guarding the cash box, then grab a plate and join in on the fun.
The all-you-can-eat buffet-style dinner featured bountiful salads, a steady stream of wood-fired pizzas, iced tea and lemonade, and a gluten-free berry clafoutis for dessert. We hadn't gotten the memo to BYOB, but groups sitting next to us at the long, communal hilltop table had bottles of wine, and we made a mental note for next time.
303 Savage Point Rd.
Champlain Islands/Northwest
North Hero, VT
802-372-9789
Farm
I filled my plate with salad, choosing both the fresh garden salad and kale Caesar, and almost forgot to leave room for flatbread. As I shuffled things around, a hot, beautifully blistered pizza came straight out of the fire. It was topped with vegetables from the farm, and we each grabbed a slice before it disappeared.
The atmosphere on the farm was convivial, and we quickly got to chatting with the couple sitting next to us. They were summer people, renting a house nearby for the month of July, and said, "All it takes is one flatbread night to fit right in." We devoured everything on our plates and followed them as they walked down the hill for more.
Christie's Gone Bananas
We left Savage Gardens fully stuffed, but as we drove south on Route 2 through Grand Isle, I had my eyes peeled for a roadside banana stand. "Pull over!" I screamed, too late for my husband to stop at Christie's Gone Bananas. After a quick U-turn, we saw the stand's proprietor running into the house, shouting over to us, "Let me put a shirt on. I'll be right back." It was nearly dark, and he had been closing up for the night, but he was happy to serve us.
Christie's Gone Bananas is the brainchild of Christie and Matt Farkas, industry veterans who wanted to slow down a bit, own their own biz and embrace the island lifestyle. "It started as a joke," said Farkas, as he took our $5 for a chocolate-dipped frozen banana. "We wanted to feel like we were on vacation all the time, so we moved to the islands." He explained that the banana stand in their driveway was their solution to wanting to spend more time together.
45 Route 2
Champlain Islands/Northwest
Grand Isle, VT
802-378-5940
Fast Food and Ice Cream/Frozen Yogurt
The hours are seasonal and depend on when the couple is home. "We've had that business meeting [about regular hours] six times, but we still don't really know," Farkas said with a laugh. The stand also operates at the Champlain Islands Farmers Market and has recently been doing an island barbecue pop-up at Burlington's Deli 126 on Wednesday nights. We wandered through their gardens, enjoying our tropical dessert as the sun set on our island getaway.