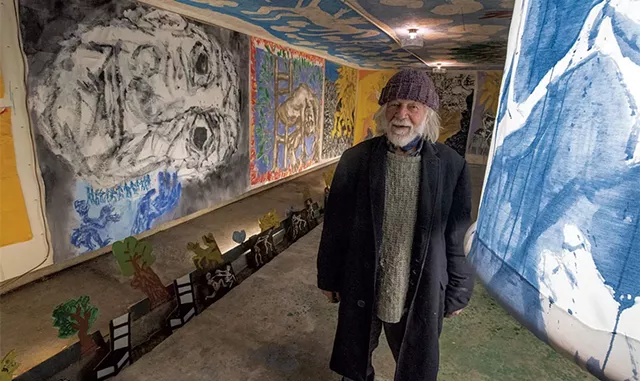 Jeb Wallace-Brodeur
Bread and Puppet Theater founder Peter Schumann
Late last year, Bread and Puppet Theater expanded its home base in Glover with the purchase of 23 acres of neighboring land. The acquisition, which includes a four-bedroom house and a defunct veal barn, will allow the nonprofit theater company to increase its gallery and performance space, add storage, and provide living quarters for more puppeteers, cofounder Peter Schumann said.
More space for artwork and archives is a particular need for the visual artist, theater director and performer, who calls himself a "quantity artist."
"I produce and produce like crazy," Schumann said.
He and his late wife, Elka Schumann, started Bread and Puppet on Manhattan's Lower East Side in 1963. The internationally acclaimed company is known for its larger-than-life puppets, political activism and shows that incorporate performers of all levels. Bread and Puppet is an expression of Schumann's belief that "you don't need an academy, you don't need an invitation, you don't need a museum" to make, use or view art.
But you do need a lot of space to accommodate 60 years' worth of big puppets, masks and other art. In the past, Schumann has had to burn puppets because the company lacked adequate storage, he said.
"Bread and Puppet Theater is quite unusual, because its assets — its collection — includes thousands of puppets and banners and sets and also the Bread and Puppet press material," said board president John Bell, associate professor of puppetry and director of Ballard Institute and Museum of Puppetry at the University of Connecticut. "We've been running out of space."
Bell called the opportunity to buy the adjacent land a "lucky coincidence." The company had been considering constructing a storage building and expanding its print shop, he said.
The 160-by-60-foot barn on the new property will provide room for the theater's "unbelievable amounts" of puppets, paintings, paperwork, books and other materials, Schumann said. The collection can be stored both for archival purposes and for use by puppeteers in their performances.
"The basic space is big and the size that we need," Schumann said. The company, which he said will grow, consists of people who are "so capable, so gifted; to continue this, they don't need me.
"I'm not a youngster anymore," Schumann, 88, said. "I'm of the one-foot-in-the-grave generation. But it's OK, as long as I can hobble about."
Jeb Wallace-Brodeur
The newly acquired barn that now serves as exhibition space
Schumann and his family settled in Glover in 1974 on a roughly 250-acre former dairy farm that became the home of Bread and Puppet. The property includes a barn that houses the Bread and Puppet Museum (open year-round), a print shop, a performance space called the Paper Maché Cathedral, and a farmhouse where puppeteers live. In the summer, apprentices camp on the grounds.
Schumann works in a studio that puppeteers built for his 80th birthday. (Asked by Seven Days what he wants for his 100th birthday, Schumann said, "a lollipop.")
The company bought the adjacent property and buildings in November for $459,000, according to the Town of Glover. It's the first land purchase for Bread and Puppet, which leases property at the Schumann farm, Bell said.
With an anonymous donation of $150,000 and numerous smaller contributions, the company is about halfway to its fundraising goal of $500,000, according to the board. This capital campaign is an unusual one for Bread and Puppet, which typically raises money for operation and preservation costs, Bell said.
"It's a huge investment for us," he said. "We thought a lot about it."
Bread and Puppet purchased the site from its longtime friend Erik Porter. A roadie for Dave Matthews Band, Porter grew up as a neighbor of the Schumanns and later lived for 17 years on the recently sold property. He and his wife moved to Derby last summer.
"We're happy it's something they wanted and that we were able to make it work," Porter, 55, said.
The new property is closer than Bread and Puppet's rambling old farmhouse is to the pageant field where Bread and Puppet performs its weekly summer shows, and Porter has cleared a pathway from the property to the performance field. The new passage also leads to the pine forest, the site of memorial installations for puppeteers and friends, including Porter's late father, Burt. A poet and musician who collaborated with Bread and Puppet, he taught English at Lyndon Institute.
"Peter is very nice about involving people who have something to offer," Porter said. "Not just my dad, but everybody."
Before Bread and Puppet hosted a late November opening of its expanded space, Schumann collaborated with a few puppeteers to mount an art exhibition in the barn.
The barn bay was dark and dingy, with objects strewn about, when they started its transformation into a gallery, said Ziggy Bird, 25, a resident puppeteer. She and two other puppeteers helped Schumann paint the ceiling, following about 20 feet behind him as he used a paintbrush on a stick to design and outline trees, stars, clouds and birds. Little puppets and painted trees and animals fill the barn gutters.
Jeb Wallace-Brodeur
Peter Schumann's bedsheet paintings and other art
Elsa Saade, 30, a Brooklyn-based activist, performer and seasonal staff member, worked with Teresa Camou to select and hang a collection of Schumann's bedsheet art in the barn. Painting on donated bedsheets that he gets from a variety of sources, including hospitals and prisons, is a relatively new practice for Schumann, and one of "fantastic inspiration," he said.
"I have hundreds of them," Schumann said. Working in this format "confronts such a big, empty thing that has so much background in it," he said. "It isn't from the factory of sheet-making, but from real life."
In hanging the art, the puppeteers were guided by Schumann's interest in refugees and his theme of moving from the "valley of tears" toward a "mountain of joy," Saade said.
Originally from Lebanon, Saade first visited Bread and Puppet in summer 2019, invited by a friend who was a theater apprentice. "Bread and Puppet was literally a magnet," she said. "I couldn't leave."
For Saade, Bread and Puppet's decision to open a new space "when [Schumann] is almost 90 is proof ... that there are no limits," she said. "There's no impossibility for him or for the theater or for whoever commits to the theater. It's absolute openness, and that's so inspirational."
By summer, the gallery will be open to visitors. Chamber music and other performing arts events will happen in the barn, Schumann said. He envisions a "pageant that walks the audience from one place to another, and we end up in the gallery and make music."
In the past year or so, as the family has grieved the August 2021 death of Elka, Schumann has experienced a surge of creative energy, according to his son Max. Elka was Schumann's longtime partner in Bread and Puppet and the mother of their five children.
Schumann directed a puppet production of Ophelia last month at a theater in New York City. He's currently leading dance workshops open to all at the Glover farm on Saturdays and Sundays at 2 p.m., followed by a performance later in the afternoon in a nearby town.
And Schumann remains involved in the ongoing work of transforming a barn full of old veal pens into an art gallery, performance space and more. The project is gratifying not only on an immediate level but also for the promise it holds, puppeteer Bird said.
"I do think that choosing this property and making this expansion is a triumphant declaration and decision to pursue a future," she said. "To continue to expand and create and make our art."