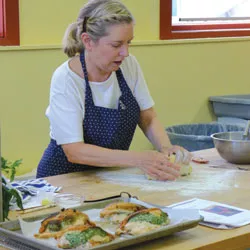 When I walked into King Arthur Flour last week, my first reflex was to duck. The apron-clad women milling about the classroom were carrying bulky cameras, and they crouched beside rolling pins, plates of pastry and bowls of flour, snapping away.
I knew these women were well-known food bloggers from across the country, who collectively have tens of thousands of followers. But I hadn't anticipated seeing them so hard at work at barely 8:30 in the morning. KAF had enticed the 10 bloggers to its Norwich headquarters for an event called Blog & Bake, which included two days of baking lessons, two nights at a local inn and some serious bonding.
As the initial burst of picture taking subsided, we assembled in a semicircle to watch KAF educator Robyn Sargent share some bread-making techniques. A fine scrim of flour started to coat the cameras as Sargent, her blond hair pulled back in a ponytail, began the demo. A long, tilted mirror above her reflected the still-life tableau of her worktable: a stainless steel mixing bowl, white plastic tubs of flour and sugar, metal measuring cups, and a small tub of granular yeast. "You take these things that are dry, white and hard, and make something ethereal," she told us, making kneading and baking akin to magic.
With easy grace, Sargent demonstrated the proper way to measure flour — sprinkle it into a cup and level it with a pastry scraper to control volume (flour packs easily). Holding up a jug of warm water, she said that 72 to 75 degrees is "the sweet spot," temperature-wise, for bread making. "It's water I'd like to climb into," she added. We all dipped our fingers into it.
Next, Sargent wielded a spoonful of sugar: "just the right amount so that your tongue detects a little bit of sweetness." And salt: "Salt pumps up flavor in baking. Without it, bread would be monochromatic." The soft pat of butter she plopped into the dough? "It's a little bit of a party."
The bloggers showed no sign of being bored by these basic baking instructions. After all, they'd flown or driven from at least a half-dozen states at the invitation of Allison Furbish, KAF's web media coordinator, for this two-day powwow. In addition to hosting classes on making bread, scones, poolish, pizza dough and piecrusts, KAF had invited Sara Moulton, an early doyenne of the Food Network and current host of "Sara's Weeknight Meals" on PBS, to hold a cooking demo and dinner.
It took me a few minutes to realize that Moulton was standing among us and watching the bread-making demo intently. "I'm thrilled to be here," said the warm and gracious chef, 5 feet tall and clad in purple Chuck Taylors.
Some of these bloggers are baking mavens themselves: Bonnie Cartwright of Northeast Flavor magazine deemed herself a "passionate baker," and Donna Currie, of the Colorado-based blog Cookistry, said baking was her rebellion during adolescence.
But the rest of us, no matter how accomplished as cooks, harbored a touch of what Sargent called "yeast anxiety." Our ranks also included Jennifer Frosch Leal of Rhode Island, who has more than 9000 followers on Twitter and writes the blog Savoring the Thyme; and Kelsey Banfield of Connecticut, who has carved out a niche as The Naptime Chef — cooking meals while her toddler sleeps — and has a forthcoming book of the same name.
KAF's Furbish chose the attendees not only for their online prominence, but for their blogs' aesthetics and content and their word-of-mouth recommendations. "We love working with folks in the traditional media," Furbish told me a few days later. "But there's this whole new world of opportunity with bloggers and online media to reach different audiences, and to get our stories out there in different ways.
"Each blogger may have hundreds or thousands of followers who have never heard of us before," she added. "A huge part of our mission is education, and that's why we bring bloggers here for two days of [it]. Giving us a platform to help us tell our story exposes us to more potential customers and potential bakers, and we believe in the power of baking to build community and change lives."
King Arthur's story wends back through the centuries. Importer Henry Wood started it all in 1790 when he began bringing European flour to Boston for sale. Over the ensuing 200 years, partners rotated in and out of the company, and the firm began sourcing flour domestically. In the 1890s, then-partner George E. Wood renamed the company after seeing a musical production of King Arthur and the Knights of the Round Table; he hoped to distinguish the firm's painstakingly quality-controlled flour from the low-grade wheat flour heavily used at the time.
Almost a century later, owners Frank and Brinna Sands moved King Arthur to Norwich, Vt.; the 1990 advent of its mail-order business spurred its growth. KAF is now employee owned, with a staff of 250 tending to a robust mail-order and retail business and education center. The company recently broke ground on an $8 million expansion.
Having wrapped up her demo, Sargent turned us loose to render our own puffy, pillow-soft dough. We sprinkled flour across our tables and kneaded using her mantra of "fold, roll and turn." While our dough was resting and rising, Sargent gave us a crash course in scones, and then paired us up to try them ourselves. Moulton, who was beside me, became my baking partner. "I've made a lot of these, so you can take the lead," she offered. I tried to look cool about this.
Moulton chose dried cherries as her flavor; I picked dried apricots. She separated the eggs and handed me the sugar as I cut pea-size pieces of butter into the flour mixture, crumbled it together with my hands, then flattened a disc of dough and scored it into six wedges. Another KAF staffer whisked them away to an unseen oven. (We didn't get to taste the scones until the next day; they were a little dry, but flaky and appealingly not too sweet.)
King Arthur might have imported a crew of world-class bloggers, but the company itself is no slouch in the blogosphere. Its Baking Banter blog logs tens of thousands of hits per month and has garnered about 20,000 comments since it launched in November 2007. P.J. Hamel, KAF's main blogger, joined us for lunch that first afternoon. "I hesitate to call it a blog," she said modestly. "What we're doing is step-by-step baking instruction."
Over lunch, KAF's guests revealed what brought them to food blogging. Casey Barber, who lives in New Jersey and runs the online magazine Good. Food. Stories., admitted she started hers because "I hated my job." Amber Bracegirdle, who was born in Texas and lives in New Jersey, plays up Southern foods on her whimsical blog Bluebonnets & Brownies. "I started blogging because I was homesick," she said. "So I started cooking and writing about the recipes I grew up with." Among them: Tacos de Camaron and Hummingbird Cake.
Boston-based Aimee Seavey, who blogs on the Apron Archives and guest blogs for Yankee magazine — said she is enchanted by food traditions and old recipes. Hamel echoed her enthusiasm. "It's a way to pass on these old recipes," she said. "I love the cultural aspect of it."
Each KAF employee we met had a mellow, easy camaraderie and seemed to revere baking — a message they would like to share. The subtext of each session — and the event as a whole — was that KAF (and many a baker) considers its flour the best, bar none. The company tightly controls the protein content of its flour, which is sourced from grains grown on farms throughout the U.S.; none is allowed to deviate by more than one-tenth of a percent, and none is ever bleached or bromated.
"This has a silkiness to it," said KAF instructor and blogger Susan Reid, sifting KAF bread flour through her fingers during an afternoon workshop titled "Got Flour? Choosing the Right One." Reid discussed flours for various baking projects — high-protein flours for bagels, for instance, and lower-protein ones for pastry, all within KAF's protein specs. As a demonstration, we were invited to sample a spread of otherwise-identical cranberry mini-cupcakes that had been prepared from nine different flours. With one in each hand, we tried to discern flavor differences. The all-purpose flour — a hard, red variety with 11.7 percent protein — yielded an ideally moist, light muffin that didn't crumble or weigh on my palate.
When Moulton spoke later in the afternoon, she morphed from fellow student into fearless leader and showed us how to prepare a three-course dinner from seasonal ingredients. She deftly deboned a Misty Knoll chicken breast and blended buttermilk, herbs and spinach with its most tender flesh to make a stuffing. "I'm madly in love with buttermilk these days," Moulton enthused.
Later, she stuffed the neon-green mixture under the breast's skin before roasting. She threw together goat-cheese mini-soufflés and prepared spiced maple pralines for an arugula salad, which she dressed in a quick mustard vinaigrette; she whipped up an herbed späetzle from scratch; she fried buttermilk doughnuts. All this was achieved within an hour.
That evening, the tired but buzzing crew and guests gathered at long tables in the Norwich Inn for the same meal, prepared by the inn's staff with Moulton's direction. As the cava, grüner veltliner and pinot noir flowed with each course, a few KAF veterans shared stories about callers to the company's hotline, such as the sixtysomething man who fervently rings up each time he undertakes a new baking endeavor.
King Arthur had brought to Norwich what the company considered some of the big names in food blogging. By the end of the first day, those guests seemed ready to recognize KAF as, well, royalty in its own sphere.
The next day, sadly, I headed back to work, but the bloggers stayed to learn the secrets of prefermented pizza dough and pâte brisée. By week's end, their photo-essays popped up all over the Internet. Glenda Embree, who lives near Lincoln, Neb., called her Busy-at-Home blog entry "Yes, I Did!"
"Did I take 863 pictures and learn so much that my head is about to explode from wanting to share it with you?" she writes. "You bet!"